Rwanda's leader joins the African autocrats who rewrite the law to hold power
David Blair, Chief Foreign Correspondent | 19 Dec 2015 | The Telegraph
This year, Britain has given £321 million of aid to African countries where leaders have prolonged their dominance by dropping term limits from their constitutions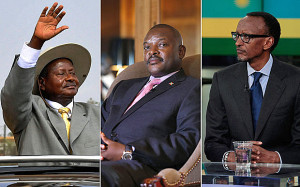 One of Africa's longest-serving leaders prolonged his dominance for decades on Saturday when 98 per cent of Rwandans were said to have voted "yes" to rewriting the constitution.
President Paul Kagame introduced a two-term limit on the head of state's rule when Rwanda adopted a new constitution in 2003. But he decided to drop this provision as soon it applied to him.
Rwandans were invited to endorse amendments that will allow Mr Kagame, 58, to seek another seven-year term as president in 2017 – and then two more terms of five years from 2024, thereby extending his rule until 2034.
The official results duly suggested that 98 per cent of Rwandans had backed Mr Kagame's plan. Britain is the second-largest bilateral aid donor to Rwanda, giving £75 million this year.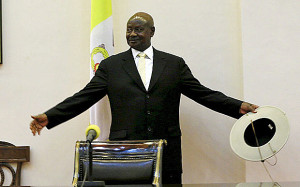 Mr Kagame is following in the footsteps of a raft of African leaders who have rewritten their constitutions to stay in power. In neighbouring Burundi, President Pierre Nkurunziza's decision to seek a third term is driving the country back into civil war.
In neighbouring Uganda, President Yoweri Museveni removed term limits in 2006, meaning that he will be able to seek re-election in February after 30 years in power. Meanwhile, the president of Rwanda's biggest neighbour – Joseph Kabila of the Democratic Republic of Congo – is expected to remove term limits next year in order to prolong his 15-year rule.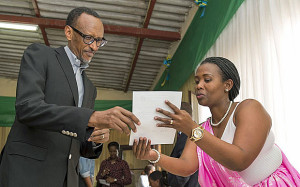 This year, Britain has given £321 million of aid to African countries where the president is either in the throes of changing the constitution – or has already done so. Whether by rewriting the law or not, seven African leaders have held office for longer than 20 years.
"The longer somebody stays in power, the less effective they are and breaking the rule of law and the constitution weakens the state," said Richard Dowden, the director of the Royal African Society.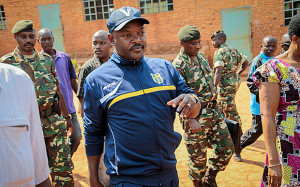 "Someone like Kagame has made a huge difference to Rwanda. He's had to do some pretty terrible things – he doesn't believe in human rights or democracy – but he stopped the genocide and he's built a development state. In one way, he's done a good job, so let him continue. But we have no idea what goes on behind the scenes in Rwanda. And what happens when he finally does go?"
Mr Dowden added: "It may not be tomorrow, it may not be next week, but when he goes the risk is that everything gets wrecked."
James Duddridge, the Foreign Office minister responsible for Africa, visited Rwanda on Wednesday, but without meeting Mr Kagame. The Foreign Office said that neither Mr Duddridge nor any other British minister had made a public statement about Rwanda's referendum.