15 years ago the CIA tried to predict the world in 2015. Here's what they got wrong
Laurence Dodds, video by Keely Lockhart | 22 Dec 2015 | The Telegraph
In the year 2000, Agency experts released a report about the challenges of the future. So how right were they? And what did they miss?
Way back in the futuristic year 2000, the CIA convened a group of experts from outside the Agency. Their mission: to gaze into the near future and predict 2015 would look like.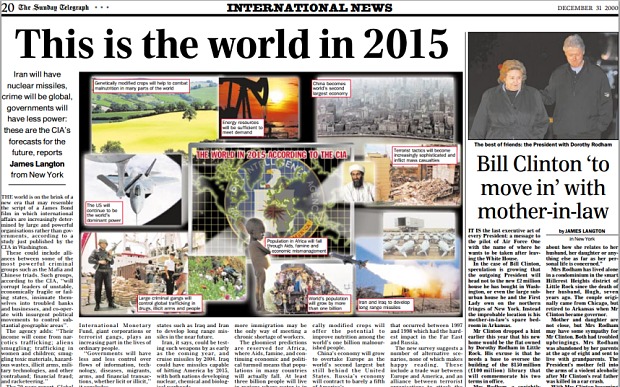 Many of their conclusions were uncontroversial: water would still be wet, sugar would still be sweet, and ethnic and religious tensions would continue to drive conflict in nations where governance is poor.
But other predictions have fallen flat – such as the notion we'd all be eating cloned beef burgers, or that North and South Korea would be unified.
View on to find out just what they got right and wrong about the world of today.