Egypt wishes Ethiopia stability, continuing development amid unrest
Monday 21 Dec 2015 | Ahram
Egypt said Monday that the unrest witnessed by Ethiopia is an "internal matter," and expressed hopes for return to stability in the east African country following deadly protests in the Oromia region.On Saturday, Human Rights Watch said at least 75 people have been killed during weeks of protests in Ethiopia, which have seen soldiers and police firing on demonstrators in the towns of Haramaya, Jarso, Walliso, and Robe, among others.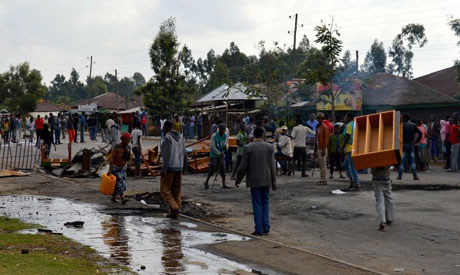 The Ethiopian government had put the death toll at five. The protests began in November when students opposed government proposals to take over territory in several towns in the Oromia region, sparking fears that Addis Ababa was looking to grab land traditionally occupied by the Oromo people, the country's largest ethnic group.
"Ethiopia is a large and important country in the African continent, and its stability and safety is in the interest of the whole continent, including Egypt," the country's foreign affairs ministry spokesman said in a statement. Egypt also expressed its wishes of success for Ethiopia's economic and social development programs.
Egyptian and Ethiopian relations have been tense for three years because of Addis Ababa's Grand Renaissance Dam, scheduled to be completed by 2017. Cairo says that filling and operating the dam, which is being built on the Blue Nile, will negatively affect the supply of Nile water that reaches downstream Egypt. Ethiopia has rejected these claims.
A tripartite committee was formed between Egypt, Ethiopia, and Sudan in 2014 to discuss the effects of the dam. The next round of negotiations, which has been stalled for months, are set for 27 December.