Former dictator of Burkina Faso charged with murder of leader dubbed 'African Che Guevara'
Colin Freeeman, Chief Foreign Correspondent | 21 Dec 2015 | The Telegraph
Blaise Compaore accused of 1987 'assassination' of his Marxist revolutionary predecessor, Thomas Sankara
The exiled former dictator of the west African state of Burkina Faso has been charged with the murder of the president he took power from in a bloody coup nearly three decades ago.
Blaise Compaore, who was overthrown last year after 27 years in power, was charged by Burkina Faso's new government with the "assassination" of his predecessor, Thomas Sankara, a charismatic revolutionary often dubbed "The African Che Guevara".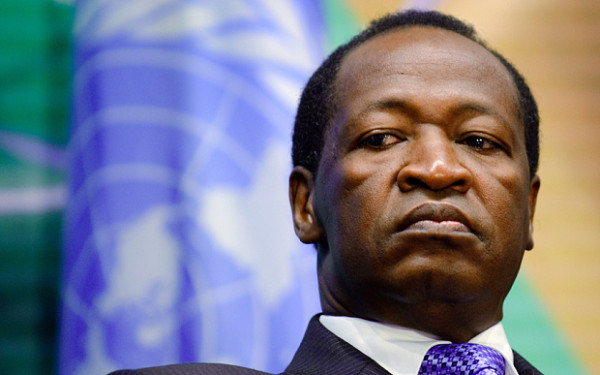 The move to issue an international arrest warrant for Mr Compaore brings a new twist to the long-running mystery over how exactly Sankara, who is still revered by some for his anti-imperialist stance, met his death in October 1987.
It has long been understood that he was killed by an armed group during the coup, but Mr Compaore's exact role in the affair has always been in dispute.
The warrant is the outcome of a long-running investigation started in the wake of the popular uprising that ousted Mr Compaore in October 2014.
As part of the inquiry, officials exhumed Mr Sankara's body from a cemetery in May, along with a dozen others. They claimed to have found Mr Sankara's corpse to be riddled with at least a dozen bullets, most of them allegedly fired by weapons used by the Burkinabe military.
At least five other people, mostly former soldiers, have been charged in connection with Sankara's killing – including General Gilbert Diendere, Compaore's former chief of staff, who led a failed coup in September [2014].
"I confirm that an international arrest warrant was issued against (ex-)President Blaise Compaore by the investigating judge," Prosper Farama, a lawyer for Sankara's family, told Reuters. He said the charges were murder and complicity in the assassination, among others.
Two other judicial sources who wished to remain anonymous confirmed the warrant. However, a police lab helping investigate the killing reported that the "state of the remains" made it impossible to detect any DNA. Either way, the decision to issue a warrant for Mr Compaore is likely to pose a dilemma for the government of the neighbouring Ivory Coast, which offered him sanctuary after the coup that toppled him.
Read more: A very un-African coup – how peacebrokers thwarted carnage in Burkina Faso
While the current president, Alassane Ouattara, is widely considered a democrat, handing his guest over to face trial could lead to consequences from allies of Mr Compaore, who is still considered a powerful figure in the region. Paul Melly, associate fellow of the Africa Programme at Chatham House, told The Telegraph: "In Burkina Faso, the decision to charge Mr Compaore is potentially very significant, as question marks have always surrounded the circumstances in which Mr Sankara died. There are accounts which say that they were originally very close friends, and that Compaore betrayed Sankara, and there are also accounts that dispute that."
Some 38 years after his death, the memories of Mr Sankara still loom large in Burkina Faso, where he was a galvanising but divisive figure. A Marxist revolutionary who espoused the theory of pan-Africanism, he took power himself in a coup at the age of 33, pledging to end the dominance of France, the country's former colonial power.
He even changed from its colonial name of Upper Volta to its current name of Burkina Faso, which translates roughly as "Land of Upright Man" or "Nation of Incorruptibles". He also refused foreign aid, banned expensive cars for government officials, and introduced progressive social policies such as outlawing female genital mutilation.
However, his dirigiste economic policies helped keep Burkina Faso in dire poverty, while his Marxism made the West nervous. He also made powerful enemies locally, such as Charles Taylor, the Liberian warlord who, like Mr Compaore, was a protege of Colonel Gaddafi's "school for revolutionaries" in Libya.
Once in power, Mr Compaore spent his early years ruling with an iron fist and stirring rebellions among his neighbours. Latterly, though, he re-invented himself as a regional powerbroker and mediator, and in 2012, played a role in trying to bring about peace between al-Qaeda-backed Tuareg separists and the goverment in Mali.
He also played a key role in several sets of negotiations to free Western hostages kidnapped by al-Qaeda in the region.