Egypt's Sisi meets with ministers ahead of Ethiopia Dam talks next week
Thursday 24 Dec 2015 | Ahram
The next round of talks will be held in Khartoum, Sudan on Sunday and Monday
Egypt's President Abdel-Fattah El-Sisi held a meeting on Thursday with Minister of Foreign Affairs Sameh Shoukry and Minister of Irrigation Hossam Moghazi to discuss the preparations for next week's talks between Egypt, Sudan and Ethiopia over the Grand Ethiopian Renaissance Dam (GERD).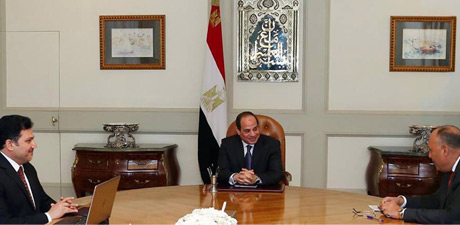 El-Sisi stressed that talks between the three countries should reach a common understanding which preserves the rights of all their people, according to a statement issued by the presidency after the meeting.
Egypt and Sudan have been in talks with Ethiopia to ensure that the dam, which is being built on the Blue Nile, does not compromise the share of water for the downriver countries.
The Egyptian presidency statement added that Egypt is taking into consideration the legitimate aspiration of the Ethiopian people in development, along with the rights of Egyptians as the Nile is virtually the only source of water for Egypt.
The talks, which will resume on Sunday and Monday in the Sudanese capital Khartoum, will be attended by the ministers of foreign affairs and irrigation from the three countries.
In exclusive statements to Egypt's state-owned news agency MENA, an informed Egyptian source working in the GERD file said that the upcoming round of talks will be held on time and will not be adjourned as was the case with previous rounds.
He added that time is a critical factor in reaching "positive results" that would satisfy all parties.
The unnamed source also revealed to MENA that the Egyptian delegation had several options regarding obstacles in completing the impact studies on the dam aimed at determining its potential effects on Egypt and Sudan. These options include putting a precise timeframe for the completion of the studies and halting construction on the dam until a consensus is reached, the source said.
The source also stated that Egypt is completely aware of the ticking clock surrounding the building of the dam, as at the current rate construction is outpacing the talks.
Talks between the three countries have been ongoing for more than 16 months, having gone through 10 rounds and failing to reach an agreement regarding the companies tasked with conducting the studies. In the meantime, the dam has reportedly reached halfway towards completion.
The Khartoum talks will attempt to solve differences between the French consultancy firm BRL and Dutch Deltares – the two consulting firms commissioned to carry out the impact studies – after the latter dropped out in September, citing concerns about the conditions imposed on the study.