How a breakaway region of Somalia hopes to build a new country
| 26
BERBERA, Somalia — By the afternoon, more goats than cars are to be found on the unpaved, sunblasted streets of Berbera, a sleepy port town on the Horn of Africa.
Yet this port is on the brink of a major expansion that could not only transform it into a regional transportation hub; it could also fund the ambitions of a peaceful, orderly swath of Somalia to build its own state.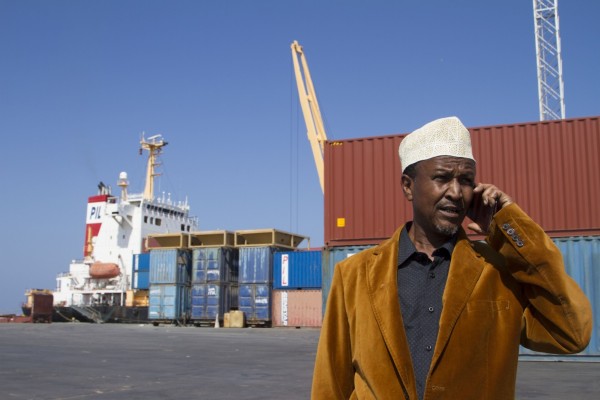 While Somalia descended into chaos after its government collapsed in 1991 and was wracked by famine, clan warfare, piracy and later the al-Qaeda-linked al Shabab insurgency, the northern half quietly split off and formed its own country.
Though no nation officially recognizes it, Somaliland has its own police, army, flag and currency and for the last 24 years has held regular elections for parliament and a president.
Somaliland has survived on money sent from its diaspora and livestock sales to Arab countries. It has a relatively weak government with a tiny budget that rules in consensus with the local clans.
Many in the country, however, feel that model has run its course. With high unemployment and a great deal of outward migration, Somaliland needs more income to survive and develop, they say — and the answer is to link its future to the far stronger economy next door, Ethi­o­pia.
The position of the international community, including the United States, is to help Somalia get back on its feet and reassert control over Somaliland. The people here, however, say that will never happen — many remember the bombing campaign carried out by Mogadishu in 1988 that flattened Somaliland's capital of Hargeisa when the region tried to secede.
"I'll never forgive them for the bombing," said Hassan Mohammed, a gray-bearded retired civil servant, as he stood in the center of town before a monument of a downed MiG-17 fighter that took part in the bombing.
For the 70 percent of Somaliland's population of 3.5 million born since 1991, the idea of being ruled by a country wracked by piracy and Islamist insurgency is also a nonstarter.
For them, Mogadishu is something that happens on the news. It is a long way from the vibrant cafes of Hargeisa, where Wi-Fi is plentiful and money changers sit behind stacks of currency in the main market with no guards in sight.
"Somaliland has achieved what it has achieved with limited assistance from the international community, in stark contrast with the billions poured into Mogadishu," said Mahmoud Jama, the Somaliland ambassador to Ethiopia. "We think the international community has been flogging a dead horse for a long time as far as Mogadishu is concerned." [The struggle to survive in Somaliland]
 Landlocked Ethiopia has been looking to
diversify its access to the sea
for a while. Currently 90 percent of its trade goes through Djibouti, a tiny country with a huge port that rakes in around $1.5 billion in port fees from Ethiopia every year. Somaliland's plan is to divert 30 percent of that trade through Berbera.
"They need access to a port, that's something we know, and we are trying to leverage it," said Sharmarke Jama, the trade and economic adviser to Somaliland's Foreign Ministry. "It's not just the road to the port, it's the whole relationship."
A memorandum of understanding on customs and transit was signed by Somaliland and Ethiopia a year ago and its implementation is expected soon — even as negotiations over which international company will provide the money and expertise to expand the port have bogged down.
French ports company Bolloré has been in talks to expand and run the port for years, but different factions in the Somaliland government are now pushing other candidates, including the Dubai-based DP World.
The man responsible for running Berbera Port for the last 20 years, Ali Omer, said that it is too early to bring on a foreign partner — better to wait and negotiate from a position of strength.
Trade through the port has been increasing by 20 percent to 30 percent annually for the last few years.
 "The idea is to start handling cargo with Ethiopia now, put the cargo through the road for the next year or so, and everything will be fine and then negotiate," he said in his expansive office at the port.
Expensive renovations
But a lot has to happen to Berbera port, which now handles less than 5 percent of Ethiopia's trade, before the ships arrive. And the road to the border through Somaliland's desert scrublands is just a pitted stretch of asphalt cut in several places by sandy river beds. It looks ill-prepared for major trucking traffic.
This kind of infrastructure is expensive, with estimates to refurbish the 300-kilometer (180-mile) road running around $300 million — Somaliland's current annual budget — while the port expansion would be at least another $200 million.
Somaliland just doesn't have the kind of money for such projects and, unlike other developing countries, doesn't have access to international financial institutions to borrow. Its largest foreign donor is Britain, its former colonial power, whose aid agency, the Department for International Development, is advising how to develop Berbera port and the so-called Berbera corridor for truck traffic to and from Ethi­o­pia.
The European Union was set to hold a fundraising conference for the road last month but that was postponed after the Somali government demanded a voice in a project in what it maintained was still its territory.
"Sometimes the Mogadishu government tries to create problems when it comes to aid and development for Somaliland even though in the last meeting in Djibouti they agreed to keep development out of politics," said Somaliland's foreign minister, Saad Ali Shire, in an interview.
The projected increase in trade at the port would give the government the means to develop the country and make it more difficult for the international community to continue to withhold recognition, officials believe.
The port remains a sensitive issue — after all, it provides 75 percent of the government's budget — and local Berbera clans fear they will lose power and influence if a foreign company comes in.
 But Jama, the trade adviser, said a short list of potential port operators would be finalized by the end of December with a final decision by April.
Mohammed Farah, of Somaliland's Association for Peace and Development think tank, said the only way the port and corridor project will succeed is if the central government starts acting more like a true state.
"Without challenging the clan system, you cannot have economic development," he said.
Until that happens, Somaliland's economy will likely limp along, with its unrecognized status keeping away most international investors.
Abidrazak Mohammed, a Somalilander who grew up in London, sold his IT company and together with Malaysian partners is building a meat processing plant to export this region's renowned livestock around the world.
It took him a long time to convince his partners that there were two Somalias, with Somaliland very different than its southern cousin.
"The world has to realize that Somaliland is peaceful, it's functioning, it's a state you can do business with," he said.
Read more: 
Somalia's godfathers: pirates rich on ransoms