Who Runs Algeria? Many Doubt It's Ailing President Abdelaziz Bouteflika
ALGIERS — A power struggle within the closed circle that has ruled Algeria for decades has spilled into the open in recent weeks, with accusations of a soft coup, as questions intensify about the health of President Abdelaziz Bouteflika.
The almost daily revelations have both intrigued and worried Algerians, and have raised fears far beyond this North African country, whose oil reserves and relative stability have made it a critical bulwark against the jihadist movements encroaching in the region.
The condition of Mr. Bouteflika, 78, is so uncertain, after two strokes in recent years, that even a prominent group of his closest associates has publicly demanded to see him to make sure he is still making the decisions. The president remains so sequestered that none of them have met with him in more than a year.
"We have this feeling that the president has been taken hostage by his direct entourage," Lakhdar Bouregaa, one of those who requested the audience, said in an interview with El-Watan, one of the country's few independent daily newspapers.
"What motivated us was this abysmal void that we feel at the level of the presidency of the Republic," added Mr. Bouregaa, a prominent former fighter of the war of independence from France.
In the meantime, whether it is the president or those working behind him making the decisions, a stunning series of firsts have taken place apparently in preparation for a transition: a purge of the intelligence service, the jailing of top army generals and a series of laws that guarantee new and stiff penalties for journalists and others who disturb "the morale of the nation."
"There is today a ferocious struggle concerning the succession," said Omar Belhouchet, the publisher of El-Watan, which has been publishing many of the revelations from the president's inner circle. "No one can say when something is going to happen."
One of the most startling developments has been the public questioning of the president's ostensible decisions by the Group 19, as the well-connected figures who have requested an audience with the president are known.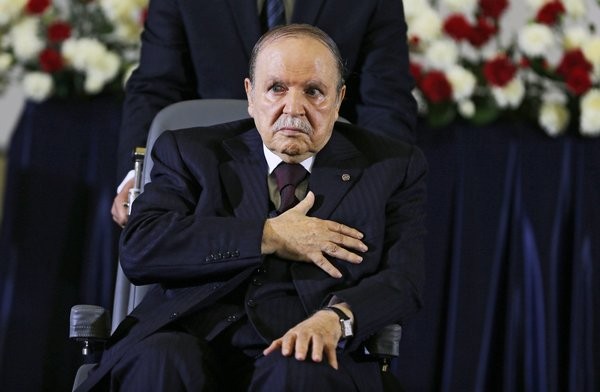 Among them are national heroes like Mr. Bouregaa; Zohra Drif, also a fighter in the war for independence; and Louisa Hanoune, a feisty politician who was imprisoned during the years of dictatorship, when political parties were banned.
Ms. Hanoune, now the leader of the Workers' Party, said she doubted that the president had even seen their letter requesting a meeting.
"I am convinced that if he had read it, he would have called certain members of the group," she said in a separate interview with El-Watan. "When one is diminished by sickness and one cannot move, one becomes dependent on others."
Ms. Hanoune has directly accused a clique of oligarchs and ministers of manipulating the president in order to pass decisions that benefit their business interests.
She and Mr. Bouregaa have questioned several recent government decisions that they say are out of character for the president, particularly the jailing of two senior generals.
They are not alone. Ali Benflis, a former prime minister who was the runner-up in last year's presidential election, said the president's ill health had left a "vacancy of power" that allowed a clan around him to take control.
"Extraconstitutional forces have seized powers, outside the Constitution, from him who is charged with the presidency," he said.
He described those responsible as people with shady business dealings who were gravitating around the president.
"It is those forces that have taken power and manage affairs in the place of the president," he said. "If there was not a vacancy of power, you would not have that."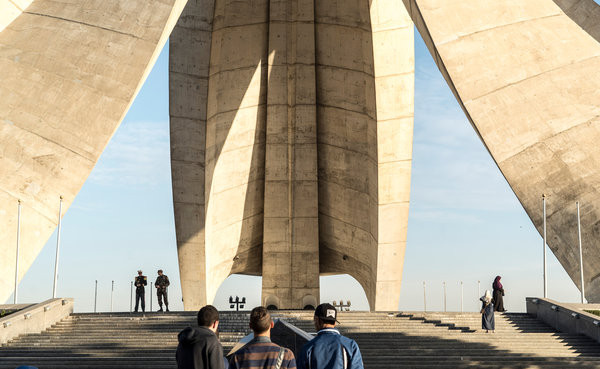 Opposition parties warn of wider repercussions. "It worries me for the whole country, for overall stability," said Abderrazak Makri, the leader of the Movement of Society of Peace, the country's largest legal Islamist party.
"Besides the political problems," he added, "there are economic problems, too," driven in large part by a steep drop in the price of oil, which hit an 11-year low this week.
Algeria has long been run by an opaque military and political collective — often referred to as "le pouvoir," or "the power" — in which decisions are reached behind the scenes through a system of consensus. That consensus may now be breaking down, political commentators say.
The purge of the intelligence service, and the removal of its feared chief, Gen. Mohamed Mediène, in September, was a political earthquake for Algeria.
Mr. Mediène, better known as Toufik, led the intelligence service, the DRS, for 25 years. A dark and influential figure who never appeared in the news media or spoke in public, he led the brutal "dirty war" against Islamist insurgents in the 1990s, manipulated elections and dominated politics through files he held on almost everyone.
Opposition parties say Mr. Mediène arranged the presidential election in April 2014 to secure a fourth term for the ailing Mr. Bouteflika. Despite spending months in a hospital after a stroke in 2013, and never appearing in public or delivering a single campaign speech, Mr. Bouteflika won 81 percent of the vote.
Yet after Mr. Bouteflika's re-election, Mr. Mediène fell out of favor. The president, or the group around him, appeared set on consolidating power without him.
Oligarchs linked to the president's brother and adviser gained prominence, while former favorites like those in the Group 19 were pushed away.
Three generals have been jailed and several dozen officers dismissed since the summer. In August, Gen. Abdelkader Ait-Ouarabi, better known as General Hassan, the deputy head of the intelligence service responsible for counterterrorism, was arrested.
By November, he had been sentenced to five years in prison for destroying documents and breaching regulations.
General Hassan's lawyers have protested that he was not given a fair trial and in particular that he was not permitted to call his superior, Mr. Mediène, as a witness.
Mr. Mediène finally went public himself, a first in his career, declaring in an open letter that General Hassan was carrying out his orders and should be immediately released.
"Everything became suddenly clear," the commentator Nour-Edine Boukrouh wrote in the daily newspaper Le Soir d'Algerie. The high-level corruption and the president's fourth term had divided the top military and political leadership, he wrote, and it was spilling out in the news media in a way never seen before.
Through it all, President Bouteflika has remained silent, communicating through occasional letters to the government, leaving even those closest to him to wonder who is really in command.