New round of Ethiopian dam talks in Addis Ababa after two weeks: Sudanese sources
Monday 28 Dec 2015 | Ahram
 According to Sudanese diplomatic sources, a new round of dam talks will be held after two weeks
A new round of tripartite talks between Egypt, Ethiopia and Sudan will take place after two weeks with the aim of resolving disagreements over Ethiopia's construction of the Grand Renaissance Dam, informed Sudanese diplomatic sources told Ahram Arabic news website on Monday.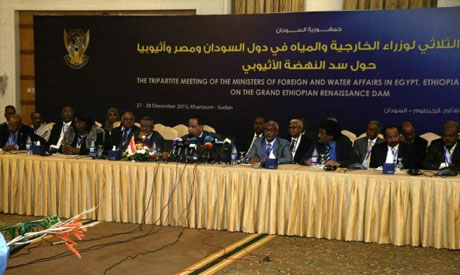 The foreign affairs and irrigation ministers from Egypt, Sudan and Ethiopia will sit to discuss the remaining points of difference regarding the project between the three countries.
According to the diplomatic sources, Ethiopia agreed to host a separate meeting regarding the dam in Addis Ababa next week.
The sources also revealed that during the current round of talks that took place in Khartoum on 27 and 28 December, Ethiopia agreed on Egypt's suggestion to increase the number of gates in the dam in order to ensure the flow of water to Egypt and Sudan.
A technical committee of experts from the three countries will visit the location of the dam to make an inspection of its construction.
The Grand Ethiopian Renaissance Dam, that is scheduled to be completed in 2017, will be Africa's largest hydroelectric power plant with a storage capacity of 74 billion cubic metres of water.
Egypt has repeatedly expressed concerns that filling and operating the dam on the Blue Nile will negatively affect its water supply. However, Ethiopia has consistently rejected the claims.