China's Xi tells grumbling party cadres: 'Don't talk back'
Simon Denyer | 29 December 2015 | The Washington Post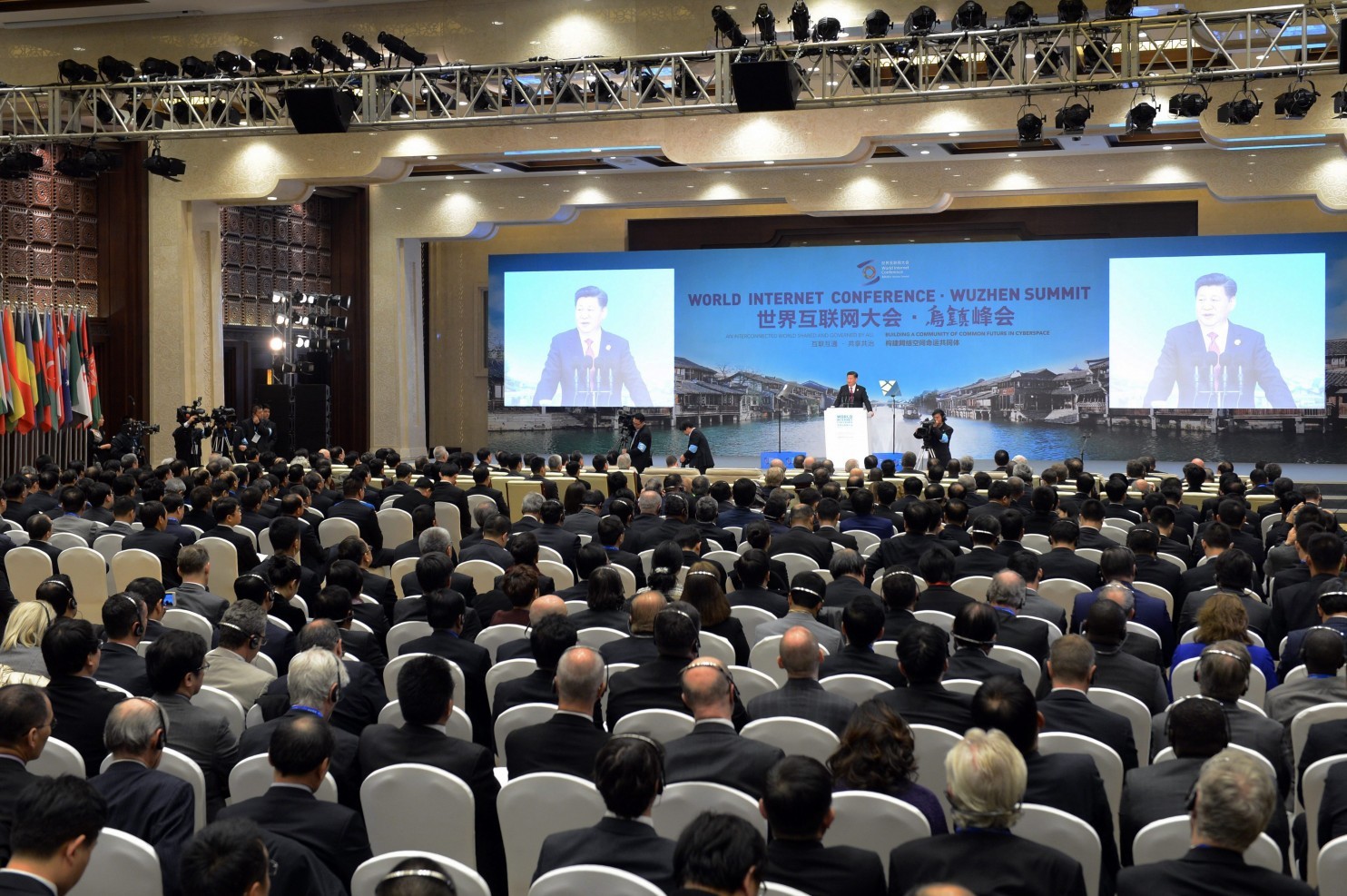 BEIJING — Careless talk could cost you your job. Especially if you bad-mouth the boss.
Chinese President Xi Jinping has carried out the most far-reaching anti-corruption campaign in Communist Party history — at the same time as the harshest crackdown on free speech in decades.
Now he is tightening the screws further, outlawing internal dissent within the party through new disciplinary rules that have led to the firings of an academic, a newspaper editor and a senior police officer for "improper discussion" of government policy.

The purge is an attempt to silence rising dissent within the party, experts say, and is a reflection of Xi's obsession with control, as well as the dramatic centralization of power he has engineered in the past two years.
[Twin historic traumas shape Xi Jinping's China presidency]
To his
supporters
, it is another attempt to restore discipline and
ideological purity
to a party riddled with corruption and cynicism.To his critics, the move carries disturbing echoes of the dark days of Mao Zedong.
Xi, they say, has surrounded himself with sycophants who can deliver only good news. He is undermining the ideas of collective leadership and "intraparty democracy" that the Communist Party had adopted — and trumpeted — after Mao's death, and replacing them with a return to one-man rule.
"He is scared, but he is comforting himself by ignoring problems and criticism," said Zhang Lifan, a party historian and political commentator. "That is very dangerous for a head of state, because it could lead to more mistakes."
At the same time, conservatives and hard-liners feel emboldened, because they believe they are fulfilling the leader's wishes, while moderates censor themselves and swallow their concerns. This has led to rash policy steps, critics argue, that have angered Asian neighbors and alarmed foreign businesses.
Xi has taken personal control of policymaking in a way no leader has since the time of Mao, and the president seems to be popular among the Chinese people. But his anti-corruption campaign has riled a proportion of the Communist Party's 88 million members.
Speaking at a gathering of the party's leadership in October 2014, Xi criticized some officials for "doing things their own way, making a show of complying while opposing in their hearts" and undermining the leadership through insubordination.
[Without corruption, some ask, can the Chinese economic system function?]
Almost exactly a year later, the party issued new disciplinary regulations outlawing any "improper discussion."
Last month, the editor in chief of Xinjiang Daily, Zhao Xinwei, became the first influential party member to be fired for making public comments critical of government policy in the troubled Muslim-majority Xinjiang region.
[China cracks down on aggrieved Party cadres in Tibet, Xinjiang]
Top officials caught up in corruption investigations have also been accused of making public comments "that go against the spirit" of the party's central committee, while Liang Xinsheng, the deputy head of the English department at Lingnan Normal University in Zhanjiang, was fired last month for having expressed "radical opinions" — years before — on social media that had damaged the party's image and been a bad influence on society. The deputy police chief in an eastern city was dismissed for posting comments on social media critical of the one country-two systems policy under which Hong Kong is administered, state media reported Friday.
Zhang says Xi sees mounting anger on all sides: party members unhappy about the anti-corruption drive, the military threatened by Xi's reforms there, entrepreneurs suffering from a slowing economy and academics angry at the tightening of ideological controls. Willy Wo-lap Lam, an adjunct professor at the Chinese University of Hong Kong, says Xi is facing "passive resistance" from inside the party by those who dare not oppose him publicly but "in terms of execution, just go through the motions."
Both Zhang and Lam, as well as law professor He Weifang in Beijing, hear echoes of the atmosphere that prevailed during Mao's disastrous Great Leap Forward and Cultural Revolution.
 Tens of millions of people died in famine and political purges, and senior party leaders were killed or persecuted for daring to raise their concerns — or even just telling Mao the truth about what was happening in the countryside.
"Xi is conceited and refuses to listen to second opinions," He said. "He has chosen to live in an isolated space, surrounded by flatterers. He has no idea what is going on in the real world."
He describes this as the worst time since he entered academia in 1985, with "no space to speak out." From a legal perspective, he adds, the regulations fail to make clear what is "improper," and who is to judge.
Diplomats say foreign ministry officials plead with them to shield Xi from criticism when foreign leaders visit. At a lower level, the absurdity of a system in which only good news can be transmitted upward — exactly what happened during the Great Leap Forward — was illustrated by an anecdote described in the People's Daily this month.
Xi has vowed to lift China's remaining 70 million poor people out of poverty by 2020. But in one district, local officials were so keen to show their visiting superiors they were following the president's instructions, the paper reported, that they dressed children in white plastic fertilizer bags "to stand on a hill and appear like sheep," to give the impression the area was prospering.
Cheng Enfu, director of the Institute of Marxism at the Chinese Academy of Social Sciences, said many academics had come to him after the rule was announced to ask what "improper discussion" meant, but he told them it wouldn't affect their ability to "provide suggestions to the party."
Xi, he said, is determined to strengthen party discipline and wants only to ban criticism of the party's fundamental principles. "He is like a military man who wants his policies to be implemented in the most effective way," he said. "Deepening reform of the system needs party members to be more united."
 He Weifang, he argued, was calling into question the legitimacy of Communist Party rule. "That's the target of the new discipline," he said. "Other academics like us still have the chance to raise opposite opinions."
Not long after the rules were announced, the People's Daily made a similar case, arguing that the new rule does not damage "intraparty democracy," nor amount to "further restrictions on normal suggestions made through legitimate channels and methods."
But David Bandurski at Hong Kong University's China Media Project (CMP) said the fact that the article had to be published "suggests the ban itself has created some concern within the party ranks." A CMP analysis shows the term "improper discussion" was extremely rare in the People's Daily until this year, but has appeared more than 3,000 times on state media websites since the new rules were issued in October.
In foreign policy, some experts see a growing weakness in decision making under Xi that has alienated Asian neighbors.
Speaking on the condition of anonymity because of the sensitivity of the subject, one foreign policy expert in Beijing said it had always carried far less political risk to zealously defend China's maritime sovereignty claims than appear conciliatory, but this tendency has intensified under Xi, who is seen as more nationalist and bolder.
"Hard-liners speak out without care, while moderates self-censor," the expert said. "Policy analysis is often an exercise in 'interpreting the emperor's will' and proving its brilliance." As a result, he said, voices of caution tend to be hushed.
That, the expert said, led to China's clumsy declaration of an air defense identification zone in the East China Sea in 2012, a move that encouraged Japan to increase defense spending and change its constitution to give its military more freedom to support allies.
[China's move to establish air defense zone appears to backfire]
It led to an equally counterproductive decision in 2014 to position an oil rig in waters claimed by Vietnam in the South China Sea, which has radically undermined Hanoi's trust in Beijing and pushed it toward the United States.
In the 1980s, the CMP notes, Deng Xiaoping, the father of China's economic reforms, had argued that the party should not be scared of hearing the voice of the people, "for the most terrifying thing of all is utter silence."
The opportunities for internal debate radically narrowed after the 1989 Tiananmen Square massacre, but the party prided itself on a collaborative, considered and consistent approach to decision making, something that supposedly produced superior results to Western democracies.
 Some analysts argue that the collaborative approach had reached the limits of its efficacy under Xi's predecessor Hu Jintao, with vested interests standing in the way of the reforms China's economy needed. In other words, it was time for a strongman.
But many in the diplomatic and foreign business communities here believe that Xi is more interested in politics than economics. They point to a recent plan to reform state-owned enterprises that proved to be a huge disappointment, and a new national security law that makes foreign investors think that they are vulnerable.
[A nationalist China unsettles foreign companies]
Critics point to a Chinese proverb that warns that a dammed river will eventually overflow and flood. "Sealing off people's mouths is more harmful than stopping the free flow of a river," the proverb says.