Oliver Letwin: Newly-released papers reveal minister's 'appalling' attitude towards black rioters
Cahal Milmo, Oliver Wright, Nigel Morris | 30 December 2015 | The Independent
One of David Cameron's most influential ministers is involved in a racism row, as the release of government papers kept secret for 30 years have revealed his "appalling" and "disgusting" attitudes towards black communities.
Oliver Letwin, who has been at the heart of government for three decades and is currently a senior policy adviser to the Prime Minister, is facing calls for an apology following the disclosure of a memo written to Margaret Thatcher in the aftermath of rioting in British cities.
He claimed that white people were not prone to disorder and suggested that a scheme to encourage black entrepreneurs would only result in them investing "discos and drugs". In a briefing to Mrs Thatcher written while he was a Downing Street aide in 1985, Mr Letwin poured scorn on proposals to spend heavily to improve facilities in riot-hit neighbourhoods by arguing that rioting in London, Liverpool and Birmingham that year had been due to "bad moral attitudes".
The comments – which have led to Labour demanding Mr Letwin say sorry for "ignorant and deeply racist" views – will embarrass Mr Cameron, who has been attempting to build support for the Tories among ethnic-minority voters.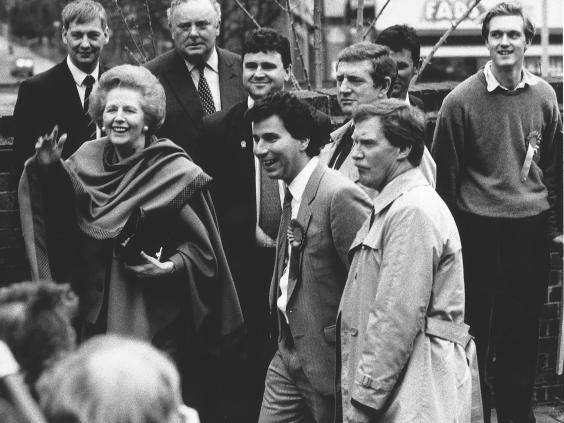 Mr Letwin, who has just been appointed by the Prime Minister to head a review into Britain's flood protection, co-authored a document a month after the Broadwater Farm riot in north London which resulted in the murder of PC Keith Blakelock. It suggested that investment in inner cities would result only in vandalism and further unemployment unless "better character" were instilled in the population.
The five-page memo, which is initialled by Mrs Thatcher and appears to show her underlining of key passages, was written in November 1985 by Mr Letwin and the former MP Vernon Hartley Booth while both were members of the No 10 policy unit headed by the former minister John Redwood. Mr Letwin highlighted proposals by the then Employment Secretary Lord Young calling for the creation of a "new group of black middle-class entrepreneurs" to bolster the inner cities and by the Environment Secretary Kenneth Baker arguing for refurbishing council blocks.
The policy aides also noted that the Home Secretary Douglas Hurd wanted to reduce youth alienation "by doing a bit of everything".
But Mr Letwin and Mr Hartley Booth said they were unconvinced by any of the proposals, insisting that generations of white working-class people had lived in similar areas without rioting.
The memo said: "The root of social malaise is not poor housing, or youth 'alienation', or the lack of a middle class. Lower-class, unemployed white people lived for years in appalling slums without a breakdown of public order on anything like the present scale."
Laying out their Thatcherite interpretation that the unrest was purely due to moral decay, the document continued: "Riots, criminality and social disintegration are caused solely by individual characters and attitudes. So long as bad moral attitudes remain, all efforts to improve the inner cities will founder.
"[Lord] Young's new entrepreneurs will set up in the disco and drug trade; Kenneth Baker's refurbished council blocks will decay through vandalism combined with neglect; and people will graduate from temporary training or employment programmes into unemployment or crime."
The aides then set out what they said was a programme for creating "better attitudes", including measures to encourage the establishment of "old-fashioned independent schools", and exhorting Mrs Thatcher to bar her ministers from proposing state-funded solutions. In a final flourish, the aides added: "There should be no 'positive discrimination' in any new programmes."
Mr Booth later attacked plans in a separate follow-up paper for a £10m communities programme, suggesting it would do little more than "subsidise Rastafarian arts and crafts workshops".
The policy unit's proposals were strongly criticised at the time by the Cabinet Secretary Sir Robert Armstrong, who warned Mrs Thatcher that the proposed attempts at "social engineering" raised some "very problematic questions".
Tom Watson, the Labour deputy leader, said: "Oliver Letwin's comments are evidence of an ignorant and deeply racist view of the world. He obviously cannot justify his opinions, but he must explain himself and apologise without delay. A great many people will be asking whether, as a government minister, he still holds such offensive and divisive views."
The Labour MP Chuka Umunna, whose Streatham constituency includes parts of Brixton, told The Independent: "The attitudes towards the black community exhibited in the paper are disgusting and appalling.
"The tone of it in places is positively Victorian. I hope the authors will feel thoroughly embarrassed and ashamed at what they wrote back then. At the very least they should apologise."
He added: "The authors of this paper illustrate a complete ignorance of what was going on in our community at that time, as evidenced by their total and utter disregard of the rampant racism in the Met Police which caused the community to boil over – there is no mention of that racism in their paper."
The file is one of a number released by the Cabinet Office through the National Archives in Kew, west London, under supposedly accelerated procedures to put Whitehall papers into the public domain.
Mr Letwin did not respond to requests for comment. But a Cabinet Office spokesperson said: "The Government at the time was proposing solutions to rebuild broken communities. We remain thoroughly committed to helping the most vulnerable and ensuring that nobody is confined by the circumstances of their birth."