There are limits to your power, Mr President
Richard Calland |
The year was one of disastrous and shameful decisions, but our democracy still functions.
Politically, 2015 was a year of drama, paranoia and grotesque misjudgments. It began with the drama of Julius Malema's appalling attempt to disrupt the State of the Nation Address (Sona) and the shockingly violent nature of how Malema and his fellow Economic Freedom Fighter (EFF) MPs were removed from the National Assembly by specially trained police officers masquerading as parliamentary security officials.
The paranoia was to be found not only in the corridors of Parliament that week in February, when, for the first time, state intelligence was handed the responsibility of running the Sona show, but also in the grotesque misjudgment of the minister of intelligence in blocking the cellphone signal in and around Parliament.
That decision exposed weakness, not strength in government and in the ruling party – a persistent theme of the political year.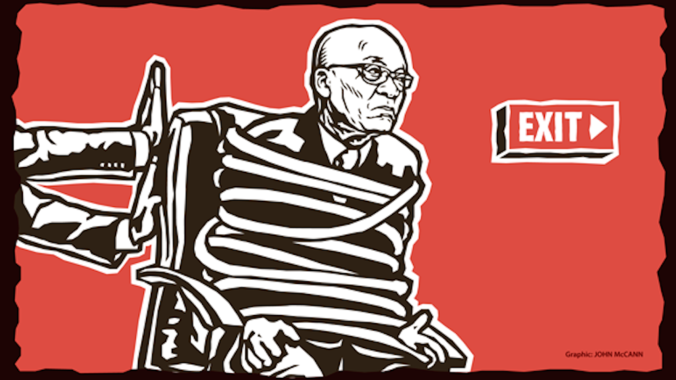 Battered by the strong headwinds of an uncongenial global economy and unable to make much progress in escaping the clutches of the stubborn structural constraints embedded in the domestic economy, ANC leaders in government lashed out at softer targets more readily in reach – such as the judiciary, whose independence and resilience in the face of attempts to intimidate them was impressive.
In the past fortnight, Minister of Justice Michael Masutha, who ordinarily is a decent and sensible man, has gone public with a complaint against former judges being associated with litigating nongovernmental organisations.
Masutha must know this is brainless hogwash – that judges, once freed from their duty to be careful about what they say when they are on the Bench, enjoy full freedom of speech and association rights thereafter – but presumably feel compelled to descend towards the gutter to show their loyalty to a president whose pathological use of political power to secure his own interests apparently knows no bounds.
Partly, it is because the opposition parties, who have been so much more effective this year at using the national legislature as a place to test ANC hegemony and poke holes in its defences, haven't yet been able to fully translate this into a powerful political message in the country – despite the renaissance in Parliament, which has become a more relevant, interesting place in 2015, and notwithstanding the self-evident reservoir of largely untapped political activism and vigour apparent in the student protests that forced the government's U-turn on fee increases.
A further opportunity for the opposition will come in next May's municipal government elections, which will provide a major test for all the main political leaders.
The Democratic Alliance elected its first black leader this year. Mmusi Maimane's speech in the Sona debate in February was stunningly brave and suggested a man of substance as well as rhetorical flourish.
But since replacing the redoubtable Helen Zille mid-year, he has struggled to impose a distinctive political brand on his party or South Africa's politics.
The municipal elections will be a crucial test of his leadership, as much as they will be of the ability of the ANC to retain power in Pretoria, Port Elizabeth and Johannesburg.
Maimane and his party cannot continue to hang on to the coat-tails of the EFF – as they have done for much of the year in Parliament, such as during the dismal ad hoc committee on Nkandla, when the ANC used its majority to unconstitutionally evade presidential accountability arising from the public protector's findings on unlawful public expenditure on Zuma's private homestead – in next year's election campaign, otherwise their steady rise in the polls over the past decade will stall, creating even more space for Malema's heady yet dangerous populism.
The harsh political fact is, although next year's local elections may well change this, opposition attempts to damage the ANC – and Zuma especially – have largely failed.
In this sense, 2015, especially recent events, has confirmed a truism of post-1994 politics: that the real opposition is to be found, or not found, as the case may be, in the ANC and its alliance.
The growing cracks in Cosatu and its affiliates, and the South African Municipal Workers' Union's decision to break away from the trade union federation, may have suggested something different. But when the chips were down a week ago, it was Cosatu and the South African Communist Party leadership that were able to exercise decisive influence at the top of government when they stepped in to tell Zuma he had gone too far and overstepped a line.
So a neat symmetry to the year's events emerges. When the cellphone signal was blocked just before Sona in February, it was deputy president Ramaphosa who passed a note to the minister of intelligence with the simple instruction: "STOP IT!"
So, too, a week ago, he and other senior ANC alliance leaders told Zuma to stop his extraordinarily reckless decision to appoint poor Des van Rooyen as finance minister.
The message was clear: there are limits, Mr President, to your power. That Zuma failed to recognise this, failed to see that he was crossing a line, was a grotesque misjudgment. He is severely, perhaps fatally, damaged as a result.
Thus, Zuma ends the year far weaker politically than when it began. The odds on his surviving this year were just above 50%; now, for next year, they are significantly below that mark.
And South Africa emerges from a deeply unsettling damaging few days with a vital institution – the national treasury – bruised but intact, and an even stronger minister of finance.
Pravin Gordhan was irked when he was not reappointed to the position after last year's national election and so he is likely to be resolute in protecting the nation's under-pressure fiscus from Zuma's most grotesque, self-serving misjudgments – such as the rush to a nuclear power deal that the country does not need and cannot afford.
Unlike at the time of his first appointment in 2009, Gordhan takes over at the treasury with broader political backing from the ANC alliance leadership. He is all but unsackable.
At the end of a bizarre, shocking and depressing five days – which was in many ways a microcosm of a dramatic political year – it was possible to wake up on Monday morning after Zuma's latest U-turn on Sunday night feeling surprisingly positive.
This is no time for gloom and despair. On the contrary, there is a good reason to be cheerful: South Africa's democracy is alive and kicking, with everything to play for.
Richard Calland is an associate professor in public law at the University of Cape Town