Veteran Algerian opposition figure Ait-Ahmed dies
Hocine Ait Ahmed, one of the heroes of Algeria's war of independence against France and a leading opposition figure, has died in Switzerland at the age of 89, official sources said on Wednesday.
One of nine founding members of the resistance to French colonial rule in the 1950s, Ait-Ahmed helped launch the independence war that eventually brought the North African country to freedom in 1962.
He died in hospital after a long illness, said his Socialist Forces Front party, known by its acronym FFS, without elaborating.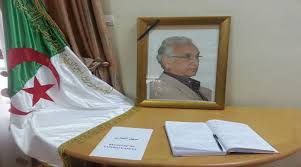 Jailed by the French in 1956, Ait-Ahmed was freed after a ceasefire in 1962. He went into opposition when Ahmed Ben Bella became president, and had been an opposition figure ever since.
He was arrested in 1964 and condemned to death but escaped jail and sought exile in Switzerland, becoming a symbol of uncompromising, principled opposition. He returned at times to Algeria and was always opposed to the military's role in politics.
He stood as a candidate in the 1999 presidential election, but he and five others pulled out mid-campaign arguing that the vote was rigged in favour of Abdelaziz Bouteflika, who continues as president to this day.
Ait-Ahmed's health began failing in 2012, and he resigned the following year as head of the FFS.