Sweden has done so much for refugees. Now it's turned its back on them
Griff Witte, Anthony Faiola | 1 January 2016 | The Independent
Sweden has taken in more asylum seekers per capita than any other nation in Europe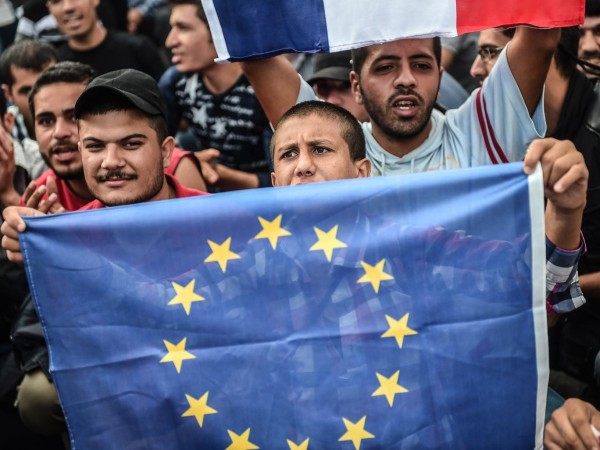 When the small, crumpled body of 3-year-old Alan Kurdi washed up on the Aegean coast on 2 September, Europe's humanitarian superpower sprang into action.
Sweden's prime minister headlined gala fundraisers, Swedish celebrities starred in telethons, and a country that prides itself on doing the right thing seemed to rally as one to embrace refugees fleeing for their lives.
But after taking in more asylum seekers per capita than any other nation in Europe, Sweden's welcome mat now lies in tatters. Overwhelmed by the human tide of 2015, the centre-left government is deploying extraordinary new border controls and slashing benefits in an unmistakable signal to refugees contemplating the long trek to Sweden in the new year: Stay out.
"We're willing to do more than anyone else," said Swedish Migration Minister Morgan Johansson. "But even we have our limits."
Those limits can be readily seen in a tent camp where dozens of migrants are bedding down in the frigid Nordic winter and at the train station where many new arrivals are turned back within minutes of setting foot on Swedish soil.
"You have your ID?" a police officer asked passengers one recent evening after their train had traversed the 7.5-mile Oresund Bridge and crossed from Denmark into Swedish territory.
Five young Afghan men did not. They were given a choice: immediately claim asylum or catch the next train back to Denmark. Until recently, there would have been no ID check — and under rules set to take effect next week, the men might have been prevented from reaching Sweden at all.
The impact of such controls could be felt far beyond Sweden: The country's dramatic shift threatens to wreak havoc all the way down Europe's migrant trail in 2016 by setting off a domino effect in which countries seal their borders for fear that their neighbours will do the same.
Barriers have already risen across the continent, primarily in the transit nations for migrants traveling by land into wealthy Western Europe. Hungary lined its borders with razor wire, forcing this autumn's unparalleled streams of humanity farther west into Croatia and Slovenia.
In November, Macedonia introduced strict conrol meant to filter out new arrivals from countries other than Syria, Iraq and Afghanistan. The policy has left thousands of people stranded in Greece.
But Sweden's abrupt reversal is potentially far more consequential. Across Europe this year, two countries have stood out for their uncommonly generous reception policies: Sweden and Germany.
Now, Sweden is actively trying to keep people out, while German Chancellor Angela Merkel is under pressure from critics within her own centre-right coalition to do the same after the country welcomed a record 1 million asylum seekers this year.
During her Christian Democratic Party conference in December, she bowed to those critics, at least in part, saying that Germany needed to "palpably reduce" its refugee numbers.
Merkel has shied from tangible steps to turn away prospective asylum seekers. But her ruling coalition is discussing a number of measures that could yield a much tougher policy in 2016, including expedited deportations for those deemed unworthy of asylum and more hurdles for those who have settled in Germany and wish to bring their families.
As Merkel mulls her options, Sweden is already on course to enact policies that would have been unfathomable just months ago.
Instead of a permanent home in Sweden, new arrivals will be eligible only for a temporary stay of between one and three years, with the government vowing to accept no more than the minimum number of refugees required under European Union law. Rules for bringing family members to Sweden will become much tighter.
While those changes have not received final parliamentary approval, they are widely expected to pass. The most tangible evidence of change, meanwhile, can already be seen in the ID checks aboard the trains, buses and ferries that connect Sweden with its southern neighbours, Denmark and Germany.
Under the free-movement rules of Europe's Schengen Area, such border controls are supposed to be deployed only in emergencies. But in the past month, they have become routine, blocking the path of asylum seekers wishing to transit through Sweden on their way to Norway and Finland.
The Swedish parliament recently passed a law that will expand the checks next week to the Danish side of the border, allowing Sweden to keep the large number of migrants who travel with no papers from ever reaching its shores. Denmark has threatened to follow suit on its border with Germany.
In ever-polite, welcoming and humanitarian-minded Sweden, the new policies have triggered intense soul-searching. Announcing the changes in November, the deputy prime minister choked back tears. Even those charged with implementing the new restrictions do so with great ambivalence.
"I have everything. They've left everything," said Anna Loenn, a police officer who led the checks at the first station on the Swedish side of the Oresund Bridge one recent evening. "It's heart-breaking what's happening."
Yet authorities say the changes were necessary, both for security reasons and to stem a flow of arrivals that was simply unsustainable.
Investigators now say that at least three of the attackers in the deadly November 13 assault on Paris travelled from Syria via Greece, exploiting some of the same routes into Europe being travelled by desperate asylum seekers.
Despite repeated pledges from E.U officials about the need to gain control of the continent's external borders, there has been little concrete action — forcing member states to revive internal border controls that disappeared decades ago.
Johansson, the migration minister, said the E.U.'s failure to take collective action also explained why his country was inundated by flows that, at their peak, brought more than 10,000 people a week to a country of fewer than 10 million. Much larger E.U. countries took only a fraction of that weekly total during all of 2015.
"We can handle the 160,000 people who came this year. But we can't handle it if there are another 160,000 people next year," Johansson said, urging asylum seekers to look to any of the other 27 E.U. nations before they consider Sweden. "Our whole asylum system would break down."
The system very nearly did break down in autumn. With arrivals outpacing the government's ability to find shelter, asylum seekers were forced to sleep on the streets in November — a first in the country's modern history.
"We always take great pride in accommodating people in a dignified way," said Mikael Ribbenvik, director of operations for the Migration Board, the government body in charge of caring for asylum seekers. "But we had to report on several occasions that we just couldn't handle the situation."
No one is on the streets now, with arrivals having dropped substantially in December. But Ribbenvik said 23,000 people are still in housing classified as "substandard," including dozens of young men who are sleeping in tents pitched in a muddy field in the southern Swedish countryside.
It's not what Mohammed, a cherub-faced 35-year-old, had in mind when he left his native Damascus. He had heard from friends that new arrivals in Sweden were given tidy apartments and warm welcomes. He was shown to one of a dozen cots in a cavernous tent and told it would be his home for the winter.
"It's going to be horrible," said Mohammed, who asked that his last name not be printed because he has relatives in Syria and fears for their safety. "The tents are heated, but especially when the weather turns bad, it'll be very hard to live here."
The worst part, he said, will be living without easy access to books, especially his favourites: "Shakespeare, the Victorians, the Transcendentalists and George Orwell."
But he doesn't blame Sweden, which he said is doing its best under the circumstances. Nor does he regret leaving behind the war that has engulfed his native land.
"I have no choice. It's either here or the hell of there," he said. "I couldn't stay in Syria."
Faiola reported from Berlin. Karla Adam in London and Stephanie Kirchner in Berlin contributed to this report.