PARIS — The witness, a slight middle-aged woman, wanted to tell the court about something that had happened to her, something terrible that she said she had kept to herself for more than 30 years. As she faced the judges, she was just steps away from the man on trial, Hissène Habré, once Chad's all-powerful and much-feared president.
In an even tone, the witness, Khadidja Zidane, told of being tortured in a prison on the grounds of the presidential compound in N'Djamena, Chad's capital.
But when Ms. Zidane moved on to talk about sexual abuse, the chief judge quickly offered to hear her testimony in private. "No, I will not hide anything," Ms. Zidane said. "I'm ashamed to say it, it's shameful for my family." Then in a firm voice, she blurted out: "Hissène Habré raped me four times."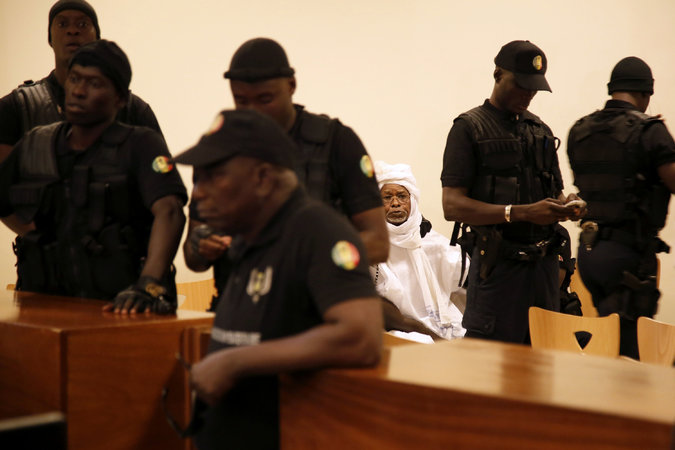 Ms. Zidane was one of 98 witnesses who have appeared in a courtroom in Dakar, the capital of Senegal, where, in an extraordinary effort to hold a former leader accountable for atrocities, a special chamber is trying Mr. Habré on charges of crimes against humanity, war crimes and torture committed during his presidency from 1982 to 1990.
For the past three months, harrowing stories have been told by men and women in their 50s and 60s — people, like Ms. Zidane, who were brought from Chad to testify about their ordeals or about the relatives who disappeared at the hands of the government. According to a Chadian truth commission, the government killed more than 40,000 people deemed enemies of the state, or merely suspicious.
Some witnesses said that they nearly suffocated in cells too crowded to lie down in, and that they almost died from lack of food. They described being dunked in waste, tortured with sticks and wires, being raped and beaten, and watching fellow inmates die from abuse.
Clement Abaifouta, who said he was forced to work as a gravedigger, testified that corpses were often left in the cells until the jailers decided that there were enough to make a trip to the burial grounds worthwhile.
Prosecutors have presented secret police archives, found in abandoned offices, that recorded the names of 12,321 prisoners, interrogation reports and the deaths in detention of more than 1,200 people. François Serres, Mr. Habré's French lawyer, has dismissed the records as "fakes."
The proceedings against Mr. Habré, which are expected to end in January, have been video-streamed from the special court in Dakar, where he remains the only defendant and the only inmate of a renovated jail.
The court, known as the Extraordinary African Chambers, was created for Mr. Habré. Unusually, it applies the laws of Senegal to judge the former head of state of a country more than 2,000 miles away for acts that occurred in that country.
The presiding judge is from Burkina Faso, and the other two are from Senegal. They must decide if the many crimes presented in court can be imputed to Mr. Habré. Once seen by the West as a bulwark against Col. Muammar el-Qaddafi of Libya, Mr. Habré received arms and advice from France, Israel and the United States.
The only comparable case in Africa involved Charles Taylor, the former president of Liberia, who was convicted by a United Nations-backed tribunal for crimes committed in Sierra Leone.
Yet what perhaps most distinguishes the special court in Dakar is that it was created with political support from the African Union, which has long complained that Africans were being singled out for prosecution by the International Criminal Court in The Hague. After much legal wrangling, it was the African Union that asked Senegal to try Mr. Habré "in the name of Africa."
The court's $11 million budget comes from donors, including the United States and France, the erstwhile Habré allies, and one-third is paid by the government of Chad, where President Idriss Déby has been in office for the 25 years since he overthrew Mr. Habré.
For Mr. Habré's accusers, though, the trial's taking place at all has been remarkable.
The former strongman had lived in exile in Senegal since 1990, and he was indicted there in 2000. Yet it took more than a decade of outside pressure before Mr. Habré was arrested.
Many atrocities that occurred during his years in power were already known, but the trial has uncovered new details about the scale and the workings of the repression as witnesses have dared to testify, even though some reported receiving death threats in Chad.
Four women testified that they were part of a group of prisoners sent as sex slaves to a military camp in the desert. Ms. Zidane had told investigators earlier that she was also sent to the camp. But she had never stated openly that she was first raped by the president himself. When challenged by a defense lawyer, she angrily threatened to lift her clothes to show what she said were stab wounds he had inflicted on her.
Among Chad's many jails, the most notorious was a converted swimming pool operated by the secret police, the Directorate of Documentation and Security. Few prisoners emerged alive. Among the more excruciating torments, survivors told the court, was the "arbatachar," which involved tying all four limbs together behind a person's back.
Bandjim Bandoum, a former directorate official, testified about the agency's inner workings. He said that the secret police agency was more powerful than the military, and that orders came from the president himself.
"I saw the screaming and crying of the prisoners and the conditions in jail," he said, insisting that he had not taken part in torture but had taken notes during interrogations.
Mr. Bandoum, who now lives in exile in France, added that his "conscience was still troubled by the many crimes that were committed." He had decided to testify, he said, because "I promised my son that one day he would know the truth."
Asked if he had anything to say to Mr. Habré, Mr. Bandoum said, "What I ask of him is to speak."
But the former president has not uttered a word in court since the trial's first two days, when he screamed insults at the judges and struggled with his guards.
Since then, Mr. Habré has been forced to attend every session and has sat motionless, his face largely concealed by a white turban and dark glasses. At the end of every session, he raises clasped hands to his family in court, who burst into applause.
People following the trial said that Mr. Habré had ignored all the witnesses, even those whom he knew personally. Mahamat Nour Dadji spoke about his father, a friend and adviser to the president until the day an official car fetched him at home and he was never seen again. Turning to the defendant, Mr. Dadji pleaded: "Tell me what my father did wrong. Tell me how he died."
Zakaria Fadoul Kittir, a university professor, told the judges that the regime had nearly wiped out his family. "I ask Hissène Habré where my brothers are," he said as the courtroom fell silent.