Iran, Saudi Arabia and the Israeli angle
Herb Keinon | 05 January 2016 | Jerusalem Post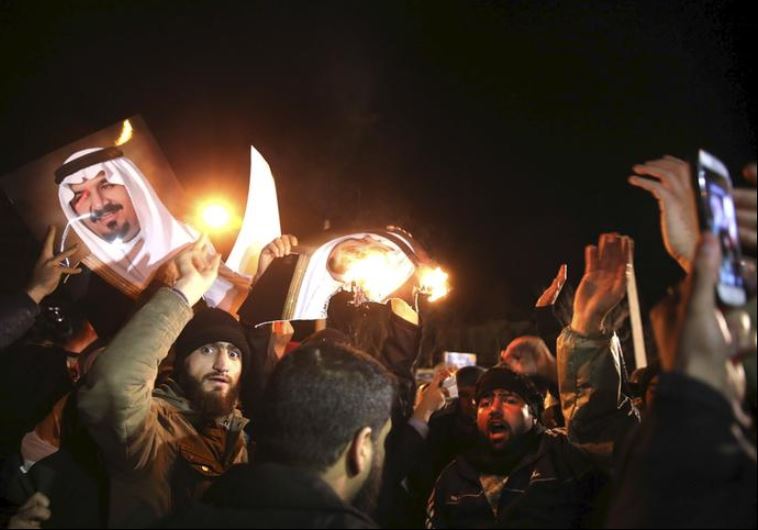 Jerusalem on Monday was closely monitoring the rapid breakdown in relations between Iran and Saudi Arabia, knowing full well that ripples from that crisis will surely be felt in Israel.
Yaakov Amidror, the former head of the National Security Council and, before that, of Military Intelligence, told The Jerusalem Post there could be two immediate ramifications for Israel.
The first, he said, is that the crisis will prolong the Syrian civil war, in which Iran and Saudi Arabia are backing different forces, and the second is that the crisis with Riyadh will mean Tehran will have an additional front and point of friction to keep in mind when making decisions, including those having to do with Israel.
Referring to attempts to negotiate an end to the Syrian crisis, Amidror, who is now a senior fellow at the Begin-Sadat Center for Strategic Studies at Bar-Ilan University, said: "Anyone who thinks he will be able to bring about calm here does not know where they are living. It is clear that so much oil has been poured on the flames now that I don't know how long it will take to put them out."
He sidestepped the question as to whether a continuation of the war in Syria was good or bad for Israel, saying that depended on how one looked at the situation on Israel's northern border.
There are some who believe the current situation is bad for Israel since chaos in Syria provides an opening for various elements hostile to Israel to operate directly on the country's borders.
Others, however, maintain that having Hezbollah and Iran embroiled in Syria's conflict not only weakens them, but also keeps them from focusing on Israel. This school of thought maintains that the war has removed Syria as a conventional threat to Israel for the foreseeable future.
The second immediate fallout from the diplomatic crisis between Iran and Saudi Arabia is that the Iranians will now have to factor in another point of friction in their decision making, he said.
No country has infinite energy, he said, and Iran – when making its decisions – will now have to take into consideration their considerable conflict with Saudi Arabia.
"They will be busy with other things," he said.
"That doesn't meant they won't do anything [toward Israel]. This doesn't mean, for instance, that this will influence Hezbollah [backed by Iran] not to carry out revenge attacks against Israel. But it means that whenever there is something, there will be someone in Iran who will say that they have other problems to think about; we will not be the only issue they will be focusing on.
"The very fact that they have another source of friction is not bad for Israel," Amidror said, adding that there were parallels between how this crisis may affect Israel, and how the crisis between Moscow and Ankara stemming from Turkey's downing of a Russian fighter-plane impacted on Israel.
While stopping short of saying that the crisis with Moscow is what has led to a recent softening of Turkish President Recep Tayyip Erdogan's position toward Israel, he said it was one of the elements leading to a change of tone because Turkey had to consider other sources of friction.
The same thing is likely to happen with the Iranians, he said.
Amidror added that another likely result of the current conflict will be that "when Saudi Arabia looks around and asks who their allies are, they will not find too long a list."
Asked whether as a result of this he could imagine a scenario in which Saudi Arabia would turn to Israel for intelligence or logistical help in dealing with the Iranian threat, Amidror said he had "nothing intelligent" to say on that matter.
He did say, however, that he did not see how the current Iranian-Saudi crisis could have any impact on the diplomatic process with the Palestinians.
Prime Minister Benjamin Netanyahu has said in the past that a confluence of interests between Israel and the moderate Sunni states in the region could – by getting them to press the Palestinians into taking more flexible positions – have a positive impact on peace efforts with the Palestinians.
"There is a big gap between the sentiments in the [Arab] street [about the Palestinian issue] and the understanding of the [Arab] leaders [of the issue]. The understanding of the leaders, in all the Arab countries, is that the Palestinian issue does not impact at all on the real situation in the Middle East and all the countries in the Middle East, except perhaps for Jordan, where there are more Palestinians," he said.
"But except for Jordan, there is not a state that thinks that what we do with the Palestinians will influence their fate, situation, problems, solutions and the sentiments on the street," he said. "As a result, there will always be a gap between what the leaders can do in public, and what they can do [with Israel] under the radar."