Nick Paumgartren | January 11, 2016 Issue | THE NEW YORKER
Ashima Shiraishi's route to the top.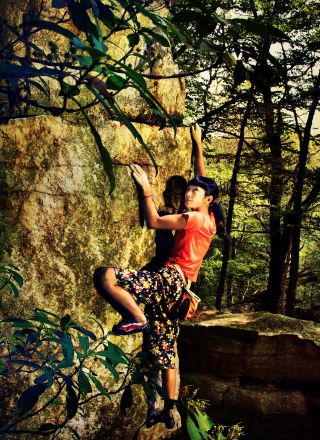 The mother and father of Ashima Shiraishi, a fourteen-year-old New Yorker who has been called the most talented rock climber in the world, met in fashion school, in Tokyo, in the early seventies. Hisatoshi Shiraishi, the father, was from the southern island of Shikoku, and Tsuya Otake, the mother, was from Fukushima, where her family had a garment factory. After graduating, they travelled together to Europe and, captivated by the punk scene in London, settled there for a while. Upon their return to Japan, Hisatoshi, who went by the nickname Poppo, took up the study of Butoh, an avant-garde dance form. After a couple of years, Tsuya flew to New York on a tourist visa and sent word that the city was more exciting than Tokyo or London. Poppo followed. This was 1978. Tsuya was right—New York was very exciting.
After a week, Poppo found a stage: the fountain in Washington Square Park. Most days, he danced there in the shallow pool. When winter came, he began performing both inside and outside night clubs downtown: the Mudd Club, Pyramid, Danceteria. By the mid-eighties, he was a minor celebrity in the East Village arts scene, known for his intense brand of street theatre. Naked save for a loincloth, and spray-painted gold from head to toe, he danced sometimes with a burning dummy, amid fires he'd set on the sidewalk, or he surfed atop passing taxis, or he stood still for twenty minutes, barefoot, on a block of ice. He founded a troupe, called Poppo and the Go-Go Boys, which had as many as twenty dancers, most of them women, and they performed at downtown theatres—La MaMa, the Kitchen, the Joyce—and toured overseas. Videos of a few of these performances have survived into the YouTube age. In them, Poppo is limber and lean—a ghoul in gold or white paint. The Times described his movements onstage as those of "a powerful, slightly wry priest." Spin noted his ability to discern gods in the neighborhood trash and pronounced him "strong on punk ethics." Meanwhile, Tsuya, who was working as a saleswoman at a Japanese clothing store in the East Village, paid the rent.
Eventually, Poppo and Tsuya got married. Tsuya had a green card. For more than ten years, they tried to have a child, availing themselves of every method they could afford. When Tsuya turned fifty, they were ready to give up, but their doctor urged them to try once more. "It was our last chance," Tsuya said. In June, 2001, a daughter was born: Ashima. "She was a miracle baby," Tsuya said.
Tsuya recalls that even in the hospital nursery Ashima ceaselessly moved her hands, arms, and legs: "All the time, not stop. I couldn't believe it. I think she has monkey DNA." Tsuya has a sardonic sense of humor, and a husky laugh. She and Poppo both struggle with English, despite having lived in New York City for nearly forty years.
Their aspirations for Ashima were lofty and vague. "When Ashima was born, I have an idea for her," Tsuya said. "She grow up, create things, and make people happy. It came true. Now kids want to be like Ashima."
Climbing was not originally a part of the plan. They hardly knew that it existed. The real miracle may be that a little girl from the unmountainous island of Manhattan, born to insular, artistic immigrants who had never tied a figure-eight knot, became, by the age of fourteen, possibly the best female rock climber ever—a Gretzky of the granite. Ungrudgingly admired by seasoned dirtbags and muscular young rock rats, she is, even though still young, perhaps the first female climber whose accomplishments may transcend gender, and the first rock climber who could become a household name. There have been articles and photo spreads in newspapers and sports magazines, films and countless YouTube clips, an appearance on Time 's list of America's most influential teen-agers, and, of course, a TED talk. (She's no Tony Robbins, but she held her own.) Amid all this, she still lives with her parents in a rent-controlled loft on West Twenty-sixth Street and trains five days a week, under the eye of her father, who, many years ago, gave up Butoh to coach and guide her.
Every ascent combines, to varying degrees, elements of technical skill, physical strength, imagination, concentration, and tolerance for risk. Climbers are stronger in some elements than in others and so favor certain disciplines. The various approaches depend in large part on the extent and the manner of "protection"—the cams, nuts, bolts, and pitons that support the rope, and the climber attached to it. Sport climbing takes place on routes, either in gyms or outdoors, that have fixed protection; you hook your rope into existing bolts. "Trad" (traditional) involves climbing outdoors and putting in your own protection as you go. Free soloing is climbing without protection. You fall, you die.
Bouldering consists of short routes, or "problems," of no higher than twenty feet or so, on freestanding boulders and accessible overhangs or in climbing gyms. Boulderers eschew protection—you fall, you ache. Bouldering, the Patagonia founder and rock-climbing pioneer Yvon Chouinard once said, is "instant suffering."
Bouldering was for years just a way to goof off or train between big ascents. Starting in the fifties, John Gill, a mathematician and gymnast from Georgia, made bouldering a discipline unto itself. There was little glory to be found in standing atop a twenty-foot rock, so it was all about how you got there: means over end. This is where the idea arose of boulders as problems. Gill advocated style, power, and grace, and considered bouldering to be a variation on gymnastics, as well as a form both of personal expression and of moving meditation. He was the first to use gymnastics chalk (now commonplace) to keep the hands dry.
Ashima excels at sport climbing and bouldering. She is a gym-era child who nevertheless climbs outside whenever she can. That's where you make a name for yourself. Still, she claims to have no interest in the big walls of Yosemite, to say nothing of serious mountaineering. "I'm not really into Alpine," she told me. "I don't like the cold. I don't like ice or snow." She prefers the pocked syenite humps of the Hueco Tanks, near El Paso—a bouldering Mecca. (She spent the Thanksgiving weekend there, with her father and some older climbing friends.) For her, a climb is a puzzle, not an expedition.
In terms of pure talent—climbers speak of "strength"—she is near the top, but she is not too keen on taking risks. Anyway, her parents won't allow it. She has small, powerful fingers, a light but sinewy frame, and a seemingly effortless yet peerlessly precise technique. All this enables her to find holds in nearly imperceptible chinks in the rock. A rock climber's key attribute is a high strength-to-weight ratio, but the ability to create leverage, with subtle geometric variations in body positioning, is the force multiplier. A civilian might think crudely of climbing as something like ascending a ladder—all reach and pull—but watching Ashima adjust the attitude of her hips, shoulders, or heels as she tries to move from one improbable hold to another gives the impression that the human body can arrange itself in an infinite number of forms, each of slightly different utility.
She has an uncanny muscle memory, so that once she finds the right position for the problem she nails it. This economy of motion, both innate and learned, is, at the highest levels, an esoteric art. You can see how her father's aptitude for corporal ingenuity and control, from Butoh, translates into hers for dancing on the wall. Her competence, power, and grace may inspire comparisons to Roger Federer or Misty Copeland, but her deliberate and unhurried realignments bring to mind a mantis.
In both sport climbing and bouldering, there are certain somewhat objective standards against which climbers can measure themselves. One is competition, on artificial climbing walls. In August, Ashima won gold medals in bouldering and sport climbing in the world championships, in Arco, Italy, in the fifteen-and-under bracket. She is not allowed to compete against adults in sanctioned competitions until she turns eighteen, but when she has competed against them in other contests she has beaten them. In Arco, she was the only climber, of any age, to top out (i.e., reach the top) on the four bouldering problems—three of them on the first try.
She and her parents have their eyes on the 2020 Olympics, to be held in Japan. The host country can add several sporting events to the usual complement, and it appears that climbing may be one of them. The Olympics are a proven mechanism for monetizing obscure gifts. This would be Ashima's best chance to get on a Wheaties box.
Another standard is the rating regimen. Sport and trad climbs are given a degree of difficulty, according to the Yosemite Decimal System: 1 is a walk on flat land, and 5 is a vertical climb, or close to it. So actual climbs are rated 5.0 through 5.15, with additional subcategories of "a" through "d." The hardest routes at the moment are 5.15c—there are just two. (The system is open-ended, so it's only a matter of time before someone pioneers a 5.16a.) In northeast Spain, last March, when Ashima was thirteen, she became the first woman, and the youngest person of either sex, ever to "send" (complete) a 5.15. It is a route called Open Your Mind Direct, which was recently upgraded from a 5.14d to a 5.15a, owing to a handhold's having broken off. She spent just four days "projecting" the route—that is, studying and solving all the problems on it by trial and error. The men who had done it before had spent weeks, if not months. Obviously, the rating system is also subjective, but for Ashima this feat was an annunciation. If she could send a 5.15 during spring break from eighth grade, what more could she do?
Bouldering has a similar rating system, with a scale of V1 to V15. Ashima is the second woman to have sent more than one V14. (She beat her predecessor in a competition last year.) In a notable session this fall, an hour north of the city, in a wooded area that climbers call the Master Bedroom, Ashima ticked off a series of difficult problems: a V11 called Reckless, a V12 called Wetness to Fatness, and a V14 called Nuclear War, which, in the nine years since it was first climbed, had turned back all attempts until hers. She announced her performance on Instagram: "V11, V12 and V14 in a DAY! HOLY CRAP!!!!!" On Thanksgiving, she posted a photo from Texas on Instagram: "I shocked myself by getting the first female ascent of the legendary razor blade climb, Terre de Sienne (V14)!" (Also Federer-like is her way of blending frank amazement at her own capabilities with an air of humility and ease.)
The photo from the Master Bedroom showed a film crew standing beneath her as she dangled, almost parallel to the ground, from a sun-dappled gneiss overhang. They were from the climbing-video company Big Up Productions, which has made several films of Ashima. Big Up's founder, Josh Lowell, who was shooting her that day, told me, "I've been to that spot with a bunch of talented pro climbers over the years and never seen anyone have a day like that before. She has a chance to completely change the game of climbing in the next few years."
The first time I saw Ashima Shiraishi climb was at the Cliffs, a vast gym in Long Island City. It was a school holiday, and she had taken the E train from Manhattan with her father. She trains mainly at the Cliffs or at Brooklyn Boulders, a smaller gym that opened six years ago in an old Daily News garage not far from the Gowanus Canal. Despite how young and girlish her voice had sounded on the phone, I was surprised by how small she is. She is just over five feet, with broad shoulders, long arms, and neat bangs. Her face, at rest, has a melancholy air, but a ready smile lights it up. She shrugs a lot and doesn't talk much. She often stands like a dancer, with one toe pointed out, hip a-jut. She does not look muscular, but once she's on the wall the muscles in her shoulders and back seem to spring out of nowhere. She's metamorphic.
She ducked into the locker room and came out a few moments later wearing a yellow North Face tank top and knee-length cotton climbing Capris in a flax-colored Bijinga pattern. Her father buys fabric in the garment district, and her mother makes her clothes on a sewing machine at home. He also cuts Ashima's hair and chooses her outfits for competitions. He had on plaid cotton pants, a gray T-shirt, and running shoes. He is short and compact, with spiked hair dyed partly yellow. He often looks down at the floor when you talk to him. He smokes Parliaments out of a silver case. He carries a brown felt duffel with his Ashima stuff: shoes, chalk, flip-flops, thermos, snack bars, hairbrush, cream. A competitor's mother once asked him whether he ever had any interest in climbing himself, and he replied, "I don't have time. I must clean Ashima's shoes."
They went upstairs and found a quiet place where there were a few stationary bikes. Poppo lowered the seat on one, and Ashima sat down. Standing behind her, he combed out her hair. He rubbed cream into the hair by her temples and combed that, too, then rested the little jar of cream on the rear wheel of an elliptical machine. She stared straight ahead. Her feet were bare. They are long, with big toes like thumbs. He put her hair in a ponytail.
This was a ritual they perform before every training session or competition; they have a knack for finding the calm corners of busy gyms. Then came a brief warmup. They faced each other and went wordlessly through a series of stretches. She followed his lead, not quite giving it her all. They went from one end of the body to the other: ankles, legs, shoulders, arms, fingers, wrists, neck. They kneaded their own fingertips and then their forearms and triceps. He slugged himself a few times on the thighs and chest with a fist, and she halfheartedly did so, too. They finished with a sumo squat and a leap into the air, and then she sat on a mat and jammed her feet into a pair of climbing shoes.
The gym teemed with climbers of all ages and sizes and shapes, and as Ashima walked among them some did double takes, others played it cool, and a few offered up congratulations, for the world championships. She warmed up with a series of quick short climbs: bouldering routes, each a bit more difficult than the one before and yet easy for her, a wiz amid the riffraff.
After a while, she tried some longer routes, to work on her endurance. For these, she stepped into a harness, and her father belayed her from below, with a twenty-metre rope. As she climbed, she clipped the rope into a series of carabiners attached to the wall. The climbs increased in difficulty. She and her father studied the routes. What little they said to each other was in Japanese. (She says that she is better in English and doesn't write Japanese very well.) Her father often gives her tactical advice—what climbers call beta—especially after she falls. "Then he suggests a different way," Ashima told me. "And sometimes it'll be bad beta. I'm, like, 'You try it!' "
She worked her way up a route that had a series of overhangs. She was almost upside down, gripping a handhold the size of a loaf of bread. She reached into her bag of chalk, shook each arm, and then was suddenly hanging by two hands, legs dangling, from a grip the size of a dinner roll. No panic.
Two middle-aged climbers, a man and a woman, watched from below. "I'm going to project that," the man said. "But it'll take me months."
The woman said, "She's hanging on freaking slopers"—that is, Ashima was resting straight-armed on rounded holds that seemed to offer no real purchase.
"The pulleys in her fingers are well developed," he said. "She's like a chimpanzee. Her fingers are steel."
When Ashima was done, she started right in on another route. "Most people would need a thirty-minute rest after that," the man said. "This one is the hardest they got in this gym. This is insane." He watched her edge up over a ledge. After a few minutes, she reached the top and then drifted down, on her father's belay. For a while, she sat on a mat with her shoes off, looking almost bored.
As it happens, the man had been around when Ashima first got started. "She had the ugliest set of shoes," he recalled. "She was, like, seven. She used to come up to us and tell us moves."
This was at Rat Rock, a hump of schist about a hundred and fifty feet wide and not quite ten yards high, near the southern end of Central Park. Officially, it's called Umpire Rock, owing to the ball fields nearby, but its denizens have given it a more honest name. By global bouldering standards, Rat Rock ain't much, but it is the indisputable hub of outdoor climbing activity in the city, with a surprising number of tricky bouldering problems on its north and east sides, and a revolving cast of characters who congregate there to take them on.
When Ashima was little, her parents often brought her to that part of the Park, to visit a playground nearby. One day, when she was six, she ran over to Rat Rock, intending to slide down the gentle scarp on the south side. She noticed people climbing, and scampered up an easy pitch. The sensei of Rat Rock, an old Japanese gardener named Yukihiko Ikumori, known to all as Yuki, noticed her. Yuki had devised new ways of attacking almost every prominent problem there, including Death by Dizzy and Tweaky Shit, and he often helped newcomers learn them. He began to work with Ashima. "I have to translate our climbs to the hands of a six-year-old," he told a friend named Vadim Marcovallo, who had started climbing at Rat Rock in 1981. According to Marcovallo, Ashima would follow Yuki around, doing everything he'd do.
"Then her father stepped in," Marcovallo recalled. "He wouldn't allow Yuki to show her anything anymore. And so Yuki wouldn't even look at her, because the father was there." Marcovallo recalled that in those early years, once Ashima showed promise, she often wanted to run around in the playground with other kids her age, or even hang out with a crew of high-school students who did parkour tricks on a different part of the rock. "But her father always insisted she climb, climb, climb," Marcovallo said. "I actually remember him saying it: 'Climb!' And there was lots of tears and drama. Our hearts went out to her. We all wondered, How is this going to play out?" As Marcovallo recalled, Ashima's aunt persuaded her father to relent and let her run around a bit in the playground—and then Ashima started to want to climb on her own. "She started to crush it," Marcovallo said. "She'd do the Polish Traverse"—a horizontal route on the rock's north wall—"like nobody's business. I remember when she was trying some difficult problem on the west side of the rock. When she didn't do it, she'd cry." Tears, still, but now over wanting to climb well, rather than not at all. Some of the Rat Rock regulars worried that, as one put it, "there's a Svengali thing going on here." But they started to see the results. "And look at her now!" one said. "Maybe that's what it takes." (Ashima and her father deny that there was ever tension between them or with Yuki. In general, Ashima is dismissive of any Svengali talk. "I climb for myself," she told me.) Marcovallo also remembers the day that he and some others were idly talking about climbing shoes and Ashima exclaimed, "I'm sponsored!" (She now has endorsement deals with Clif Bar, The North Face, Petzl, and Evolv.)
When Ashima was seven, Poppo began taking her around to climbing gyms in the area. In White Plains, they found a coach named Obe Carrion, a muscular Puerto Rican from Allentown, Pennsylvania, who had been a national champion. Carrion was going to teach her some real technique, and perhaps serve as a buffer between Ashima and her father. Not long afterward, she won the nationals for the first time. Carrion worked with her for almost four years, but eventually, amid tension with Poppo, he quit and moved West. "It was a bit too much for me," Carrion recalled. "It wasn't good for me to focus all my energy on one child."
The first film of Ashima, "Rock Little Angel: Dreaming Rat," was shot by family friends, when she was eight, at Rat Rock. In some respects, it is less a proclamation of talent than a meditation on precocity. It features the eerie music of Nocturnal Emissions, an English sound-art collective, which had served as the accompaniment for some of Poppo's Butoh performances. Rat Rock comes off as a strange, wild place, and Ashima as a mystical nymph. Sometimes you get the sense that she isn't so much an athlete as an art project.
Though still a girl, and very much under the sway of her father, Ashima is shrewd about her career and oddly self-sufficient where business is concerned. She has had no professional representation of any kind. She handles her own press. When she has had to sign contracts, her parents review them, but because they don't read English very well, she said, "they have no idea what's going on." Just before Christmas, however, she met with RXR Sports, the agency that represents the free soloist Alex Honnold and many other climbers, to discuss the possibility of her becoming a client.
As with gymnastics and figure skating, there are many cases of climbing prodigies, especially girls, who are phenoms at twelve and done by twenty. "They don't want to be pawns anymore," Josh Lowell, the Big Up filmmaker, said. Priorities, and bodies, change. Tori Allen, who grew up in Benin, was known for the stuffed animal she kept clipped to her harness, as a nod to a childhood spent climbing trees with a pet monkey. She was a professional by the age of twelve, an X Games champion at fourteen. She attracted endorsements, and hype, to the point where people on the climbing scene began to resent her. (They called her climbing's Anna Kournikova.) She quit competitive climbing in favor of pole-vaulting, which got her a scholarship at Florida State. "Now I climb for fun, not for grades, medals, or magazines," Allen, who is twenty-seven, told me. "I know a lot of climbers still climbing now who were at their peak ten years ago. They're living six to a condo in Boulder, training to go get fourth place. Some of them have college degrees. What motivates them? When are they going to give it up?"
Ashima seems to view climbing as a venue for accomplishment rather than as a ground for adventure. "Climbing used to be for the misfits who couldn't catch a ball or the small kids like me who got cut from the baseball team," Lowell said. "Now it's for élite athletes. They're trying to perform a perfect ten." It's a particularly unromantic strain of rock ratting; the wild allure—wandering the continent, living out of a car—has been bred out of it. Or perhaps, for Ashima, it's just down the road.
The Shiraishis' loft is in the garment district, five flights up in an old sewing factory. The elevator is ancient and balky, and so the family walk up and down. The apartment is two thousand square feet: seven hundred and fifty dollars a month. Ashima and her mother sleep on bunk beds in a back bedroom otherwise occupied by Poppo's archives of videotapes, records, books, and press clippings. Ashima sleeps on the bottom bunk. Poppo's bed is out in the main space, in a corner. One part of the loft is a kind of playpen, a fenced-off area cluttered with Ashima's old toys and art work. Ashima's favorite book is Haruki Murakami's "Colorless Tsukuru Tazaki and His Years of Pilgrimage." Her favorite movie is "Breakfast at Tiffany's." ("I love Audrey Hepburn.") But she doesn't really have time for movies. She likes to watch the Knicks when she can.
Her mother has a bob and dresses in painter's pants and long jackets. She is in her mid-sixties. She has never tried to climb. "I'm not athletic anything," she says. "I make the pants." Ashima's parents are very attuned to her weight. In October, she was eighty-two pounds. "She's too skinny," Poppo told me. "It's too light. Needs more food. Six months ago, she was a hundred pounds." This swing seems extreme, as does the attention to weight generally, but the concern is pure physics—the strength-to-weight question. Ashima is trying to optimize. Her parents were trying to get her to eat more. "Professional climbers keep giving her advice," Poppo said. "Gluten-free. But not enough calories. My wife said, before world championships, 'Skinny better than fat.' But yesterday I told her, 'You take a little bit more food.' " He had a number in mind. "She's a little bit chubby at ninety. She needs eighty-eight." By Christmas, when she went to Japan on a bouldering trip, she was eighty-eight.
Of greater concern to them is sleep. Ashima often gets just five or six hours. She arrives home from climbing at eight-thirty in the evening, showers and eats, and then starts in on her schoolwork, which she insists on finishing. She's often up well past midnight. "We say, 'Don't do homework!' " Tsuya said. When I asked her if Ashima got straight A's, she said, "Yes. Well, sometimes she gets A-plus."
Ashima is a freshman at Rudolf Steiner, a private school on the Upper East Side. It's a Waldorf school—progressive, tactile, artsy—where kids make their own books and tools. The high school is in a town house a block south of Michael Bloomberg's. Ashima started at Steiner when she was three and had Dena Malon as her main teacher in grades one through eight. This year, Malon is on a sabbatical, in part to clear her mind after eight years with the same group of kids and to prepare for the next group. "It's my aim to let go of them," Malon said. Ashima is one of the more difficult ones to let go of: "She works harder than anyone I know. I've never met anyone like her." Ashima has friends there but hardly has time to hang out with them outside of school.
Ashima intends to leave Steiner after this year for the Professional Children's School, a midtown high school that gives its students, many of them actors, models, or musicians, a chance to have flexible schedules. "Normal people can go, too," Ashima told me.
Earlier this fall, Ashima flew to Boston with her parents to compete in the Heist, an annual all-female competition at a climbing gym in Watertown. (At most competitions, the women compete, and then the men. At the Heist, the women are the main and only event.) The Shiraishis were staying at a Best Western nearby, with a Japanese film crew from Fuji TV that had been following them around for almost a year for a series about Ashima, called "The Spider Girl," which was big in Japan.
This was the third Heist. Everyone involved seemed to speak wistfully of the year before, when Ashima competed for the first time against top grownup professional climbers. She had beat both Alex Puccio, the nine-time national bouldering champion, and Delaney Miller, one of the country's best climbers. Neither was back this year. The most notable competition was Meagan Martin, a powerful twenty-four-year-old climber known for her appearances on "American Ninja Warrior."
The qualifying round stretched into the afternoon. Dozens of girls and young women in shorts and leggings crawled all over the walls or reclined on the heavily padded floors. Squalls of encouragement sprang up here and there, as putative competitors egged each other on. This was not the edgy green-eyed atmosphere of the gymnastics academy or the figure-skating rink. Ashima and Poppo wandered around, scouting the more difficult problems. Little crowds gathered to watch her nail each one. The gym's head route setter, a coach named Shane Messer, watched her on the hardest, and he said that she was the only one in the gym capable of completing it. "There's still a difference between the men and the women, but the girls are getting really close," he said. "Ashima is stronger than, let's say, all but twenty dudes in the world."
There were six women in the finals, which were held in the evening. The climbers mustered in an empty section of the gym, away from their parents or their coaches. The organizer had rigged a giant white sheet over the championship course—it hid two bouldering problems and a sport-climbing route. The gym filled with several hundred spectators, most of them practitioners or parents attuned to the sport's nuances. After a while, amid loud music and colored lights, the finalists were introduced, the curtain fell away, and the competitors got fifteen minutes to stalk the base of the wall, studying the routes. They moved in a cluster, gesturing at invisible handholds, as though reaching for fireflies, and even occasionally shared their impressions and tactical notions with one another. Ashima ran over to her father and retrieved a pair of binoculars. She peered up at the higher reaches of the roped route. He watched from the back of the gym, taut with an unappeasable urge to share beta.
When the competition began, the climbers went one at a time. Each had five minutes—if a competitor was still on the wall when the time expired, she could keep going until she fell. The climbers, as they awaited their turn, sat side by side in a row of chairs facing away from the wall and were forbidden to turn around, lest they glean intel from their rivals' attempts. Each time the one climbing made a hard move, the crowd hooted and cheered, and the others could only guess at what had occurred. Ashima stared calmly ahead.
The climbers earned points as they ascended from hold to hold. The first problem, about twenty feet high and worth twelve points, featured an awkward move from one facet to another, via a tricky corner, and onto an overhang. The first climber couldn't get past it and earned eight points. Among the first five, only one, a local climber named Bimini Horstmann, got through, by facing away from the wall, and only on her third attempt. The crowd went nuts. She topped out and leaped off. "That's my girl!" her mother yelled. The next climber, Meagan Martin, the ninja, got stuck in the corner and gave the crowd a "You kidding me?" grimace. She came off, after a pair of nines.
Ashima, as the top qualifier, went last. She, too, got hung up in the corner section, and, to everyone's surprise, fell in her first attempt. She re-chalked and studied the wall. Problems, problems. One of the setters said to another, "What if Bimini does her boulder and Ashima doesn't?" The prospect seemed to concern and astound them.
I'd heard that Ashima sometimes had off days or, at least, that she sometimes started slow in qualifying rounds, perhaps because of pressure. One day, while talking about Serena Williams and her upset loss in the semifinals of the U.S. Open, Ashima said, "Sometimes I feel like she might feel. The people who support me, I don't want to let them down." Now her father looked on helplessly as Ashima worked her way through the crux, face to the wall. She was using toeholds that didn't seem to exist. For a moment, she was caught in the corner, reaching up toward the ledge, and then suddenly the implausible was made to seem routine. I thought of a phrase that a champion climber named Sasha DiGiulian had mentioned to me, about certain climbers having "a voice on the wall." Ashima's was distinctive, purposeful, fluid.
"She make new beta very fast," her father said. "That make her very special person."
Amid cheers and screams, she swung like a lemur onto the last two holds, hanging for a second from the top one, then she waved to the crowd, jumped down, and gave a smile of told-you-so and amazes-me-too. She returned to her seat.
"What? What?" one of the scorers gasped. "I don't understand how that just happened." Neither did the woman who'd set the route. Ashima had devised an unforeseen solution.