Menna Alaa El-Din | Thursday 14 Jan 2016 | AHRAM
Egypt's irrigation minister Hossam Moghazi said on Wednesday that although Egypt is "worried" about Ethiopia's Grand Renaissance Dam, it does not view it as a "threat."
In a TV interview with satellite channel MBC Misr's "Happening in Egypt," Moghazi stressed that Egypt is not against the development of Nile Basin countries, adding that Ethiopia has always had an "ambitious" plan for generating power through dams.
He said that Egypt's initial concern was over Ethiopia's decision to increase the dam's storage capacity to 74 billion cubic metres of water. Before Egypt's 25 January uprising of 2011 which ousted president Hosni Mubarak, the dam was planned to store 14 billion cubic metres of water.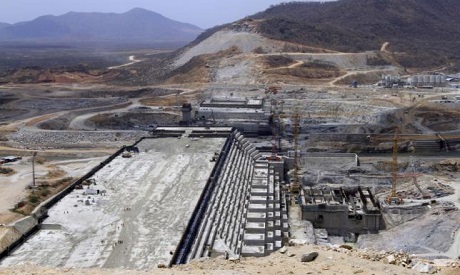 Following the uprising, Moghazi said, Egypt was facing political unrest and did not have any vision or plans regarding the already under-construction dam until president Abdel-Fattah El-Sisi was elected to office in June 2014.
Two foreign consultancy firms, the French Artelia and BRL, have been tasked with conducting two studies on the dam, the more significant of which is assessing the possible risks the dam could present to downstream countries.
Artelia replaced the Dutch Deltares firm following its withdrawal in September 2015.
"The two consultancy firms will work together in a balanced way so they can deliver a neutral study," Moghazi said.
The risk assessment study – to start in February – is projected to be completed in eight months, while the other study, which addresses environmental concerns, is to take three months to conclude, with both studies scheduled to be finished in 11 months.
Moghazi clarified that the two studies will not be concerned with a redesign of the dam.
On Wednesday, the state-run Ethiopian Broadcasting Company (EBC) reported that Ethiopia has rejected an Egyptian proposal to redesign parts of the water outlets of the dam, increasing the number of outlets from two to four to allow increased water flow to the downstream countries.
"The decision to build two openings came following intensive studies, and Ethiopia does not need to redesign the dam project," Bizuneh Tolcha, public relations director at the Ethiopian Ministry of Water and Irrigation, told EBC.
Last Sunday, Egypt's President El-Sisi stressed on the importance of reaching a solution regarding Ethiopia's Renaissance Dam at a Cairo meeting with Sudanese foreign minister Ibrahim Ghandour.
El-Sisi stressed that "reaching an understanding is critical given that the River Nile is the only source of water for Egypt."
Although Egypt has repeatedly expressed concern over the dam's possible effect on the country, Ethiopia insists it will not negatively affect Egypt's share of Nile water.