Why Museveni hasn't kept his promise on retiring
Frederic Musisi | Sunday 24 January 2016 | THE MONITOR
To understand President Museveni the politician, one has to study and understand the dynamics of a chameleon in the animal kingdom.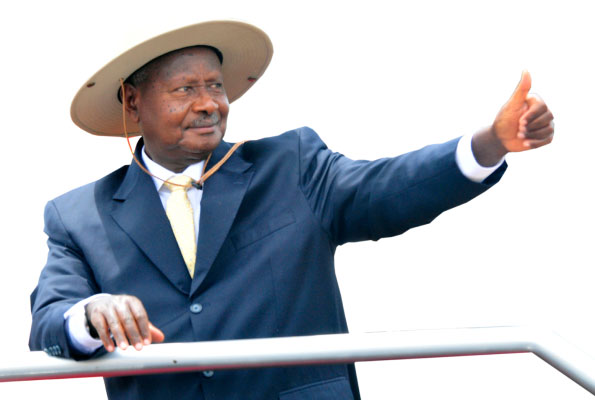 While addressing a rally in present-day Wakiso District in 2000, the President said a good politician, that he is, should keep changing tactics to outmanoeuvre adversaries the way the reptile shifts colour to suit the surrounding.
"A wise politician should be like a chameleon to change colour when necessary. When I am at Wakiso I have no problem, I can be like a dove. But when facing my enemies and murderers, I turn into a lion," Museveni said.
That was 15 years ago, and that metaphorical reference has played out in reality in the Museveni's approach to statecraft and political management of Uganda and beyond since then.
When he wanted more years than was permitted under the 1995 Constitution, he engineered the lifting of the presidential term limits to contradict his 1986 position, on assuming office, that Africa's problem was not the people but "leaders who overstay in power".
Now making three decades on Tuesday, Mr Museveni is Africa's fifth longest-serving president.
He has revised his inaugural January 29, 1986, narrative to justify his changed position by arguing that what he castigated at the time was "leaders who overstay in power without election".
The President's changing positions has prompted critics to suggest a possible shadow boxing between the 'old' and the 'new' Museveni if the two versions, which they say contrast, met.
The ruling NRM party chairman and presidential flag bearer a fortnight ago told journalists at a press conference in Ntungamo District that he cannot leave power now, especially when all that he planted is starting to bear "fruits".
"We can't be in the middle of a forest and want the old man to go. This is not right. We must concentrate on development, my time will come and I will go. I don't fear going because I have where to go, but we must first see where we go," he said.
And true, talk of where to "go", throughout his campaign trail for a fifth elective term in office, Mr Museveni has been promising that the next term, running up to 2021, is to steer the country where it should be.
"After the liberation struggle, recovery phase and building foundation, Uganda is ready for take-off. NRM will stick to prioritisation in development planning to address Uganda's challenges," he says.
Indeed, the one thing he cannot be accused of having failed to do is provide grand plans and visions for Uganda, a habit that dates way back to when he was still a guerrilla fighter.
His recent proclamation came on the heels of another he made last November in Arua District, again at a press briefing, that he is willing to hand over in case he lost power.
"I have got my job; I am a cattle keeper. I am not power hungry, but mission hungry. So I have got a mission of economic transformation of Ugandans," Mr Museveni said.
'New breed leader'
On Wednesday, January 26, 1986, President Museveni stood on the front porch of the Parliamentary Building before a rudimentary desk and took the oath as the 9th president of Uganda.
He had just ousted the regime of Gen Tito Okello Lutwa after a five-year liberation struggle that had also seen his National Resistance Army rebels fight Dr Apollo Milton Obote's (1980-85).
On that day, President Museveni delivered his now memorable line to a very euphoric nation: "No one should think that what is happening today is a mere change of guard; it is a fundamental change in the politics of our country."
He went on and promised to run a frugal and responsible government and told the country: "We want our people to be able to afford shoes. The honourable excellency who is going to the United Nations in executive jets, but has a population at home of 90 per cent walking barefoot, is nothing but a pathetic spectacle.
Yet this excellency may be busy trying to compete with [then US president Ronald] Reagan and [then USSR president Mikhail] Gorbachev to show them that he, too, is an excellency."
On top of this speech which won him hearts both home and away, he even promised to rule for only four years.
Thirty years later, his name is inked in history books as one of the longest serving non-traditional leaders of the world in the eighth position.
The metamorphosis
After capturing power in 1986, the Legal Notice Number One was established as a basis of legality for the new NRA government as elections were prepared. It also vested legislative powers in the then National Resistance Council –NRC-[interim Parliament] and the President.
In 1989, the NRC was expanded from 98 appointed members to 278 elected representatives (68 of which were still nominated by the President) through the first national election since 1980 and transformed into the Constituent Assembly.
Several accounts have put it that President Museveni started to change colours when he asked for another five years to lay a foundation for the drafting and implementation of a new Constitution.
Former Supreme Court judge George Kanyeihamba, and who was minister of Justice at the time, writing in his weekly column in this newspaper two weeks ago said: "At the time, I believed the policy of extension was genuinely executed and our extension team, which I led as minister responsible, worked out a detailed programme which was to be adopted and implemented for the next five years in the realisation of the peoples' expectations and wishes."
The new Constitution was drawn and promulgated in September 1995 with a specific article 105(2) setting two terms for the incoming president. President Museveni sought an elective term which he indicated would be his last and won with 74 per cent.
Before that term would end, he launched a bid for another one. In 2000, while campaigning for the referendum to retain the Movement system, he then likened himself to the chameleon. At least 90 per cent of the 50 per cent voter turnout voted in favour of the Movement system in June that year.
The chameleon manifests
At the Wakiso rally, Museveni was quoted to have said the reason why leaders like UPC's Milton Obote lost power twice through coup d'états was because they failed to read the situation properly, thereby failing to change accordingly.
A year later, he got a serious political challenger in his former personal physician during the Bush War, Dr Kizza Besigye, who two years earlier had authored a document criticising the NRM of derailing from the principles that in the first place had inspired them to go to the bush.
Amid Besigye's mounting popularity, Museveni threw in a solemn political promise that this was the last term he was running and would retire thereafter; this is repeated 21 times in the NRM manifesto.
"I am once again offering myself to serve the people of Uganda because of my conviction. I am taking on the challenge of contesting for a last presidential term for the following reasons."
He polled 69 per cent in the elections while Dr Besigye came second with 27 per cent, results which he challenged in the Supreme Court citing electoral malpractices. The court condemned the electoral process, but declined to overturn the results.
Two years after re-election, the scheme to purge term limits on the presidency from the Constitution was afoot. Legislators were given Shs5m each to facilitate the removal of the term limits, although some rejected the money.
A total of 222 MPs overwhelmingly voted to remove the term limits, a decision that infuriated many NRM liberal MPs, including Augustine Ruzindana, Amanya Mushega, Miria Matembe, John Kazoora, the late Sam Njuba and Eriya Kategaya to break away from the ruling NRM.
Had the two five-year term limit clause as established in the 1995 Constitution not been deleted, President Museveni would have retired in 2006 and by now would be into his 11th year of retirement.
Another referendum on restoring multiparty politics was held in 2005 and 92 per cent voted in favour.
He offered himself again for a third term in 2006. This time he never indicated it would be his last.
At the start of his campaigns, Museveni expressly hinted on giving up power if defeated in the 2006 polls. But at another rally in Kasese, he was quoted by the Monitor newspaper to have said he can only retire if the people and his NRM party plan it properly.
"You don't just tell the freedom fighter to go like you are chasing a chicken thief from the house," he said. In the election which was again marred by violence, malpractices and intimidation according to observers, he polled 59 per cent.
His closet rival, Dr Besigye, petitioned the Supreme Court raising the same issues. The panel of judges condemned the electoral process but stopped short of overturning the results.
The indefatigable Museveni
He offered himself again for a fourth elective term in the 2011 elections which he won with 68.4 per cent, the highest tally in recent times.
Results also indicated the number of eligible voters who opted to stay away from the polls grew from 3.1 million in the 2001 presidential elections to 5.6 million in 2011.
A year later in April during an interview with the American television network, CNN, President Museveni said he would step down in 2016 if his ruling NRM party asked him to.
"I can leave power anytime, but if it is discussed and approved by my party," he said.
A month later, in May 2012, during an interview on NTV's political talk show On the Spot, he described the idea of term limits as "nonsense" but intimated on not leading Uganda beyond 75 years.
He said the so called "young Turks" calling for term limits "are normally part of the indisciplined group who were opposing NRM programmes even in the past."
In fact, the only visible stop sign to his retirement for now is the Constitution age limit of 75 enshrined in Article 102(b).
On the NTV show, Mr Museveni said he wouldn't involve himself in wanting to change the age limit "because I think there is some scientific logic behind it".
In February 2014, he was baptised "sole candidate" for the NRM for the 2016 elections after it emerged that his [former] long-time ally and ex-prime minister Amama Mbabazi was nursing presidential ambitions.
In December 2014, while appearing on the radio talk show Capital Gang, Mr Museveni said each time he seeks to go home, Ugandans keep voting him back, thus denying him the opportunity to retire.
"You have heard them, singing tajakugenda tajakugenda (he won't go). So if Ugandans really were like Ssemujju [Nganda, Kyadondo East MP who was on the show as well], I would be happy to retire because I am not lacking where to retire. I am a member of my party and I do what my party wants," the President noted.
But then there are several other occasions when he said he cannot hand over power to wolves [Opposition], people without vision [he has cited Dr Besigye] or said the Opposition is after his oil [the 6.5 billion oil reserves in south-west Uganda due for production ] which he said cannot surrender.
Mr Mbabazi, the former de facto No.2 in the system and who cheered the removing of term limits, last year broke ranks with the NRM and went to contest against his former boss.
In his campaign trail, he has been regretting the removal of term limits, saying it was wrong to think one man can decide for the country for years.
Ahead of the polling date, several opinion polls have put the incumbent a head of his closest rivals in the race.
Towards the dawn of last year, there were already murmurs in Parliament of removing age limits from the Constitution.
And if it so happens, like on all previous occasions, would it be a surprise? Or would it be the chameleon changing colour when necessary.
'The problem of Africa in general, and Uganda in particular, is not the people but leaders who want to overstay in power.'
President Museveni, 1986
'I am once again offering myself to serve the people of Uganda because of my conviction. I am taking on the challenge of contesting for a last presidential term for the following reasons.'
President Museveni, 2001
'You don't just tell the freedom fighter to go like you are chasing a chicken thief from the house.'
President Museveni, 2006
'I can leave power anytime, but if it is discussed and approved by my party.'
President Museveni, April 2012
'You have heard them, singing tajakugenda tajakugenda (he won't go). So if Ugandans really were like Ssemujju, I would be happy to retire because I am not lacking where to retire. I am a member of my party and I do what my party wants.'
President Museveni, December 2014
'I have got my job; I am a cattle keeper. I am not power hungry, but mission hungry. So I have got a mission of economic transformation of Ugandans.'
President Museveni, November 2015
'We can't be in the middle of a forest and want the old man to go. This is not right. We must concentrate on development, my time will come and I will go. I don't fear going because I have where to go, but we must first see where we go.'
President Museveni, January 2016