Museveni marks 30 years in power as he seeks another term
TABU BUTAGIRA | Wednesday 27 January 2016 | DAILY NATION
President Yoweri Museveni on Tuesday delivered a landmark speech marking his 30 years in power, but unlike in 1986, more than half of the 35 million Ugandans he was speaking to were not yet born when he seized state control.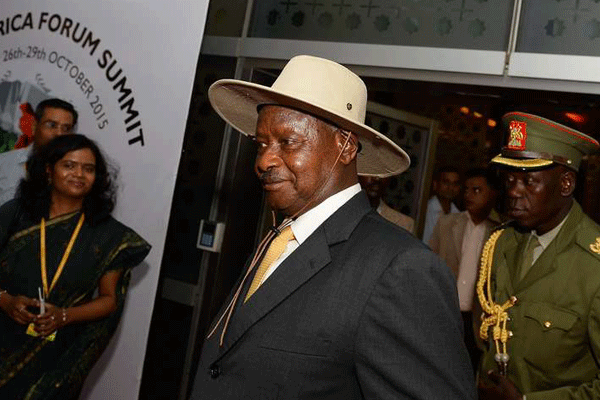 With the defeat of 28 rebel groups and four election victories under his belt, Mr Museveni took to the rostrum in the western Fort Portal town emboldened and with pride, but an enthusiasm diminished by a tough re-election battle.
This could likely be Museveni's last such anniversary if he loses next month's vote, which is 23 days away, although he is pulling all strings to win and has made clear that he is going nowhere.
But the three key problems that post-independence governments set out to end – poverty, ignorance and disease – still persist, and a wide income disparity has meant the dividends of a better-performing and expanded economy are not evenly shared.
Obsessed with statistics, the president's will detail economic, infrastructure and demographic data of the past, bench-marking all for comparison with 1986 to prove that the engine of Uganda's progress has been roaring with him in the driver's seat.
He, however, will say less about the future, not least the touchy power transition subject, which is where Ugandans yearn for clarity following a bloodied past, where each leader since independence has been forced out of office.
Museveni's hold onto power has largely been predicated on a strong military, which, combined with its feats on regional assignments, has bolstered both Uganda's and the president's profile internationally.
The UPDF has helped stabilise Somalia, supported South Sudan's secession and salvaged President Salva Kiir government from collapsing in 2013 while its precursor, the National Resistance Army, provided the seed rebel force that liberated Rwanda.
With a $10 billion fine for plunder of the neighbouring Zaire, now the DRC, pending before the International Court of Justice, the profit and loss account of Museveni's leadership, even if only on the military front, will take years to calculate.
That the former rebel leader is marking 30 years in power is a feat in itself; particularly considering that this is six years more than the combined 24 years served by all his seven predecessors since independence in 1962.
Whereas Museveni will likely flag restoration of the rule of law, building of state institutions, resuscitation of the economy, establishment of peace across Uganda and democratisation as his top gains, he will be saying so in the wake of a political Ping-Pong where his former compatriots indict him for veering off the course of the original NRM agenda that justified the 5-year guerrilla war.
For a man who has hosted two popes, seen off five United States presidents, two of whom he hosted in Uganda, and is now Africa's fifth-longest serving president, the contrast with his inaugural speech blaming leaders who overstay in power could not be more telling.
Critics say he has failed to solve what he once described as Uganda's problem – leaders who overstay in power – but supporters will point to progress at home and a larger-than-life regional stature as justification for the long reign and a reason to celebrate.