OGOLCHO, Ethiopia | Edmund Blair | Sun 31 Jan 2016 | REUTERS
Ethiopia urged international donors on Sunday to offer aid promptly for relief operations to support 10.2 million people critically short of food, and said it was committed to allocating as much of its own funds as necessary.
Deputy Prime Minister Demeke Mekonen was speaking beside U.N. Secretary General Ban Ki-moon during a tour of an area where one of the worst droughts in decades has left children malnourished, killed livestock and damaged livelihoods.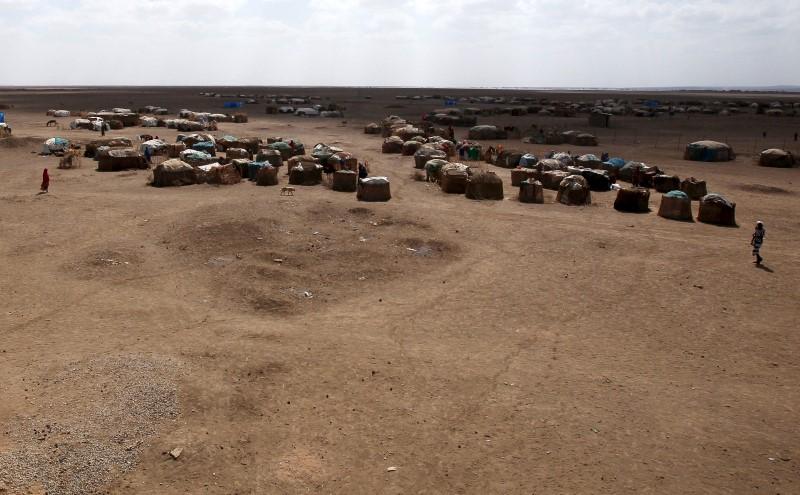 The relief operation by the government, World Food Programme (WFP) and charities needs $1.4 billion this year. The government says donors have covered about 30 percent so far. The WFP says $500 million is needed to continue operations beyond April.
"Our government is committed to allocating the budget and mobilizing any resources to the target groups," Demeke told reporters at a food and cash distribution point in Ogolcho, a region south of the capital Addis Ababa.
"The action of the international community is very critical and that should be on time," he added.
The drought is as severe in some areas as the one in 1984, when conflict and failed rains caused a famine that killed a million people. Ethiopia now has one Africa's fastest growing economies, but the crisis is still straining the nation.
The government spent $272 million last year on relief and has allocated $109 million so far this year, a hefty burden in a country which remains one of the poorest in Africa per capita and where many people rely on subsistence farming.
Before flying by helicopter to Ogolcho, Ban met in Addis Ababa with government officials, U.N. agency staff and representatives of donors, such as the European Union and the United States, both major contributors.
"We are doing all we can, mobilizing necessary funding," Ban said, praising the government for taking the lead while noting that "they have limited resources."
Ban, in Ethiopia for an African Union summit that ended on Sunday, toured a small health post in the Ogolcho area where children are checked for malnourishment.
Ogolcho is in Ziway Dudga district, where the main harvest almost completely failed last year. More than 65 percent of the district's population is dependent on relief food assistance. The north and east of Ethiopia have also been badly hit.
Ban was shown a site where food and cash transfers are made under one of Ethiopia's flagship development initiatives, the Productive Safety Net Programme (PSNP), through which about 7.9 million people around the nation who are deemed chronically food insecure receive support in return for community work.
The program was started more than a decade ago, and experts say the crisis would have been far greater without it.