Mugabe hits out at Obama for 'failing to help black people'
HENRY OWUOR | Saturday, January 30, 2016 | DAILY NATION
ADDIS ABABA, Saturday – Zimbabwe's President Robert Mugabe delivered an hour-long speech as he handed over the chairmanship of the African Union to Chadian leader Idriss Debby, hitting out at US President Barack Obama "for failing to help black people".
Mr Mugabe said as long as he was alive, he would remain the president of Zimbabwe. "I will be there until God says 'come', and as long as I am alive, I will head the country. Forward ever, backward never," he said.
Mr Mugabe, 91, who was preceded on the podium by UN Secretary-General Ban Ki-moon and the Chairperson of the AU Commission Nkosazana Dlamini-Zuma was cheered. "There is Obama today. What is he? A voice made to speak their language, not ours. Blacks still suffer in the US today. There is no education for all, no health for all," he went on.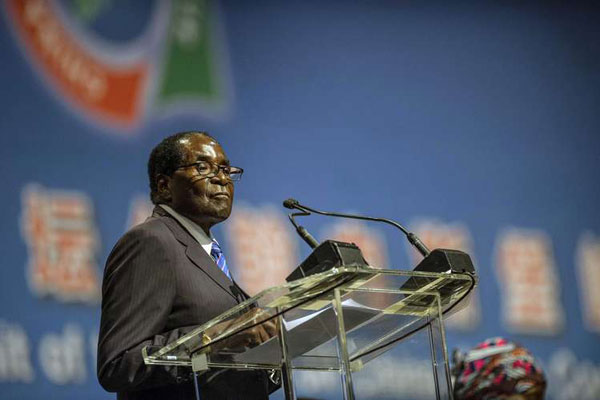 Turning to the UN chief, President Mugabe said: "Mr Ban Ki-moon, you are a good man but we can't make you a fighter. That is not what your mission is." Mr Ban was at the AU for the last time as his term as UN boss expires this year.
"They want to talk about us. They are everywhere in Africa through Non Governmental Organisations, spies and pretenders who say they are here to help us," Mugabe raved. President Mugabe renewed the call for Africa to be given at least two slots in the UN Security Council.
"If we decided to leave the United Nations, only Europe and the US will remain. If the UN is to survive, there must be equality," the Zimbabwean leader said.
As is traditional, the plenary session was opened by the outgoing AU President followed by Dr Dlamini-Zuma.
CHADIAN LEADER DEBBY TAKES OVER
Unlike in past, the leaders held a closed-door session in which Mr Deby was chosen AU boss.  Mr Deby will be deputised by Benin's President Thomas Boni Yayi while Rwandan leader Paul Kagame will be second vice-president.
In the past, the summit began with the open plenary session to which journalists were invited. "Everyone will agree that succeeding Robert Mugabe is not an easy task but I will do my best," Mr Deby said.
"I don't have the power to change the course of things in Africa. You have given me and the people of Chad a special task." President Deby said the AU would be an empty shell if "Africans cannot move freely across the continent as bearers of a single passport."
He decried the union's failure to act on its resolutions and relying on donor funding for most of its projects. The summit welcomed Tanzania's  President John Pombe Magufuli and Burkina Faso's Roch Marc Christian Kabore.
The UN boss said anyone who instigates killings in Africa should be prosecuted. "Leaders who stand by while civilians are slaughtered should be held to account," Mr Ban said.
He cited South Sudan where leaders have failed to act on agreements aimed at ending the civil war.