Ahmed Feteha |
Suspicions that a bomb sent a Russian passenger plane crashing into the Sinai Peninsula are damaging Egyptian tourism in ways that five years of political upheaval did not.
About 1 million tourists visited Egypt in November and December, down 41 percent from last year and the lowest number during these peak months since at least 2005, according to data compiled by Bloomberg. Tourism wasn't that weak even in November and December 2013, when deadly confrontations between security forces and Islamist supporters were a near-daily occurrence.
"You cannot call what's happening a drop, it's a collapse," said Amani El-Torgoman, board member of the Egyptian Tourism Federation. "There is definitely an overreaction to the plane crash, and it is devastating."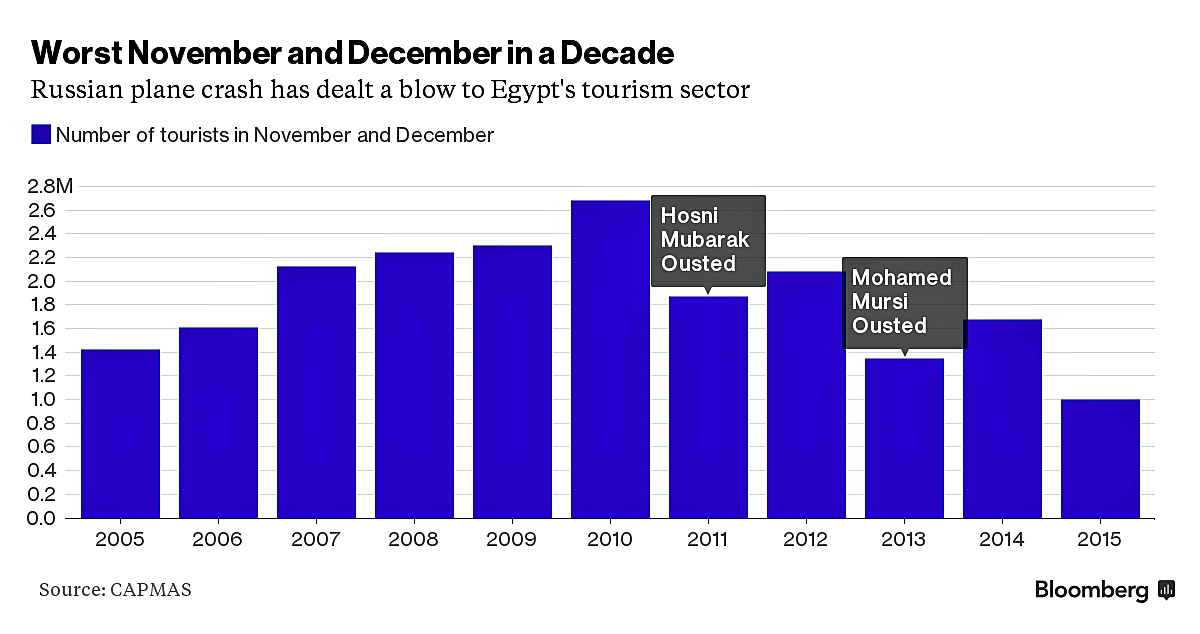 The drop in tourism revenue since the Oct. 31 crash is complicating efforts to rally the economy. A foreign currency shortage was blamed for the contraction of the country's non-oil business activity nine out of 12 months last year, sparking a debate on whether authorities should devalue the currency and risk fueling inflation.
Tourism generated $7.3 billion for Egypt in the fiscal year ending June 30, equivalent to the value of about 12 percent of the country's imports of goods. That compares with a record high of $12.5 billion in 2010, a year before the ouster of President Hosni Mubarak.
The aircraft's crash shortly after takeoff from the Red Sea resort of Sharm El-Sheikh led countries including Russia and the U.K. to restrict flights to Egypt on suspicion that it was downed by a bombing claimed by Islamic State. That snuffed out a nascent recovery in tourism from the hits it took following the toppling of presidents in 2011 and 2013. The industry never fully recovered to the peak year of 2010, which saw about 15 million visitors.
"The reason for the plummet in tourism is clear, out biggest markets have imposed travel restrictions on Egypt," said Ahmed Hamdy, vice president of Egypt's Tourist Authority. "We are trying to tap new markets such as Bulgaria, Czech Republic and Poland, as well as Latin American countries and India and China."
He said the government is also working to revive Arab tourism and domestic travel.
What's set this security scare apart from previous ones is that it has affected areas that had remained well-traveled even during politically troubled times, El-Torgoman said.
"After 2011, tourists stopped visiting Cairo, Luxor and Aswan because they were perceived as not secure," she said. "But beach tourism was doing fine. That too, is now damaged. Sharm El-Sheikh has become a ghost town. It is just sad."