Michael Cohen and David Malingha | February 4, 2016 | BLOOMBERG
When then-President Bill Clinton visited Africa in 1998, he praised "a new generation of leaders" as champions of a dawning "African Renaissance." Uganda's Yoweri Museveni was one of them: Two years before, he'd been elected president after a decade as a military ruler.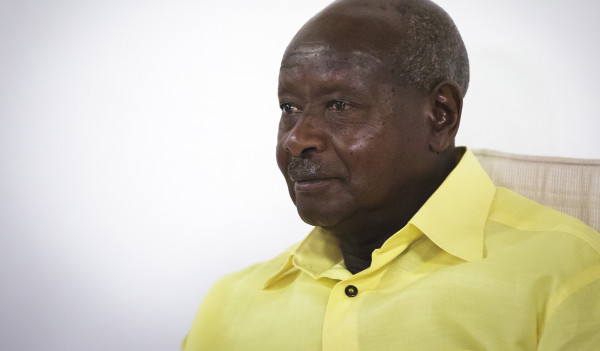 Museveni is again running for president — at the age of 71, after abolishing constitutional limits on presidential terms. He refers to the East African nation's oil reserves as his own, holds a public holiday to mark when he seized power in a coup 30 years ago and is expected to easily win a fifth term in the Feb. 18 elections.
Over the past few months, long-serving leaders in Rwanda, the Republic of Congo and Djibouti also have demonstrated their resolve to cling to power. All are favorites to secure re-election this year or next. Burundian President Pierre Nkurunziza won a third term last year, spurring violence that's claimed more than 440 lives.
That led another U.S. president to deliver a much sterner message.
"When a leader tries to change the rules in the middle of the game just to stay in office, it risks instability and strife, as we've seen in Burundi," Barack Obama told an African Union summit in Addis Ababa, Ethiopia, in July 2015. "And sometimes you'll hear a leader say, 'Well, I'm the only person who can hold the nation together.' If that's true, then that leader has failed to truly build their nation."
He wasn't just talking about Burundi. Fifteen leaders of the 48 African countries that hold regular elections have served more than two terms or indicated their intention to do so. Advances in governance in Africa have stalled since 2008 after nine years of progress, according to a study released in October by a foundation started by Sudanese-born billionaire Mo Ibrahim. Standards slipped in 21 countries between 2011 and 2014, it said.
John Akokpari, an international-relations professor at the University of Cape Town, said China's increased interest in the continent has lessened pressure to follow democratic rules because leaders can get investment and financing regardless.
"Countries don't feel that they can be punished and that they will lose anything substantial," he said. "That initial euphoria of embracing democracy in the 1990s is waning."
Political upheaval is adding to economic strain in a continent reeling from the commodity price rout. Foreign direct investment into Africa dived 31 percent to $38 billion last year, according to the United Nations Conference on Trade and Development. An unstable political environment was judged the biggest deterrent to investment by 501 executives canvassed in accounting firm EY's 2015 Africa Attractiveness Survey.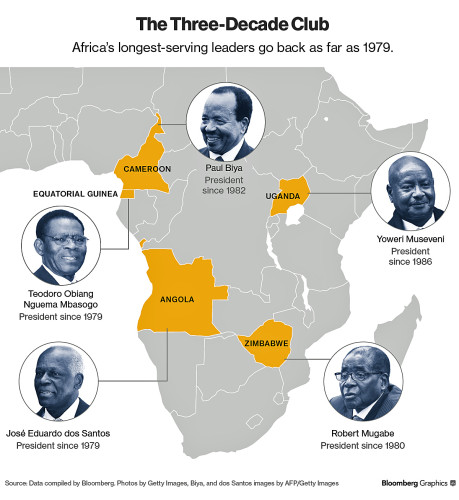 Democracy Advances
Africa made democratic strides in the 1990s, when Zambia had its first democratic change of government, Mozambique's civil war ended and South Africa negotiated a peaceful end to apartheid. Zairean dictator Mobutu sese Seko was toppled from what later became Democratic Republic of Congo, and Ghana and Nigeria reverted to democracy.
More recently Muhammadu Buhari wrested the Nigerian presidency from Goodluck Jonathan in April, the first such deposition of an incumbent since independence in 1960. Six months earlier, mass demonstrations in Burkina Faso forced Blaise Compaore to quit after 27 years in power.
But the Ibrahim Foundation, which offers a lucrative annual award to former African leaders who dedicated their rule to improving their people's lives, has only selected five winners since 2007.
'Warning Sign'
"Some key countries seem to be faltering," Ibrahim said at the release of the governance report last year. "This is a warning sign for all of us."
Uganda's opposition parties, which have mounted protests against Museveni's rule, complain of harassment and abuse of state resources, allegations Museveni denies. The vote may lack credibility because civil rights groups and the media have been harassed, New York-based Human Rights Watch said in a Jan. 10 report.
Speaking on the campaign trail last month, Museveni said he helped increase access to health care, water and electricity and that his record in office showed he was the best man for the job. His spokeswoman, Lindah Nabusayi, didn't answer calls to her mobile phone or return messages seeking comment.
There have been few signs of dissent in neighboring Rwanda, where more than 98 percent of people who voted in a referendum last year backed a constitutional amendment to extend term limits. That will allow President Paul Kagame, 58, to seek a third term next year.
Term Limits
"There are places where they observe term limits and the only thing that is constant is the mess they are in," Kagame said in an interview published by the Nairobi-based East African newspaper in July.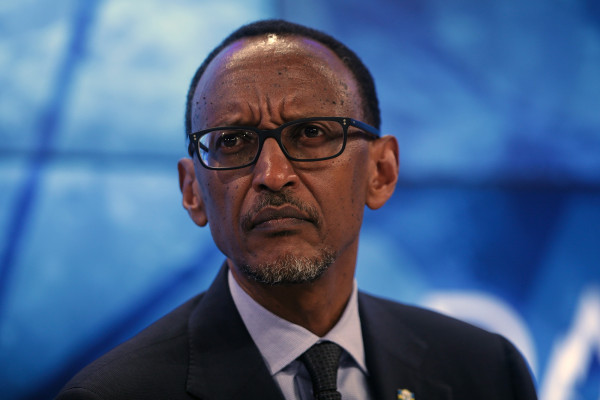 Rwanda remains an investors' favorite. The economy has grown an average of 7.6 percent a year since Kagame took office in 2000 after leading a rebel army that ended the 1994 genocide. It ranks among Africa's easiest places to do business, according to the World Bank.
The connection between long-serving leaders and a country's ability to grow and attract investment may depend on the individual concerned, said Aubrey Hruby, founder of the Africa Expert Network. Its members provides advice on doing business on the continent.
"There are some companies that look upon continuity favorably because it signals that there's probably going to be policy continuity and predictability," she said from Washington. "Rwanda is a case in point."
Corruption Rankings
Many entrenched African leaders have a poor record of combating corruption and fostering development and civil rights.
Uganda ranked 139th out of 168 countries on Transparency International's 2015 Corruption Perceptions Index. Angola ranked 163rd, while Zimbabwe and Burundi were both rated 150th. Rwanda was the exception, ranking 44th.
To Yolande Bouka, a Nairobi-based researcher at the Institute for Security Studies, Africa's so-called big men entrench themselves at their country's expense.
"Friction and instability comes from resistance to the legacy of the big man," she said by e-mail. Leaders who personalize power often have "bad human-rights records, and during electoral periods more repression is used to keep power in the hands of a few."