AMOS NGWOMOYA | Thursday, February 4   2016  | THE MONITOR
KAMPALA.
Any hopes that President Museveni will turn up for the second televised presidential debate slated for February 13, were on Thursday dashed with the NRM saying their candidate would again stay away campaigning.
The ruling party taskforce deputy spokesperson, Ms Maria Mutesi, told Daily Monitor that Mr Museveni would be making last-minute pitches to voters before campaigns close on February 16.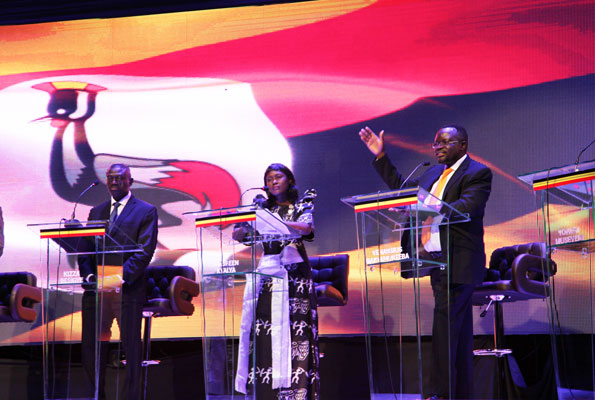 "President Museveni made it clear that he can't participate in the debate because of his tight campaign schedule and he has confirmed that he will not attend the second one because we are trying to beat the deadline," Ms Mutesi said. "People he hasn't addressed are yearning to hear from him and he can't disappoint them. So, he won't be attending the debate."
She allayed suspicions that the sitting President is probably not comfortable appearing before a live television audience to account for the three decades he has been in office, a charge which the Opposition again made yesterday.
She said the questions likely to be asked have been posed by journalists before which would make answering them repetitive.
The second presidential debate will majorly focus on peace and security both within Uganda and the region, regional integration, international trade and investment and foreign policy. FDC spokesman Ibrahim Ssemujju Nganda confirmed that FDC presidential candidate Kizza Besigye will attend. He described Mr Museveni as a coward.
"We are used to Mr Museveni's games of dodging because he knows he can be challenged. The problem with him is that he survives on the flow of information from one side and therefore he can't risk participating in a debate where he would be held to account for the poor management of the country," Mr Ssemujju said.
Presidential candidates like John Elton Mabirizi, Prof Venansius Baryamureeba, Maj Gen Benon Biraaro and Dr Abed Bwanika have all confirmed that they would attend the debate.
Efforts to speak to the only female candidate in this race, Ms Maureen Kyalya, were futile.
Uncertainty
Go Forward's spokesperson Josephine Mayanja Nkangi said the chances of Mr Amama Mbabazi attending are in the balance because he, too, will be busy campaigning in Serere and Soroti districts.
She, however, said Mr Mbabazi is still negotiating with the organisers to extend the debate to February 16, one day before campaigns end.
But Prof Baryamureeba said the presidential debate is not a requirement by law and that any candidate can use different platforms to campaign, adding that if Mr Museveni fails to show up, this won't stop other candidates from participating.
On January 15, Mr Museveni's lectern was the only unoccupied space on the podium in what was a historic first ever live presidential debate which drew a huge audience both within the country and abroad.
His excuse then was his busy campaign schedule. He later mocked the exercise, saying debates are for high school.
Renowned journalist and talk show host with Voice of America, Dr Shaka Ssali, confirmed on Wednesday that he will be among the moderators of the debate organised by Inter-Religious Council of Uganda and others.