For South Sudan, a new challenge looms: bankruptcy
Juba, SOUTH SUDAN — For Adam Loi, business has never been better. As a roving black-market money trader, demand for US dollars have hit a new high as many here in South Sudan's capital lose faith in their own currency. Asked if they know someone who can exchange money, Juba residents throw out three or four options, an indication that traders like Mr. Loi represent a thriving business in a stuttering economy.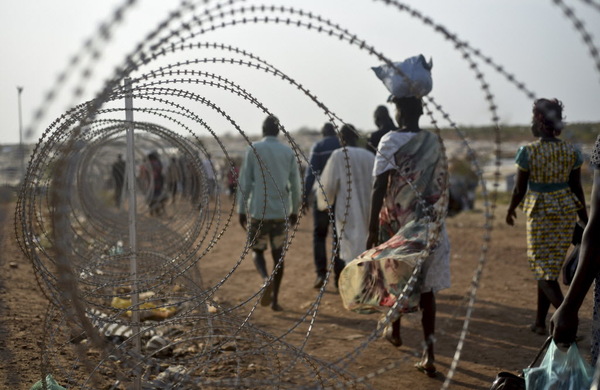 Since December, the value of the South Sudanese pound has tumbled by more than 90 percent amid protracted negotiations between President Salvia Kiir and opposition leader Riek Machar over forming a unity government after more than two years of civil war. Opinion is divided in Juba over whether the negotiations will be successful.
But ​the ​lack of proper planning by President Kiir's government – and a global rout in the price of oil, its main export – means dwindling financial reserves. Now economists are warning of economic collapse, possibly within weeks, if South Sudan does not receive financial support soon.
In an interview with the Monitor, Finance Minister David Deng Athorbei blamed the financial woes "on a plan for a regime change" from foreign countries who want to see the fall of the current government. "If we run out of dollars then we will have to depend on the South Sudanese pound," says Mr. Athorbei.
He adds that if the government doesn't receive external funding soon, it would likely resort to bartering just to pay government workers.
But without a unity government – Mr. Machar opted out of the initial deadline, citing Kiir's unilateral division of the country into three administrative regions comprising 28 states – the young nation would not be eligible for International Monetary Fund or World Bank financing, says the US Ambassador to South Sudan, Mary Catherine Phee.
Financial collapse, analysts say, would severely impact public services, increase food shortage, and exacerbate an already desperate humanitarian situation — one in five South Sudanese have been been displaced by the civil war. On Monday, the United Nations warned that almost a quarter of South Sudan's population urgently needs food aid; at least 40,000 people are on the brink of catastrophe.
"It looks dire and the political system is disintegrating. They usually manage to find some mechanism to get some dollars, by selling off land or calling on friends," Alex de Waal, the Executive Director of the World Peace Foundation, says via email.
"But rock bottom can't be far away."
'I need work'
Already, locals here in Juba complain that daily expenses have increased two to five times since the government devalued the local currency in December.
"Life is very hard right now" one young motorcycle taxis driver says outside a popular hotel in Juba. Usually the bumpy dirt roads of Juba are filled with these motorcycle taxis, offering a quick and cheap way to navigate the city. The gangs of motorcycles now sit listlessly in the shade of buildings, devoid of customers.
"I have no customers," another driver chimes in. "I need work."
Supermarket prices have increased so rapidly that owners struggle to update prices quickly enough. Muggings and robberies have skyrocketed. Many complain of cutting down on their meals per day. And the few who can afford a night out are buying the last bottles of White Bull, a popular local beer​ business which recently went out of business as a result of the currency devaluation.
"They have printed [South Sudanese pounds] in excess," says Loi, the currency trader, whose name has been changed. "The problem is that because of the prices in the country, everyone is going after dollars, they put it in their pocket because they don't know what will happen next."
Machar recently said that it could take another three weeks to implement the peace deal. A unity government could end the fighting, but also save the country from economic collapse says Abraham Awolich, Director of Administration and Finance at the Sudd Institute, a think tank in South Sudan.