The Dictators Who Love America
Stuart A. Reid |
Authoritarian leaders like the Gambia's Yahya Jammeh seem to relish the West's wealth. Why doesn't the United States use that against them?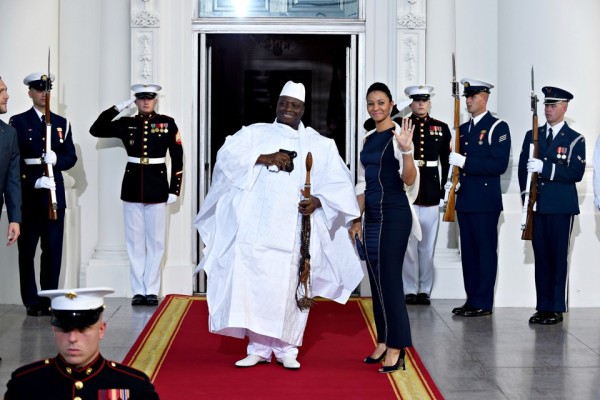 For those of us lucky enough to live in democracies, it is comforting to imagine foreign dictators as wholly foreign. The world seems less complicated when an autocrat fits the stereotype: say, wearing a leopard-skin hat and rarely stepping out of some jungle palace. Anyone fine with ruling undemocratically, one might like to think, should have no interest in a culture completely opposed to the practice. Or, at the very least, if such a leader did make meaningful connections with the West, surely his retrograde beliefs would melt away on contact.
Reality, alas, is not so tidy. Bashar al-Assad butchers Syrians despite having lived in London. Whatever Western values Kim Jong Un picked up at boarding school in Switzerland haven't kept him from perpetuating North Korea's totalitarian state. And, as I discovered while reporting on the Gambia, the authoritarian leader of this tiny West African country has a soft spot for the United States.
That leader, Yahya Jammeh, launched a bloodless coup in 1994, ousting the Gambia's democratically elected president and instituting military rule. In the two decades since, as the rest of West Africa has grown more democratic and developed, Jammeh has taken his country in the opposite direction, routinely harassing and detaining political activists. A paramilitary group called the "Junglers," according to Human Rights Watch, has assassinated Jammeh's opponents, sometimes dumping their bodies in an abandoned well near the president's hometown. One alleged target was Deyda Hydara, the editor of an independent newspaper, who was shot dead on his way home from work in 2004.
When Jammeh took power, he was a 29-year-old lieutenant, fresh off four months of military-police training at Fort McClellan, Alabama. According to a childhood friend of his, it was there that Jammeh gained an affection for all things American. He befriended an officer at the base, Major Fouad Aide, whom he took to calling his "American father." After the coup, Jammeh invited Aide to the Gambia. In a photo taken at Jammeh's personal zoo during one of Aide's visits, the president is wearing not his usual Islamic getup of a flowing gown but American hip-hop casual: chunky black boots, baggy jeans, and a denim jacket to match.
What does this dictator really think about the United States? On the one hand, Jammeh encases his rule in a pan-African, anti-Western veneer, and has frequent spats with Washington. In 2006, for example, Jammeh was furious that his country was suspended from the Millennium Challenge Corporation, a U.S. foreign-aid program, on account of its human-rights record. In a meeting with a British diplomat afterward, according to a U.S. diplomatic cable released by WikiLeaks, Jammeh also insinuated that the United States had supported a failed coup attempt that year. Barry Wells, the U.S. ambassador to the Gambia from 2007 to 2010, told me that Jammeh could quickly turn spiteful. "When you were on the outs with him, not only would he not meet with you, you couldn't get a meeting with any minister," he said.
Yet on the other hand, Jammeh portrays himself as a friend of America. After attending the 2014 U.S.-Africa Leaders Summit in Washington, D.C., he returned to the Gambia to be greeted by supporters in T-shirts bearing the photograph, taken days earlier, of a beaming Barack Obama shaking his hand. Jammeh sent his mother for medical care in D.C., and once invited Jermaine Jackson to perform in the Gambia. The ingratiation can reach comical levels: Jammeh's official website boasts that he was bestowed the title of Admiral in the Great Navy of the State of Nebraska, a hokey certificate given by the governor of the landlocked state.
His attachment to the United States is physical, too. Real-estate records show that a trust linked to Jammeh owns a $3.5 million mansion in Potomac, Maryland, which was purchased from a retired NBA player. Jerreh Manneh used to work as an orderly for Jammeh's Moroccan wife, Zineb—until, he says, the president accused him of sleeping on the job, whipped him with a stick, and fired him. When I met Manneh in Dakar, Senegal, last summer, he told me that the United States was Zineb's favorite destination, one she often reached by private jet. When he accompanied her there, he said, she liked to shop at malls near Washington, D.C., for clothes, shoes, and jewelry. For household provisions, she preferred Sam's Club. Jammeh's teenaged daughter, meanwhile, attends an expensive boarding school in Manhattan; her mother occasionally visits.
Jammeh is not the only dictator whose family has enjoyed the privileges of American life. Ramfis Trujillo, son of the bloody Dominican dictator Rafael Trujillo, romped around Hollywood in the 1950s. In the 1970s, the wives of Ferdinand Marcos of the Philippines, Muhammad Zia-ul-Haq of Pakistan, and Augusto Pinochet of Chile all made a habit of going on shopping sprees in the U.S. Teodoro Obiang, the son of the president of Equatorial Guinea, studied at Pepperdine University in Malibu, California, where he owned a $30 million oceanfront mansion—until it was seized by the U.S. Department of Justice as part of its Kleptocracy Asset Recovery Initiative. (His parents have a place just down the road from Jammeh's house in Maryland.) Chinese leader Xi Jinping sent his daughter to Harvard, a school favored by the princelings of the Chinese Communist Party.
There is something about these autocrats' predilection that reaffirms one's patriotism: A tyrant may enjoy absolute power and untold riches in some far-off country, yet at the end of the day, what he truly aspires to is an upper-class American lifestyle. This appeal forms part of the United States's considerable soft power, an aesthetic equivalent to the U.S. dollar's role as the world's primary reserve currency. And just as the dollar's unrivaled status gives Washington the ability to force foreign banks to comply with its economic sanctions, the United States's cultural cachet gives it considerable leverage over dictators seeking access.
It would be foolish for U.S. officials not to consider exploiting that desire as they try to protect human rights. Indeed, there is precedent for keeping dictators and their family members out of the country: The George W. Bush administration banned Zimbabwean President Robert Mugabe and his wife, Grace, from traveling to the U.S., and the Obama administration pointedly excluded him from the 2014 U.S.-Africa Leaders Summit. Sometimes, of course, other interests should trump human-rights concerns: It would be a mistake to prohibit Chinese officials from traveling to the United States, given how much is at stake in the bilateral relationship. But the Gambia is an easy case. The country has an annual GDP of about $1 billion, and is of no strategic importance to the U.S. It's hard to imagine what the U.S. government gets from allowing Jammeh's wife to visit Maryland, aside from a bit of state sales-tax revenue.
But many of the Gambians I interviewed insisted that the U.S. government has long propped up Jammeh, starting with its failure to stop the 1994 coup that brought him to power. Time and again, they hinted at U.S. complicity, invoking by name the U.S. ship that was docked in the Gambia the day of the coup, the USS La Moure County, and the U.S. ambassador to the Gambia at the time, Andrew Winter. (Winter told me that back in the United States, he still gets recognized by Gambians, once by the check-out clerk at Trader Joe's.) And they pointed to the CIA's work with Gambian authorities in the secret rendition of two terrorism suspects, who were arrested in the Gambia 2002 and flown to Guantanamo Bay.My Gambian interlocutors also expressed frustration with the red-carpet treatment Jammeh appeared to receive during the U.S.-Africa Leaders Summit, which allowed Jammeh and his wife a photo-op with Barack and Michelle Obama in the Blue Room of the White House. Jammeh stayed across the street, at the Hay-Adams Hotel. From the curbside, demonstrators screamed insults up to the window of his suite. On the last day of the meeting, as Jammeh's motorcade was arriving at the hotel, members of his security detail punched and kicked several protesters, sending one to the hospital with a concussion.
Yet it is neglect, rather than support, that best characterizes America's treatment of the Gambia. Africa ranks at the bottom of the U.S. foreign-policy agenda, and within that region, a tiny country with neither a terrorism problem nor much economic dynamism falls to the very bottom. During the 1990s, the Gambia's role as host of an emergency landing site for NASA's space shuttle was arguably the most salient aspect of the bilateral relationship. Last year, U.S. foreign aid to the Gambia totaled just $1.2 million.
There are signs that policymakers are starting to pay more attention. Last May, after Jammeh threatened to slit the throats of gay people, Susan Rice, the U.S. national-security adviser, released a statement condemning the comments and saying of the country's overall human-rights problem, "We are reviewing what additional actions are appropriate to respond to this worsening situation." It also noted that the United States had already dropped the Gambia from a program that gives trade preferences to African countries. But large-scale sanctions have little effect, according to Jeffrey Smith, a human-rights expert who has called for visa bans and asset freezes on Jammeh and his inner circle. "You have to hit him where it hurts," he said. Seizing the Maryland mansion and barring Jammeh and his wife from traveling to the United States would no doubt hurt.
Should a ban extend to his daughter? That's a trickier question. On the one hand, the money for her tuition and allowance is effectively stolen from the pockets of ordinary Gambian citizens; as a former Western diplomat told me, it is an open secret that Jammeh takes a cut from, or owns outright, a wide range of monopolies in the Gambia, from bakeries to sand mining. On the other hand, Jammeh's daughter bears no responsibility for her father's sins. And besides, maybe prolonged contact with America and its people really can liberalize the mind—even that of a dictator's child. It arguably worked for Prince Abdullah of Jordan, Deerfield Academy Class of 1980, who went on to become a genuinely reform-minded king.Manneh, the former employee of Jammeh's wife, told me that he used to take the president's children on tours of the monuments in Washington. I wondered: Is it possible to regard the Lincoln Memorial without thinking about freedom? These days, Jammeh's daughter swans around Manhattan. Perhaps I'm naive, but I'd like to think that, living in a city that stands for free thought and commerce, it's hard not to grow fond of the West's underlying values—and not just its material offerings. May the world's next generation of dictators be so enlightened.