NATO ships to combat migrant-smuggling networks in Aegean
Thomas Gibbons-Neff and Griff Witte | 11 February 2016 | THE WASHINGTON POST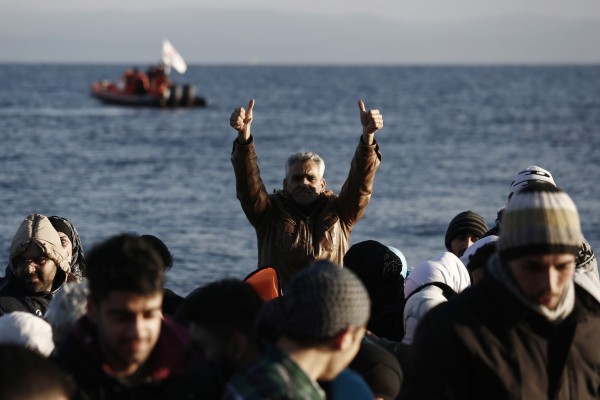 BRUSSELS —NATO dispatched warships to the Aegean Sea on Thursday to target people-smuggling operations, marking the most direct intervention by the military alliance in Europe's efforts to control the huge wave of migrants seeking to reach the continent's shores.
The operation — cobbled together during overnight talks — puts NATO ships on the front lines in combating smuggling networks in NATO-member Turkey. The smugglers have provided a pipeline for more than 1 million migrants who entered the European Union last year, setting off humanitarian and political crises across the continent.
NATO officials said Thursday their efforts will be aimed at monitoring and disrupting the smuggler networks, which have reaped massive profits by sending migrants and refugees across the narrow straits separating the Turkish coast and Greek islands.
[Chart: The stunning expansion of the migrant crisis]
But it remains unclear how NATO's plans will work in practice, given the complexities of integrating a military alliance into a policing and border control operation.
NATO's mission will be sea-based, while smugglers remain on land after asylum-seekers push off into Aegean waters, often on flimsy rubber boats. Also left unclear is the degree of NATO responsibility for assisting refugees in distress as boats overturn or sink in rough seas. German officials said Thursday that asylum-seekers picked up by NATO vessels in Turkish waters will be returned to Turkey.
The NATO mission reflects Europe's continuing difficulty in managing a crisis that has strained resources and exposed internal divisions. Although a NATO role has been discussed for months, the decision to launch the operation was unexpected and came together only after a blitz of talks following a proposal from Germany, Greece and Turkey.
The last piece came on Thursday morning when Defense Secretary Ashton B. Carter announced U.S. backing, just days after other American officials had downplayed the idea.
Minutes after Carter spoke, NATO Secretary General Jens Stoltenberg told reporters that he had directed NATO maritime forces to immediately move toward the eastern Aegean.
"It is important to respond swiftly because this crisis affects us all," Stoltenberg said. Boatloads of migrants — sometimes more than 1,000 people a day — continue to attempt the risky journey to islands in Greece despite frigid waters that have claimed hundreds of lives in recent weeks.
 Greece, a NATO member, has struggled to deal with the nonstop flow of people — most fleeing violence in Syria, Iraq, Afghanistan and other conflict zones. The exodus shows no sign of abating as international efforts to broker a peace deal in Syria founder.Speaking in Brussels, Carter commended requests from Turkish, Greek and German authorities to create a joint maritime mission.
"This is people's lives and destinies at stake here, and it's important to act quickly," Carter said.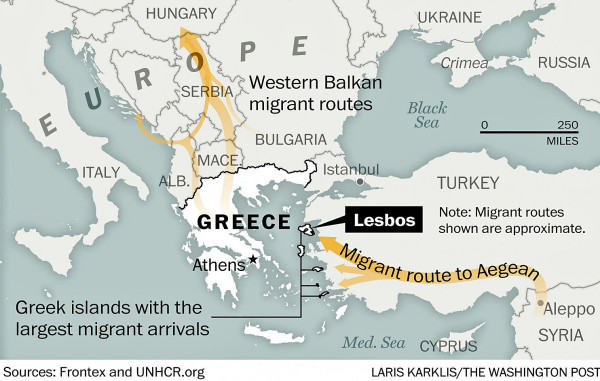 Under the plan, three NATO vessels under German command are to be tasked with reconnaissance and surveillance of known illegal trafficking routes in close cooperation with the European Union border force, known as Frontex, as well as the Greek and Turkish coast guards. Canadian and Italian ships are also involved in the mission.
[More migrants, more closed borders in Europe]
Stoltenberg added that other NATO countries are looking to assist the operation in the coming months. He stressed that the goal was to counter criminal activity, not to block refugees from reaching Europe.
"This is not about stopping and pushing back refugee boats," Stoltenberg said.
But in Germany, the NATO operation was seen as the last, best effort by the government of Chancellor Angela Merkel to put a dent in the number of asylum seekers, which is already far outpacing the rate of 2015. Merkel, whose political future depends on her ability to uphold a pledge to the public to drastically reduce numbers, has grown frustrated as European partners have reneged on commitments and as Greece has struggled to patrol its own borders.
"At least on the German side, this is an attempt to finally get some action on the refugee issue — to show that we're doing something," said Josef Janning, head of the European Council on Foreign Relations' Berlin Office. "The talks with the Greeks are stalled, and Merkel doesn't have time anymore. She is under pressure, she needs to deliver lower numbers of arrivals no matter how she does it."
 The NATO mission, analysts say, could begin to change that by going after the smugglers who are integral to the flow of people into Europe.
"These are established criminal networks, which are squeezing out millions from these people, benefiting from them and condoning as thousands are drowning," said German Defense Minister Ursula von der Leyen in Brussels on Thursday.
[For desperate refugees, 'the smuggler's room is over there']
German opposition politicians, however, harshly criticized the mission as a "militarization" of the refugee crisis. Some argued that it was not directed against the traffickers, as the government claimed, but against the refugees themselves. In a statement, the German refugee advocacy group Pro Asyl decried the mission as an attempt to "block escape routes through Turkey…This will lead to human rights abuses."
Other proposals to combat people smuggling, including an E.U. plan to challenge operations off the Libyan coast, have had relatively little impact and have struggled to get off the ground.
But in this case, the key could be cooperation between Greece and Turkey, former regional foes who remain wary of one another.
Greece has long accused Turkey of not doing enough to stop the flows. Turkey, in turn, has charged the European Union with being hypocritical and overly demanding, given the strains placed on Turkey by the massive numbers of refugees who have flowed across its border with Syria. Stoltenberg said the new agreement ensures that Greek and Turkish forces will not operate in each other's territorial waters.
NATO's top military commander said Thursday that the alliance's new mission in the Aegean came together overnight Wednesday, following the Turkish, Greek and German proposals. It was, said U.S. Air Force Gen. Philip Breedlove, "very prompt, quick" political decision-making.
But he acknowledged that much of the detail surrounding how the operation will function in practice remains to be clarified, including protocols on aiding sinking vessels.
 "I can't talk about the specifics," Breedlove told reporters. "[There] was rapid decision-making, and now we have to go do some military work."