Ashley Kirk |10 Feb 2016 | THE TELEGRAPH
The world is still blighted by hunger, with some countries having almost half their population unable to get enough food on a daily basis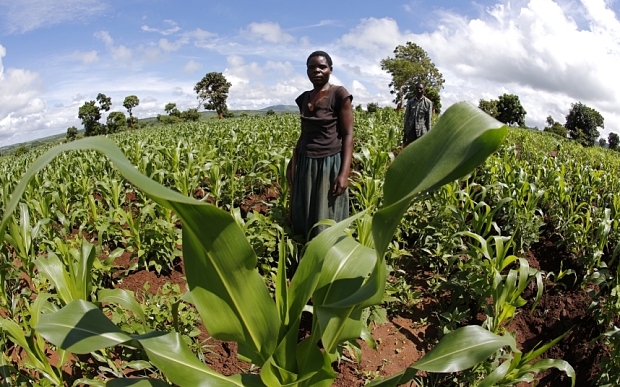 There are around 795 million people who are undernourished around the world, the majority of which are in Africa and Asia. This number has fallen by 167 million over the last decade, with some nations managing to more than half undernourishment during this century.
The UN's Food and Agribulture Organisation has said that the reduction in the number of hungry people has been striking, considering a global population growth of 1.9 billion since 1990. However, progress towards reaching the UN's food security targets in some countries has been hampered by challenging global economic conditions, extreme weather events and political instability.
Haiti, Zambia and the Central African Republic have the highest rates of undernourishment in the world, according to figures released by the World Bank.
In all, seven of the ten most undernourished countries in the world are in Africa. Namibia and Zambia have seen hunger increase the most between 2000 and 2013, as a proportion of their undernourishment level at the turn of the century.
According to the FAO, progress has been hindered by slower and less inclusive economic growth, as well as political instability. Food insecurity in some countries has also been made worse by natural and human-induced disasters
Of 129 developing countries monitored, by 2015 72 had reached the one per cent hunger target that was laid out by the UN's Millennium Development Goals. Important factors in this were stable political conditions and economic growth, according to the FAO, as well as "social protection policies" for the vulnerable.
Myanmar and Djibouti have done the best in bringing down their undernourishment rate since 2000 – again, as a proportion of their initial undernourishment level. Myanmar, which had half of its population hungry in 2000, now has an undernourishment rate of just 16.7 per cent.
Other countries – such as Armenia and Azerbaijan – have seen undernourishment more as a percantage of their starting point at the turn of the century. Overall, approximately one person out of every nine are hungry, according to the latest FAO global hunger report.
In developing regions, the prevalence of undernourishment – which measures the proportion of people who are unable to consume enough food for an active and healthy life – has declined to 12.9 percent of the population, down from 23.3 percent a quarter century ago. José Graziano da Silva, FAO Director General, said: "The near-achievement of the MDG hunger targets shows us that we can indeed eliminate the scourge of hunger in our lifetime.
"We must be the Zero Hunger generation. That goal should be mainstreamed into all policy interventions and at the heart of the new sustainable development agenda to be established this year."
Please note that the map at the top of this piece does not account for the majority of developed countries as the World Bank does not have data on them. As expected, the undernourishment rate in developed world is relatively low.