NAIROBI | Drazen Jorgic | Fri Feb 12, 2016 | REUTERS
South Sudan rebel leader Riek Machar said on Friday he wanted soldiers cleared out of the capital before he returns to take up the post of vice president under a peace deal, in another hurdle to efforts to end more than a year of fighting.
President Salva Kiir gave Machar his old job back as deputy leader late on Thursday, raising hopes of a breakthrough after months of troubled negotiations and failed ceasefires. But Machar told Reuters on Friday he would only come back if the government went through with what he said was a promise to demilitarize the capital Juba. He said he had not spoken to Kiir since August.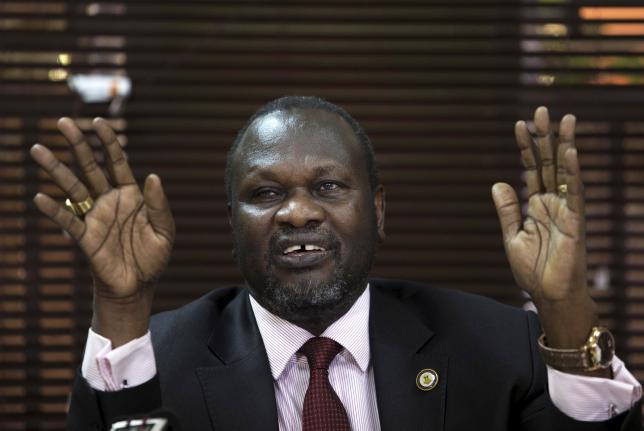 "If this is done within a week's time, it would accelerate my going back to Juba," Machar said by phone from Cairo. "If it takes two weeks, then I will wait for two weeks." Kiir sacked Machar as vice president in 2013, exacerbating a political feud that erupted into fighting between soldiers loyal to both men in Juba.
Machar and his supporters left the city and took to the bush as violence spread across the oil-producing country, killing thousands, forcing more than 2.3 million to flee and reopening ethnic rifts between Kiir's Dinka group and Machar's Nuer.
The two sides signed a peace deal in August, under international pressure and the threat of sanctions, but the ceasefire has been regularly broken. There was no immediate reaction to Machar's demilitarization demand, though Kiir had earlier urged Machar to return quickly.
"I now call upon Dr Riek Machar … to report to Juba immediately so that together we form the Transitional government of National Unity within seven days from today," the president said in a statement through his spokesman, Ateny Wek Ateny.
ATROCITIES
South Sudan split away from Sudan in 2011 under a peace deal that ended decades of north-south civil war. Regional and western powers who backed the peace process were dismayed when unrest continued along the Sudans' joint border, then fighting broke out inside South Sudan between Kiir and Machar's factions.
The United Nations and rights groups have said both sides are guilty of atrocities and accused them of dragging their feet while millions of their people face daily violence and starvation caused by food shortages.
Machar said on Friday he was optimistic that he would be able to rebuild trust with Kiir even though the two rivals have not spoken since August. "Unfortunately this has not happened," Machar said. "I made several efforts and we have not got in contact with each other."
Even on the day Machar was re-appointed Kiir's deputy on Thursday, the two men did not speak. "I tried," Machar said. "I will try again today, and I think we will still overcome it. It's just a matter of time."
He added the rebels have sent a delegation of about 300 people to Juba to try to build trust.