Challenger hopes voters will finally break Uganda leader's stubborn grip on power
Patience Akumu in Kasubi |
Potential split to Yoweri Museveni's vote gives hope to opposition leader Kizza Besigye
Ugandan president Yoweri Kaguta Museveni's campaign crowds are as lethargic as his 30-year-old rule. Uganda, the east African country whose political history is a tale of coups and insurgencies, has never enjoyed a peaceful transition of power. The country goes to the polls on Thursday in what observers see as its most spirited presidential race.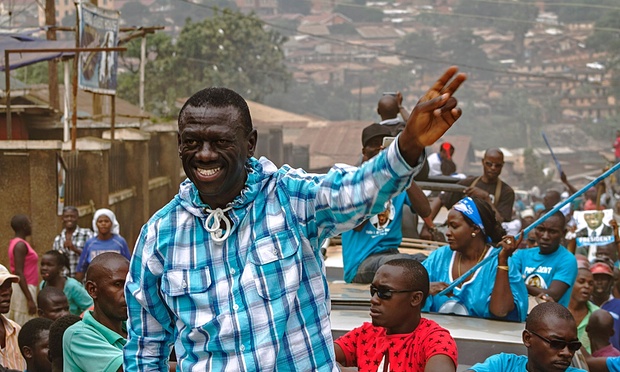 The excitement is caused by the hope that Ugandans still have in Museveni's perennial nemesis, the opposition leader Kizza Besigye, which has survived his failure to win on all three occasions he has run against Museveni.
It is born of the realisation that for the first time the ruling NRM party has a challenger from within – the former prime minister and confidant of Museveni until a few months ago, Amama Mbabazi, who threatens to split the incumbent's party votes and further shake the indomitable Museveni.
But, on a humid afternoon last week in Kasubi, a crowded commercial town that houses the burial grounds of several Ugandan cultural leaders, the winds of political enthusiasm are blowing only fitfully. Men and women, dressed in yellow, Museveni's party colours, saunter in on foot, carrying a party flag hanging upside down and occasionally sweeping the ground. Some drive into the town in buses, vans, and trucks.
It is no secret that Museveni ferries people from different parts of Uganda to his rallies. Many of them are part of the country's 80% unemployed youth. They cannot resist the prospect of earning a few dollars in exchange for hearing the same 30-year-old refrain one more time. They will stay for a few hours and listen to Museveni promise to fix the roads, build hospitals and get rid of the corruption his government has condoned for 30 years. They will scream, blow vuvuzelas and wave the NRM flag, pointing towards Museveni with its dirty edges.
A Museveni campaign is incomplete without a stern warning to the opposition not to think that he can be removed through a so-called revolution. He has warned that neither the Burkina Faso scenario, an uprising that brought Blaise Compaoré's 27-year rule to an end, nor the Kenyan 2007 events that saw bloodshed following disputed election results, can replay in Uganda. Museveni has also castigated opposition leaders for dreaming of an Arab spring in Uganda, pointing out that most of these states are no better now than they were before. "The peace here will stay. Nobody will cause violence. Uganda is past that nonsense," he said during Uganda's independence celebrations last year.
Still, the opposition campaign is couched in terms of defiance to Museveni's rule. The opposition is determined to defend its votes from rigging, a tradition in all the past elections.
Like Museveni, Besigye says that violence or an Arab spring is not what Uganda needs. However, citing the brutality of security agents, the arrests and disappearance of opposition supporters, he says that Museveni's actions are illegal and that "it is the duty of Ugandans to stand up in defiance and challenge him".
The lines of this defiance are, for many, blurred. The US State Department, has expressed concern about possible violence in the lead-up to elections in Uganda, warning candidates about "inflammatory rhetoric that could incite violence".
It is not just Uganda's opposition that is preaching a potentially combustive emotive gospel. Museveni enthusiast and NRM secretary general Justine Lumumba Kasule has promised the opposition that "the state will kill your children if they disrupt our peace".
This is a threat that Human Rights Watch fears may come to fruition, thanks to the shadowy "crime preventers", police-trained civilians the ruling party uses to intimidate and harass opposition supporters. Uganda police chief, Kale Kayihura, reportedly suggested that the sticks and batons that crime preventers wield be replaced with guns. In an interview with the Observer, Besigye described Museveni's attacks on the opposition as that of a man who does not envisage himself ever leaving power and being on the opposition side of the fence.
Indeed, Museveni has made it clear that he cannot leave power to opposition "wolves" who will regress his achievements over the decades.
Museveni, who is running in his fifth presidential election, came into power in 1986 after waging a 10-year guerrilla war. His regime has seen remarkable strides in the fight against HIV/Aids, an end to active conflict in most parts of the country, and economic growth fuelled by liberalisation and direct foreign investment.
However, many of these gains have stagnated in the last decade. HIV/Aids rates have increased, the northern part of the country experienced conflict until 2006, and the positive economic indicators have not translated into a better life for Ugandans, many of whom live in poverty.
This seemingly has no bearing on the elections. Museveni, alongside the likes of Robert Mugabe of Zimbabwe, Eduardo dos Santos of Angola, Paul Biya of Cameroon and Omar al-Bashir of Sudan, is one of Africa's longest-serving presidents. He is also one of Africa's strongmen who have manipulated their constitutions to ensure that they stay in power at any cost, like neighbours Pierre Nkurunziza of Burundi and Paul Kagame of Rwanda. Even with an ailing health and education system and no access to clean water and electricity in most parts of the country, Ugandans are resigned to a Museveni win.
"Presidential elections are a ritual that we must go through every five years," says Adrian Jjuuko, executive director at the Human Rights Awareness and Promotion Forum (HRAPF), a local NGO that has been observing the elections. He says Ugandan courts have twice found that elections were rigged: "The whole process is flawed from the beginning, and voting day simply rubber-stamps an already made decision."
However, this has not stopped Ugandans from turning up in droves at Besigye's rallies, if only to do no more than express their discontent with the system. Besigye's rallies are a vibrant affair. He does not need to ferry supporters. They instantaneously show up, waving leaves and wearing blue. On a hot afternoon last week in Muyenga, an ethnically diverse Kampala suburb, a crowd of his supporters whisked by, on foot or cruising fast on motorcycle taxis, to find Besigye. It is a hungry crowd that swears it cannot bear to listen to the Museveni refrain one more term. On Thursday they will know if their prayers have been heard.
Related content: