Ethiopia won't halt dam construction: minister
Al-Masry Al-Youm | Fri, 12/02/2016 | EGYPT INDEPENDENT

Ethiopia stressed it will not halt the construction of the Renaissance Dam even for a moment, and will continue construction during the period of technical studies estimated to be complete within a year.The Ethiopian water minister announced that his country seeks to inaugurate the dam in 2017, pointing out that there is no reason to delay the inauguration.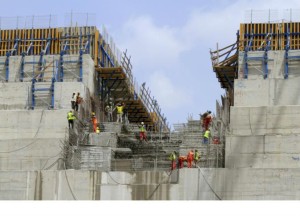 The Ethiopian minister denied during a Sunday interview with the BBC the accusations raised against his country of procrastinating in negotiations on the dam so that they can go ahead with its construction. He attributed the delay in negotiations and starting studies on the dam to a disagreement on the consulting firms that would conduct the studies.
Concerning Egypt's fear of affecting its share of the Nile water, the minister said Ethiopia takes these and other concerns seriously and that negotiations can resolve all differences. He noted that his country is concerned regarding the delayed implementation of the Declaration of Principles signed in Khartoum in March 2015, which is supposedly a reference in case of dispute.
The minister criticized Egyptian media in tackling the dam crisis and described the negotiations as fruitful. He expressed Ethiopia's readiness to give a priority to Egypt and Sudan to buy electricity generated by the Renaissance dam.
Edited translation from Al-Masry Al-Youm