Lindiwe Mazibuko | 18 February 2016 | BUSINESS DAY
A DEAR friend and storied South African entrepreneur recently advised me always to do my own dirty work. A long line of successes and failures in business have taught him never to be out of touch with even the smallest detail of his operations. No good, he says, can come from leadership that is comfortably removed from the daily realities of the work at hand.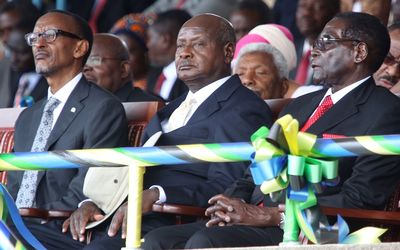 Nigerian multibillionaire industrialist Aliko Dangote has a similar attitude towards his own success. Explaining Dangote Group's disinclination to diversify into telecommunications, he recently told an audience of Harvard students that he never invested in a business until he understood it inside and out and could describe the minutiae of its processes if roused from sleep in the middle of the night.
Africa's political leaders, however, have recently revealed a contrasting tendency. Over the past year the presidents of at least seven African nations have sought constitutional amendments to extend their terms of office, citing the need for "stability" and dubiously claiming they had been called to further service by a grateful nation.
In Burkina Faso this claim was roundly rejected by a citizenry that took to the streets to hound Blaise Compaoré out of office and out of the country, while in Burundi Pierre Nkurunziza's efforts to stay in office for a third term despite widespread public opposition have tipped the country into chaos and brought about ethnic strife that looks increasingly like the beginnings of civil war.
The events in both countries offer sobering lessons about the perils of an entitled and out-of-touch leadership. Last year pan-African research network Afrobarometer published the results of a 2014 survey that investigated attitudes towards presidential term limits in 34 African countries. The survey found that 75% of citizens strongly support the imposition of such limits, with the rate climbing to 77% among countries that have either never had term limits or have recently abolished them.
There can be no more potent signal that a head of government is completely out of touch with the public mood than the attempt to secure a presidential term extension in such a climate. Yet this is precisely how Ugandan President Yoweri Museveni has tried to justify his own brand of state capture, seeking a fifth term in office.
"This old man who has saved the country, how do you want him to go?" he has argued. "How can I go out of a banana plantation I have planted that has started bearing fruits?"
A number of analysts who should know better have attempted similarly to justify Rwandan President Paul Kagame's constitutional amendment to seek a third term in office next year.
Citing the economic growth and development successes in Rwanda under his watch, they argue that this — and his role in ending the country's devastating ethic genocide in 1994 — mean Rwanda is safer in Kagame's hands than in those of a democratically elected successor.
Yet this "stability" argument fails to take into account how inherently problematic it is for a head of state even to seek to maintain his grip on power in this manner. How is it that he has failed after so many years to nurture an adequate pipeline of talented possible successors?
Last year the average age of people in sub-Saharan Africa was 19, while the age of the 10 eldest sitting presidents on the continent averaged 78.
A seven-year extension to Kagame's term, coupled with the additional two five-year terms to which Rwanda's constitutional amendment now entitles him, pushes his latest possible departure from office to the year 2034. At 58 years old, he is now poised to replicate the pattern set by our continent's ageing and hopelessly out of touch leaders and stay in office until he is 76.
Closer to home, the shenanigans of the Zuma administration have South Africans everywhere longing for a time when we had strong, principled leadership.
President Nelson Mandela could have sought a second and possibly a third term in office without incident, and with the blessing of a grateful nation. More than one commentator has argued that SA might have benefited from "stability" under additional Mandela administrations.
But our founding president understood the importance of succession planning, and the value of nurturing a team rather than rewarding slavish obedience to the cult of personality. The question we should be asking is not whether any president is entitled or "deserves" to seek an extension to their term of office, but why she would even consider it.
Mazibuko is a resident fellow of the Harvard Institute of Politics and former parliamentary leader of the Democratic Alliance