In the wake of Thursday's election, a few "Museveni babies" – born after President Yoweri Museveni came to power in 1986 – share their opinions.
Yoweri Museveni, Uganda's president, was likely to be confirmed for a fifth presidential term, following elections on Thursday. But for the youth, comprising more than 60% of the electorate, it was time for the man in the wide-brimmed hat to move on.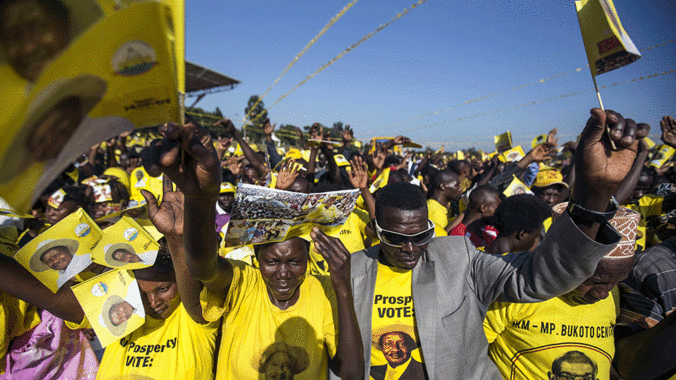 They have been referred to as "Museveni babies", yet most feel disfranchised: they lack opportunities and relevant skills for the job market. The World Bank estimates that some 64% of the working-age population under 24 are unemployed, although the African Development Bank puts the figure much higher, at 83%.
Here, people born after Museveni came to power in 1986 talk about their experiences of life under his leadership and their opinions of the country's prospects:
Bruce Tibenderana (27), Kampala
I was born in 1989, three years after Museveni [came to] power. I am employed, but feel sad when most people of my age seem hopeless, with literally nowhere to look for opportunities. I believe Museveni has done his part. It is now time he moved on. His strategies are exhausted. We need a new person, new ideas, new structures, and a completely new way for this country to be run.
Generally, Uganda has come far; Museveni has done a lot to bring it to where it is. But now, the country can develop at a high rate without him. The biggest task at hand is to create jobs for youth. I believe much can to be done to gainfully engage young people in economic activities. Not a lot is happening under Museveni.
The Museveni government has not done much to help jobseekers. I graduated in 2013, but many of my peers are jobless. Those who managed to get jobs are underemployed. The education system tells us we must work in an office – that's not what young people should be taught. The informal sector is dominated by less-educated youth; [they] are also not helped to achieve their potential.
I honestly expect the next president to work on the skills gap for the youth. Museveni's current government may not do that.
Robert Nuwamanya (28), Hoima district
I was born two years after Museveni took power. I have so far lived all my life under his rule. But there is a challenge for young people like me who are affected by unequal access to opportunities, including jobs.
A few privileged young people get employed, sometimes not because they are the best but maybe they have a relative who works in a particular government department. Most of us, without such links, have no options. When I finished my diploma in accounting in 2012, I first looked for a job but I could not get [one]. I decided to start a small shop, selling produce like maize and coffee.
In the next five years, I want to see my business grow to start selling to neighbouring countries. This can only happen if a small business like mine [gets] an enabling environment. I need affordable finance to expand, but there is no one willing to give me [support].
I have seen this government offer subsidies to the bigger investors. This has not been the same for small businesses. How can I develop when I am not supported? Peace doesn't mean absence of war. I need peace of mind too, I [need to] sleep every night knowing that there is an environment to support my business growth. Museveni has played his part – let others come and try.
Marion Nabugosili (24), Kampala
I was born six years after Museveni came into power. I have a diploma in human rights law but no job. I, like many other young people, aspire to achieve a lot for my life. Has this government done enough to help us? Not really. I think there is some sort of nepotism – very few have a chance of making it. And the people who are meant to leave office at retirement age don't want to do so.
Basically, after 30 years, there isn't much to show [for it]. Personally, I have no problem with Museveni. Some young people have benefited from this government, mostly in the villages, but there is a lot to be done.
Does this mean the youths' future under Museveni is bright? Not exactly. More than 75% of [young people] in Uganda remain unemployed. They need opportunities. Museveni says he brought peace but that does not matter a lot now to young people. Getting relevant skills and [knowing] where to work to earn some income matters a lot.
Henry Otafire (24), Kampala
I was born in 1992. I graduated last year but have no job. I formed a youth-led organisation, called Response to African Youth Dynamics, which focuses on climate change. Many of my former classmates are still on the streets. There are opportunities for those who are connected – maybe their parents work in government or [are] connected to government officials.
The peace talk from the Museveni regime is redundant at [a] time when Uganda should move forward. We need to see peaceful transfer of power [all Ugandan presidents since independence have come to power violently]. There is a need to revamp the curriculum system so that it is skills-based. This government is doing little to enhance the skills young people get from their education.
The Museveni regime focuses on maintaining itself in power at the expense of broad social issues. A new leader at this moment would bring with him or her that spirit to deliver social services. [Candidate Kizza] Besigye presents that optimism.