Uganda opposition leader held after election loss
Kizza Besigye has been detained for the fourth time in just over a week – a period in which he also lost to Yoweri Museveni in the national election.
Ugandan opposition leader Kizza Besigye was detained for the fourth time in eight days on Monday, after he failed to unseat long-serving President Yoweri Museveni in an election observers say was marked by intimidation and lacked transparency.
Ingrid Turinawe, a senior official with Besigye's FDC party said Besigye was being prevented from gathering evidence as part of his challenge of the election result.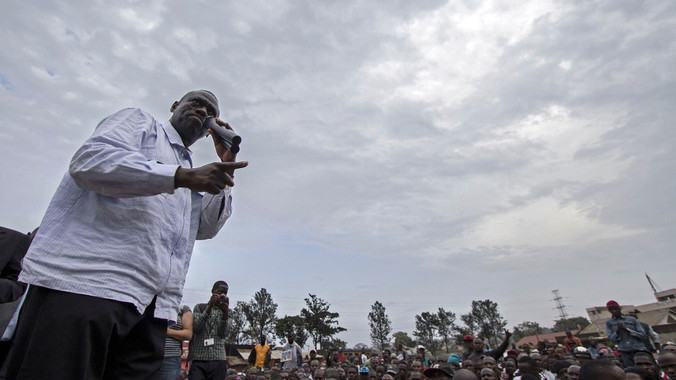 "They should leave him to be free because he has only 14 days to petition the court. He has to collect evidence," she said.
Uganda's Electoral Commission declared Museveni, in power since 1986, the winner of the February 18 vote, with 60.8% against Besigye's 35.4%.
Besigye and other domestic critics dismissed the result as rigged and the EU observer mission said the vote lacked transparency and had been conducted in an "intimidating" atmosphere.
Police said on Monday they believed Besigye was preparing to lead supporters to the Commission to collect the official results and had not obtained proper consent.
"Today, [Besigye] had mobilised a group of youth to storm the electoral commission. We had information that they had planned to cause violence in the city," said police spokesperson Patrick Onyango.
US Secretary of State John Kerry has also voiced concern over the harassment of opposition figures and the shutdown of social media in Uganda, where Facebook, Twitter and the WhatsApp messaging service have faced outages on election day.
Museveni (71) has dismissed the idea that the commission had favoured him and his National Resistance Movement (NRM) and has told foreign observers not to lecture him.
"I told those Europeans … I don't need lectures from anybody," Museveni told reporters in his country home in Kiruhura, southwestern Uganda.
He has presided over strong economic growth but is accused at home and abroad of repression of dissent and failing to tackle rampant corruption. Critics also say he wants to rule the nation of 37 million people for life, emulating other African leaders who refuse to give up power.
Museveni last clashed with Western donors in 2014, when Uganda passed a law that imposes harsh penalties on homosexuality.