On Saturday afternoon, friends and colleagues of Boris Nemtsov, joined by thousands of others, will march in Moscow, marking a year since the day Nemtsov was assassinated. Late in the evening on February 27th, 2015, Nemtsov was walking home across a bridge that spans the Moscow River, not far from the Kremlin and the bulbous domes of St. Basil's Cathedral. The killer shot Nemtsov four times, from behind, as his girlfriend watched in terror.
Nemtsov, who was fifty-five years old, was once a precocious political talent, rising from provincial governor to become to become President Boris Yeltsin's deputy prime minister. He never found his way in Vladimir Putin's Kremlin, and left government when his party was voted out of parliament, in 2003. He became one of the more energetic and charismatic figures in the country's beleaguered political opposition. He was handsome, with a lively mane of light brown hair that turned silver over the years, which he swept to the side in the style of a television news anchor.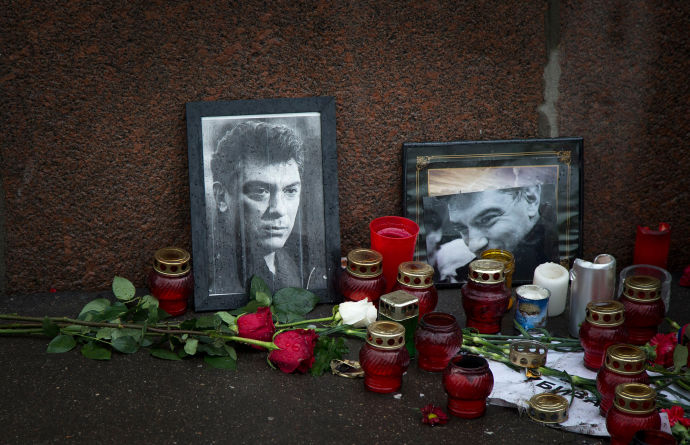 His murder was a terrible blow to the opposition and an unwelcome jolt to the political élite. Gleb Pavlovsky, a former political adviser to Putin who has become a critic of the Kremlin, told me, when I spoke to him for a magazine piece earlier this month, that Putin was "obviously stunned" by Nemtsov's murder. "As a political assassination, this is direct interference in the politics of the federal center, and, what's more, right under Putin's nose."
Under Putin, investigations of such killings, of which there have been a dozen or more, have tended to be slow and inconclusive. But in the case of Nemtsov, Putin granted the F.S.B.—the country's main security agency, of which Putin was once the director—unusually wide license to go after the killers. According to a report published earlier this week by the opposition paper Novaya Gazeta, the head of the F.S.B. presented Putin with the names of suspects on March 2nd, three days after the killing. In the following days, they arrested five people, all ethnic Chechens with apparent connections to Ramzan Kadyrov, the colorful and brutal ruler of Chechnya.
F.S.B. generals had long distrusted Kadyrov, whom Putin allows greater autonomy than any other regional official. Now the rivalry between Kadyrov and the security services had spilled into the open. "Nemtsov's assassination seemed to have exhausted their patience," Novaya Gazeta wrote.
According to government investigators, the triggerman was Zaur Dadaev, the former deputy commander of Sever ("North"), a Chechen special-forces unit that is under Kadyrov's informal authority. At first, Dadaev confessed to the crime, as did others in custody—but all later recanted their testimony, saying they had been threatened and subject to torture. The transcripts of their interrogations contained striking details about Nemtsov: they knew the model and license-plate number of his Range Rover, the address of his apartment, and the location of his office.
One suspect, Anzor Gubashev, who was said to be the getaway driver, told investigators that, beginning in October, 2014, he came to believe that Nemtsov was "carrying out a policy against our state, supporting the West and defaming our government." Gubashev mentioned Russia's standoff with the West over Ukraine, and called Nemtsov an agent of the C.I.A. and Obama. "We don't feel the least bit sorry that we took him out, because from the very beginning he was a Western prostitute, and was causing all sorts of chaos," Gubashev said during interrogation.
Many of Nemtsov's allies, including Vadim Prokhorov, a lawyer for Nemtsov's family, say that the evidence points to a man named Ruslan Geremeyev, a high-ranking officer in Sever and a close friend of Dadaev's. Geremeyev has deep connections to Kadyrov's inner circle: he is the nephew of both Adam Delimkhanov, Kadyrov's closest ally and purported enforcer, and Suleyman Geremeyev, a powerful Chechen politician. Other suspects in the case told investigators that Geremeyev spent time at the Moscow apartment where the assassins stayed during the weeks before the killing. The day after the murder, Dadaev and Geremeyev drove together to the Moscow Airport and boarded a flight to Chechnya, according to airport surveillance photos.
According to Prokhorov, investigators twice went to Alexander Bastrykin, a Putin loyalist who is the head of the country's Investigative Committee, asking him to sign an indictment charging Geremeyev with involvement in the murder. Both times, Bastrykin refused. The investigators relayed the story to Prokhorov with a shrug, he recalled. "I guess the bosses know best," one said.
Kadyrov's name does not appear in the official investigation, but Olga Shorina, a longtime employee and confidante of Nemtsov's, told me that investigators privately asked her whether Nemtsov had any conflicts with Kadyrov. The two met only once, in an episode recounted in Nemtsov's book "Confessions of a Rebel." At a meeting of Chechen political figures in Gudermes in 2003, Nemtsov gave a speech on the need for a consensus-based government in Chechnya and argued that the republic should not have a President. Afterward, Nemtsov wrote, Kadyrov, whose father was President at the time, came up to him and said, "You should be shot for saying such things." Nemtsov took it as a joke—but Kadyrov's father gave him a security detail for the rest of his visit to Chechnya. (Kadyrov has denied any involvement in the murder.)
In January, Bastrykin announced that the case had been "solved." The final indictment identifies a man named Ruslan Mukhadinov as the organizer of the killing. Mukhadinov is a low-ranking officer in Dadaev and Geremeyev's unit, who served as Geremeyev's personal driver. Like his boss, Mukhadinov has effectively disappeared, and the indictment against him was issued in absentia. Case materials allege that Mukhadinov offered the killers a sum of fifteen million rubles, around two hundred thousand dollars, for carrying out the murder. He is also said to have provided the assassins with the apartment in Moscow and the murder weapon, a silenced 9-mm. pistol.
The indictment does not give any account of Mukhadinov's motive or where he got the money to finance the operation. Prokhorov said that it's inconceivable that Mukhadinov gave orders to Dadaev, an officer far above him in stature. "It's clear that some other people were working through him." Prokhorov said. But investigators, who have largely moved on to new cases, are no longer asking who those people were. "They are putting on the brakes," Prokhorov told me.
In the absence of satisfactory answers, rich and ever-metastasizing conspiracy theories have taken hold among the opposition in Moscow. Perhaps Kadyrov thought that he would be pleasing the boss by removing an enemy. Or maybe the F.S.B. set up Kadyrov, to create a wedge between him and Putin. Maybe, and most terrifying at all, Putin knew all along. As Oliver Bullough, a journalist with deep experience in Chechnya, wrote in the Guardian last September: "What if Ramzan is murdering with impunity, and Putin does control him?"
On January 31st, Kadyrov posted on his Instagram account a video of Mikhail Kasyanov, a former Russian prime minister and now an opposition politician, edited to appear as if it had been shot through the scope of a sniper rifle. Was it a death threat or a joke in terrible taste? A week later, Chechen men attacked Kasyanov in a Moscow restaurant and smashed a cake in his face; it could have been a comical scene, if not for the threat of murder it carried.
On February 23rd, Ilya Yashin, a close friend and political ally of Nemtsov's, released a report that outlines a number of well-known allegations against Kadyrov, from widespread corruption to involvement in a number of killings, including Nemtsov's. For Yashin, Kadyrov shows the Putin system to be hollow, a false projection of strength that masks something much more dangerous. "It turns out Putin doesn't control anyone in this country, it's all bravado, all this talk that he's created this machine, this vertical of power."
A year later, the significance of Nemtsov's assassination is still coming into focus. Shorina told me that it marked the moment when the state "stopped feeling shame, stopped trying to explain its actions, stopped trying to keep to the bounds of decency." Although Nemtsov's murder was not the only sign of Russia's political degradation in the past year, it was the most dramatic: the killing, within sight of the Kremlin, of a person who, even in his opposition, was a member of the political establishment. And the state doesn't appear all that able, or motivated, to do much about it.