Plotting and planning for a Zimbabwe without Mugabe
David Pilling and Andrew England | February 29 2016 | BUSINESS DAY
FOR much of January, Harare was awash with rumour. While President Robert Mugabe was on holiday in Southeast Asia, a toxic succession battle within the ruling Zanu (PF) party erupted into view.
First, there was a mysterious break-in at the office of his vice-president, Emmerson Mnangagwa, a frontrunner to succeed Mugabe, who turned 92 last weekend.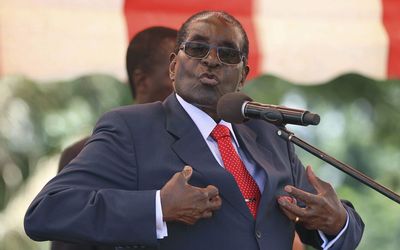 Then, a live bullet was reported to have been found in the hotel room of a government minister seen to be a Mnangagwa loyalist.
And last week, police fired water cannon and tear gas to disperse war veterans who were planning to march on the Zanu (PF)  headquarters after the veterans publicly criticised a faction within the ruling party affiliated to Mugabe's wife, Grace.
Throughout it all, amid routine speculation that Mugabe was at death's door, there was nervous whispering: what happens once he leaves the scene?
Zimbabwe's is no ordinary succession. Whoever replaces Mugabe will inherit power from a leader who has towered over African politics.
At Zimbabwe's independence in 1980, Mugabe made an apparently seamless transition from guerrilla leader to international statesman. In Britain, where he had once been seen as a dangerous Marxist, he was embraced as a visionary leader who could build on his country's prosperous legacy to create a rare success story of African liberation.
It was not to be. After a promising start, marked by progressive social policies and attempts at reconciliation with the formerly ruling white minority, Zimbabwe descended into a political and economic abyss, culminating in land seizures and hyperinflation.
Didymus Mutasa, a veteran of the liberation struggle until his expulsion from Zanu (PF)  in 2014, had spent decades by Mugabe's side. He accuses the president of destroying his own legacy.
"He has produced the situation we are seeing now, the decay of our country, and that is what we are trying to rescue," he says.
Mutasa says Mugabe has become "unpredictable" and should have retired years ago.
Mugabe shows few signs of going anywhere. He returned to Harare four weeks ago looking healthy. He headed to Addis Ababa, where he marked the end of his year-long stint as chairman of the African Union by delivering a speech in which he told those who moan about ruling parties being in power too long to "shut their mouths".
"Mugabe will not step down," says Ibbo Mandaza, a Zimbabwean political analyst. "He does not have the word 'retire' in his vocabulary."
Whether he retires or not, most observers accept that the Mugabe era is drawing to a close.
The prospect of life after Mugabe is concentrating minds. The international community, which has treated Zimbabwe as an outcast for years, is cautiously preparing to welcome it back into the fold.
Talks have intensified with multilateral institutions with the aim of helping Harare clear nearly $1.9bn of debt in arrears in the hope it will be able to gain international funding to repair its economy.
Reaching an agreement with the International Monetary Fund, World Bank and African Development Bank would end 15 years of exclusion from international lending.
There are also signs that foreign investors are dipping their toes in the water in anticipation of a better environment in the post-Mugabe era. Aliko Dangote, the Nigerian tycoon who is Africa's richest man, said last year he planned to build a $400m cement plant in the country.
Officials and diplomats say French and other European companies have recently shown more interest.
Opposition parties question the wisdom of the international community re-engaging with Mugabe's administration, saying it risks emboldening Zanu (PF)  at a time when it is vulnerable.
In Harare, various political actors are jostling for pole position. Among them is believed to be Grace Mugabe. She had no liberation credentials and little grassroots support, so few people took her seriously as a potential challenger.
That began to change at the end of 2014, when she toured the country, making attacks on senior party members thought to be preparing to usurp Mugabe, including Joice Mujuru, who was then vice-president.
Mujuru, until then seen as a possible successor, as well as other senior Zanu (PF)  loyalists, were purged from the party.
There is a whispering campaign from within Zanu-PF, suggesting that Grace is fast gaining influence. Opposition members talk of a "palace coup".
Outside Zanu-PF, the opposition is fragmented. The Movement for Democratic Change (MDC) has challenged Mugabe three times at the ballot box and its leader Morgan Tsvangirai became prime minister in a joint administration after disputed elections in 2008.
His party splintered after a crushing defeat in the 2013 election, which Tsvangirai claims was stolen.
Another group that is emerging is a breakaway group of the loyalists expelled from the ruling party in 2014 and led by Mujuru.
Yet despite his advancing years, few underestimate the president. Mugabe is adept at using a combination of intimidation, violence and abuse of state resources to cling to power.
Even opposition members are not ruling out the possibility of him leading Zanu-PF at the next election in 2018.
"We want to believe differently, but Mugabe has surpassed all our expectations," says Nelson Chamisa of the MDC. "Mugabe is his own successor. He has succeeded himself successively."