With 'resignation' announcement, Chechnya's strongman woos Putin
Fred Weir, Correspondent | February 29, 2016 | THE CHRISTIAN SCIENCE MONITOR
Reading the Deeper Meaning: Coming so soon after a damning report on his despotic reign, Ramzan Kadyrov's declaration that he will not run for reelection may look like political retreat. But it is actually a show for his patron, Putin.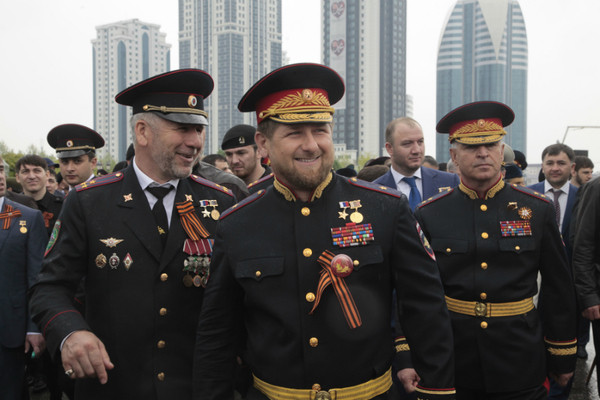 Moscow — When Chechnya's pro-Kremlin strongman, Ramzan Kadyrov, appeared to tender his resignation on Saturday, the Moscow rumor mill went into overdrive.
Just days after a liberal opposition group published a damning report accusing Mr. Kadyrov of corruption, murder, and imposing an unconstitutional dictatorship of sharia law during his eight-year rule, he told a stunned TV interviewer on the weekend that he felt his time at Chechnya's helm was up.
"Now I feel that the country's leadership should find another person so that my name cannot be used against my fellow people," he said. Instead, he added, he'd like to devote himself to family, business, and the study of Islam.
They suggest that if Kadyrov is feeling nervous, it is not because of the 65-page report authored by Ilya Yashin, which pulled together a lot of evidence about his brutal rule that has long been known. Rather, it may be due to unseen shifts within the Kremlin, including changes in President Vladimir Putin's inner circle.
In fact, Kadyrov is issuing an ultimatum to Mr. Putin to step in and personally support him for reelection in voting due this September, or risk destabilizing the strongman rule that has kept Chechnya pacified for the past 8 years, they say.
"Kadyrov senses that his position is worsening. There are signs that the Kremlin is unhappy with him, and increasingly the mood in Russia's elite is turning against him due to his unpredictable and reckless behavior. He feels a loss of trust at the top," says Mr. Yashin, whose report drew very little attention in Russia. "Kadyrov has been seeking a personal meeting with Putin for a couple of months now, and Putin doesn't answer. So, Kadyrov is nervous, and keeps sending messages to prove his loyalty. Of course he doesn't want to leave."
Putin's Chechen pact
Putin handed over near-total control to Kadyrov after Russian troops, who had pounded the restive republic into submission, withdrew several years ago. In return, Kadyrov snuffed out local dissent, co-opted former rebels into his private army, and made sure Chechnya was completely loyal to the Kremlin.
The challenge of Chechen rebellion, which had plagued post-Soviet Russia for almost two decades, was "solved" at the cost of empowering a despot whose constant and sometimes brutal antics would repeatedly embarrass Putin.
Among other things, Kadyrov has been accused of supporting his opulent personal lifestyle by embezzling aid money pumped in by Moscow to rebuild the war-shattered republic, terrorizing Chechen women who resist a strict Islamic dress code, and threatening Russian law enforcement officials who try to track down criminals in Chechnya. Most ominous of all has been a string of murders of political opponents, from local human rights activists to Russian liberal leader Boris Nemtsov, that could be traced to Kadyrov's regime.
For several months now, Kadyrov has been threatening Russia's small band of liberal opponents, calling them "jackals," "enemies of the people," and other epithets that recall the language of Stalinist political terror. Last month he posted a video of opposition leader and former prime minister Mikhail Kasyonov, that appeared to have been shot through a gunsight.
This is particularly chilling for Russia's dwindling band of liberals because of the long list of political assassinations in post-Soviet Russia whose organizers are almost never identified but that the trigger men are usually Chechens.
"Kadyrov's Chechnya is a zone of unintended consequences for Russia," says Andrei Kolesnikov, an expert with the Moscow Carnegie Center. "Sure it's been pacified. But it's an utterly brutalized place after two wars, filled with people who grew up with the gun and who have no qualms about killing."
'An audience of one'
Another outspoken Kremlin critic, Andrei Piontkovsky, fled Russia last week after Chechnya's Kadyrov-run legislature demanded he be investigated for "extremism" over an article he wrote about the links between Kadyrov and the Kremlin.
Mr. Piontkovsky, in an email, said that Kadyrov's harassment of liberal critics is aimed at convincing Putin that he is an indispensable ally, not only as ruler of Chechnya but against opponents on the wider Russian stage as well.
"Kadyrov knows that many in [Russian law enforcement] hate him and his base in the Kremlin is only Putin personally," he said. "Hence, his campaign against dissidents is addressed to an audience of one, to please Putin, to demonstrate Kadyrov's loyalty and his usefulness."
The Chechen leader's offer to resign puts Putin on the spot, and may compel him to make a public show of backing Kadyrov. Since Kadyrov runs Chechnya with an iron fist, he can expect to triumph in September's election, so the issue is entirely about securing Putin's personal support amid Kremlin shifts that so far remain invisible to observers, say experts.
"What we're seeing here is the launch of Kadyrov's reelection campaign," says Alexei Mukhin, director of the independent Center for Political Information in Moscow. "There's only one vote he needs to win, and that's it's all about."