Watch These Fearless Ugandan Journalists Broadcast Their Own Arrests
The Ugandan government's post-election crackdown on the media is captured on live TV.
When several of her fellow journalists were beaten and arrested on Monday, TV reporter Bahati Remmy had an uncompromising message for the Ugandan police.
"Journalism is not a crime. It's a public good," she wrote in a Twitter post. "Our only crime is we have the courage to tell stories the way they are."
On Tuesday, Remmy herself was caught up in the government's ongoing crackdown against the media after Uganda's disputed Feb. 18 presidential election. Police detained her while she was reporting outside the home of opposition leader Kizza Besigye, who is now under house arrest.
The TV reporter's arrest played out live on air — and she continued to report as a group of riot police trampled her, chased her through a field, and eventually hauled her off.
"As you can see, we have been arrested by police and they are taking us away to an unknown destination," a breathless Remmy tells viewers in the video, before being marched into the distance. She was later released.
Police said officers detained Remmy for obstructing them and refusing to obey their orders, according to the free speech group Chapter Four Uganda. Remmy told the Human Rights Network for Journalists-Uganda, also known as HRNJ-Uganda, that police officers pushed her around and pulled her hair while she was in custody.
Remmy works for Uganda's privately-owned NBS Television, and was reporting on Tuesday's deadline for Ugandan opposition groups to file a legal challenge to President Yoweri Museveni's disputed victory in the election. They did so later that day.
The 71-year-old Museveni, who has already ruled for 30 years, has suggested he plans to lead Uganda for the rest of his life.
The official election results showed Museveni winning around 60 percent of the vote and Besigye earning 35 percent, but the opposition says the election was rigged in the president's favor. European Union observers criticized the "intimidating atmosphere" during the vote and urged the government to release the full results.
Opposition groups say authorities are now targeting them. Security forces have responded to protests with tear gas and raided Besigye's party offices. Besigye was arrested at least five times in the days after the election before being placed under house arrest.
Journalists have not escaped the clampdown, either. Remmy's detention was the second time in as many days that a Ugandan journalist was arrested live on air.
A day earlier, police detained Remmy's colleague at NBS, Elijah Turyagumanawe, outside Besigye's house.
The camera kept rolling as officers forced Turyagumanawe into a police vehicle, drove him to the police station, and brought him in for questioning. Turyagumanawe continued to report on his own arrest after he was pushed into a cell with his cameraman stranded outside.
"You may not be seeing me, but I've been put inside a cell," he told viewers.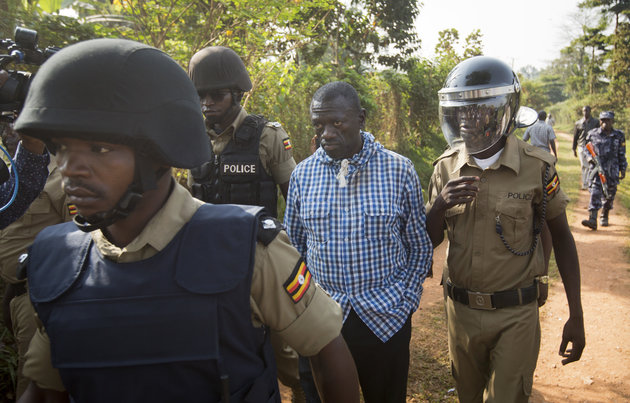 Turyagumanawe was among at least seven journalists detained around the capital of Kampala on Monday, according to Ugandan newspaper The Monitor. They were all later released.
One of them, Abubaker Muwonge of China's CCTV, faced criminal trespassing charges after he covered an incident in which members of the opposition reportedly released piglets outside the president's residence, according to NBS. The Monitor reported that Muwonge and a colleague refused to reveal their sources about the apparent protest.
Uganda has a strong tradition of independent journalism and diverse media outlets.
Yet the country's journalists have felt growing pressure, especially in the runup to February's election. Human rights groups documented widespread harassment and intimidation of journalists and civil society activists during the election campaign. The HRNJ-Uganda reports that at least 27 journalists have been arrested and 28 assaulted already this year.
On election day, authorities shut down social media, chat apps and mobile money services on most cell phone networks, although many Ugandans circumvented the ban by using virtual private networks and mocking the government's heavy-handedness.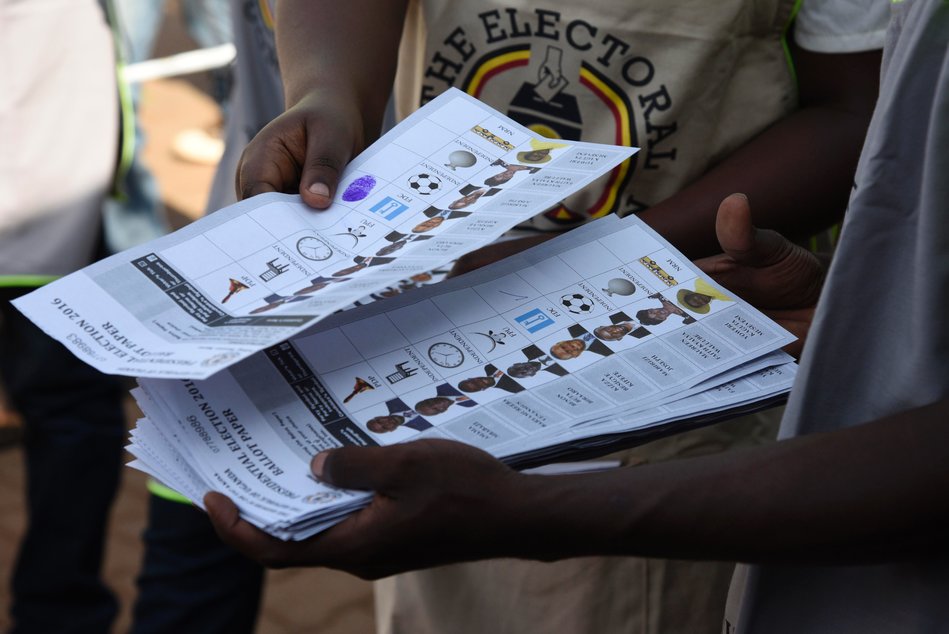 Since the election, the tension has only increased as journalists struggle to cover the crackdown on the opposition without getting caught up in it themselves.
"Every day, we witness a case of arrest or physical assault of journalists," HRNJ-Uganda's Diana Nandudu told the Committee to Protect Journalists. "It seems the authorities don't want people to know what happened during the election."
A Ugandan police spokesman justified Besigye's house arrest, saying he called for protests against the vote that could disturb the peace. He also gave journalists a lecture on journalism ethics and accused them "acting as opposition politicians," according to The Monitor.
For now, journalists are not taking any risks with Ugandan authorities.
After his night in a police cell, Muwonge urged journalists to use chat apps and social media to share information about arrests and harassment. "We need to stand united as journalists now than ever before," he wrote on Facebook. "Let's make noise once one of us is in trouble."
What he won't do is give up. "I intend to continue with my journalism," Muwonge ends his Facebook post. "Where is the next story guys?"