The World According to Men
 Chrisitna Asquith |
 Many media organizations still portray international affairs through a predominantly male lens—and there are real consequences.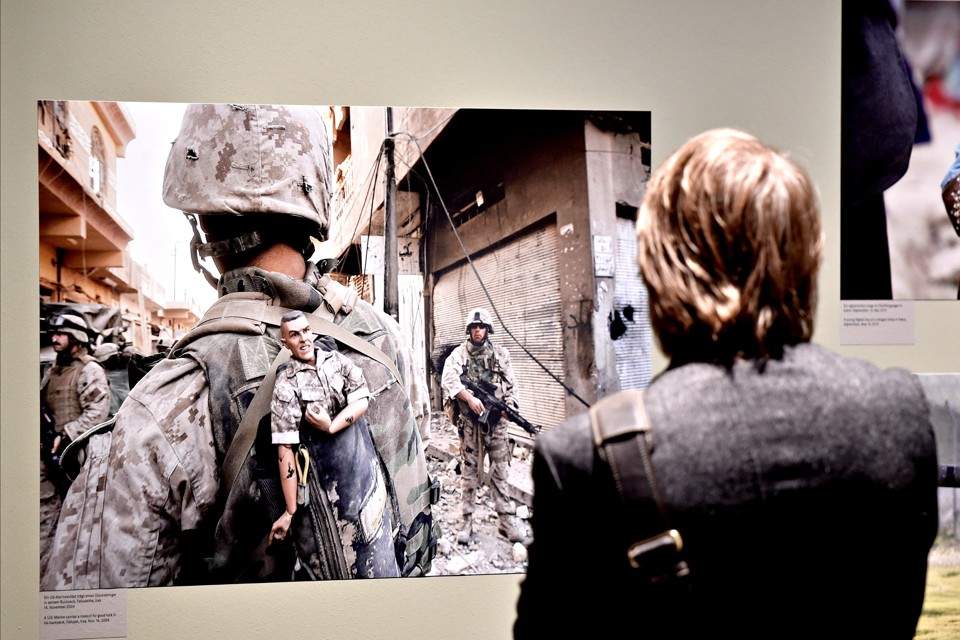 ISTANBUL—For most of the 19th and 20th centuries, women war correspondents were rare creatures—considered intellectual oddities, more likely to be fetishized than taken seriously as news gatherers.
Even as recently as 2002, Vanity Fair was delighting in the exoticism of such women in its story "Girls at the Front," which profiled the battle-hardened correspondents Christiane Amanpour, Janine di Giovanni, and Marie Colvin. They had sex appeal and well-furnished London homes, and they made up a small brigade of female journalists jetting off to "whatever hellhole leads the news."
These days, there are so many "girls at the front" that it's not a story anymore. The New York Times, The Washington Post, and the Associated Press all have female bureau chiefs reporting on ISIS, Syria, Yemen, Egypt, and Libya. In Istanbul, a jumping-off point for covering the region, there seem to be more women freelance correspondents than men. This month's new film Whisky Tango Foxtrot, in which Tina Fey plays an adrenaline-addicted reporter in Afghanistan, captures how women have broken into the tightly knit, elite foreign-correspondents' club.
Yet the

landscape

hasn't entirely changed. When it comes to winning prizes for their work, for example, female foreign correspondents are stuck in the last century. Ample research moreover points to persistent gender bias across television and print media. In 2011, men penned nearly 80 percent of the op-eds published in most major U.S. newspapers; during America's 2012 elections, male reporters had more than twice as many front-page bylines in major newspapers as women did. In 2015, men also made up around three-fourths of the guests booked to discuss foreign policy and national security on prime-time cable and top Sunday news shows. Even in articles about birth control, abortion, and other topics relating to women's bodies, men are quoted more frequently.
How journalists portray the world has real consequences, and the world is being portrayed through a male lens.
This trend continues. In the last two years, the Overseas Press Club of America has given 50 awards to men but only 21 to women. The George Polk Awards for international, foreign, and war reporting do little better: They went to 29 men and 16 women over the last decade. Ironically, one of the worst discrepancies occurred in the case of the Martha Gellhorn Prizes, named in honor of the most famous female war correspondent of the 20th century. The organization has awarded prizes to 19 men but only to four women. So even as more women are risking their lives to report on the world, their work is still given less weight.
Prizes signal what the industry values. Efforts to win them can drive decisions on which reporters are funded and for which types of projects. Repeatedly awarding men's reporting over women's feeds into a cycle that elevates male voices into positions of authority. Male journalists quoted four times as many men as women in a study of 352 front-page New York Times stories in the first two months of 2013. (The same study found that female journalists also quoted men more frequently than women, but the imbalance was not as severe.) The imbalance in awards also reinforces the notion that reporting on combat, mission strategy, and violent conflict qualifies as "hard news," while coverage of human rights, maternal health, sexual assault, and education—which women more frequently cover—is "soft" news.
And yet peace negotiations—such as those over Syria set to begin this week in Geneva—are also male-dominated affairs. Women accounted for less than 4 percent of witnesses and signatories in a sample of 31 major peace processes between 1992 and 2011, according to a study commissioned by the United Nations. That's despite the fact that a different study, of 182 peace agreements signed between 1989 and 2011, showed that such accords were 35 percent more likely to last at least 15 years if women were at the negotiating table.

Still, rather than reflect a diversity voices, only "13 percent of stories in the news media on peace- and security-related themes included women as the subject," according to the UN. Only 4 percent portrayed women as leaders in conflict and post-conflict countries. Only 2 percent highlighted gender equality issues at all.

It's time for foreign correspondents to do a more thorough job of including all the voices of people in the countries they cover—and for media management to reward that effort by giving more weight to stories by and about women. Some of the most memorable reporting in recent years has come from women journalists: Rania Abouzeid of The New Yorker has investigated the rise in forced prostitution in Iraq; Alissa Rubin wrote a two-part series in 2015 on wasteful U.S. spending on women in Afghanistan. Rukmini Callimachi exposed ISIS's twisted interpretation of the Koran to justify rape. Female photographers are also enriching our understanding of how women experience the world. Examples include Stephanie Sinclair's 10-year project on child brides, Erin Trieb's images of Kurdish female fighters, and Lynsey Addario's work on African women dying from routine procedures in childbirth.
Perhaps the female reporter who best exemplifies the difference women journalists can make is Boston Globe reporter Elizabeth Neuffer, who brought attention to Bosnian rape camps in the 1990s and whose reporting played a pivotal role in the decision by the International Tribunal at The Hague to formally designate rape as a crime against humanity.
Neuffer was killed in a car accident in Iraq in 2003. And she isn't the only female correspondent who has died while reporting from a war zone. Marie Colvin, a subject of Vanity Fair's article, was killed in a shelling attack in Homs, Syria, in 2012. Syrian citizen journalist Ruqia Hassan, and the Mexican crime reporter Anabel Flores Salazar were both murdered earlier this year for their intrepid journalism.
We have greater awareness of the inequities women face around the world thanks to the work of both men and, increasingly, women reporters. Journalism and readers are better off for this richer, more balanced perspective. But the numbers show that we still need more women's voices in foreign news stories, more investigative reporting into women's issues, and more prizes in recognition of those investigations, so that women's ideas are finally equated with men's ideas. Let's give the names of female correspondents that ring of recognition that translates into authority and power. Let's give women an equal presence in print, and a voice in foreign affairs.

Let's amplify the voices of half the world's population, and the correspondents who are most likely to broadcast them.
Related Story: