We mustn't forget the revolutionary roots of International Women's Day
Rebecca Winson | 8 March 2014 | NEW STATESMAN
Now marked with Google doodles and special shopping displays, in the early 20th century, International Women's Day was a fierce, worldwide campaign for worker's rights.
International Women's Day: a day, according to the UN, to "reflect on progress made", to "celebrate acts by ordinary women". Few would say that it fails to do this. Last year Google marked it with a doodle, and there were events from streets marches to window displ of Selfridges, who marked it with a short film showing famous female designers and presenters.
Yet all this fails to reflect exactly what the day means. Amid pastel Gifs and shop windows full of well-off women, barely a whisper could be heard about those who brought the day into being. Perhaps it's not surprising: next to them, modern feminists look a little wet. They forged International Women's Day (IWD) in the midst of fire, bloody strikes, starving workers and revolution.
Luise Zietz and Clara Zetkin were the first to come up with the idea. Inspired by growing numbers of female activists, in 1910 they proposed to the second Socialist International the organisation of a day worldwide dedicated to promoting women's rights.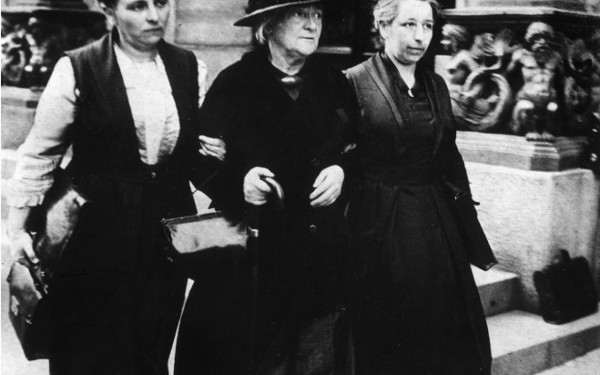 Against a backdrop of ambivalence from male unions, women had been organising for decades. Cap-makers, match girls and laundresses had all picketed at the turn of the 20th century, and as Zetkin and Zietz made their proposal, the "Uprising of the 20,000" was drawing worldwide attention. A bloody strike by New York's garment workers, it was led by Clara Lemlich, a 23-year-old Ukrainian-Jewish immigrant who rallied tens of thousands of women to the picket lines even after thugs hired by her employers broke her ribs.
The first IWD took place on 19 March 1911. Over a million women across Europe took to the streets calling for equal rights. Jubilation at the day's success was short-lived: less than a week later fire ripped through the sweatshop where Clara Lemlich worked, killing 146 workers who had been locked inside by their employers. Lemlich lost a cousin to the flames, collapsing in hysterics when she was unable to find her body. The tragedy – still one of the worst industrial disasters in US history – brought universal condemnation, focusing future IWD campaigning fiercely on worker's rights.
IWD was just solidifying into a proudly left-wing tradition when the First World War broke out in 1914, and socialist organisation collapsed in chaos. In 1917, however, IWD took on significance again, when a group of Russian women triggered one of the most monumental events of the 20th century. Marching in St Petersburg, they were unexpectedly joined by workers from surrounding factories, supporting their calls for "Bread and Peace". Within hours a full scale revolution had broken out. Tsar Nicholas abdicated, a new government was set up, and six months later, the Bolsheviks took control.
We all know what happened next, and it may well be distaste at the system of government that the event kickstarted which is responsible for its revolutionary roots being swept under the carpet. Some historians claim its origins were deliberately hushed up in the McCarthy era, some see it as changing politics – but whatever was responsible, the disparity between what the day was then and what it is now shouldn't pass without comment.
From being a day devoted to campaigning for the poorest women, to becoming one on which Walmart can claim to promote equality: IWD is a perfect example of feminism's failure to connect with the poor. Get up in arms about that accusation all you want (and please do, it would be great to see some mass mobs in feminism), but the fact remains that, for all the grasps at intersectionality and the spat-ridden Twittering of recent years, there are still women who find themselves in the same position that Clara Lemlich did in 1910: scrabbling through rubble for the body of a loved one. We consistently fail to connect with the whole embarrassing mess of it.
Sweatshops still exist across the world, as do trafficking, slavery, horrendous working conditions and unsanitary living conditions. On our own doorstep, women are bearing the brunt of the cuts. Single mothers, poor teenagers in inner-cities, ordinary working women who struggle to put food on the table. What do we debate on Twitter, on our much-fought-over platforms in the press? Pink toys, boobs in newspapers and women on banknotes: none of which is unimportant, but which have all risen to the top of the debate because of our reluctance to deal with anything filthier.
International Women's Day – and perhaps feminism in general – now veers dangerously close to paint-by-numbers protest. Femen have called for an international women's strike on IWD 2017, which might have been heartening had they not chosen to wait three years in order to coincide with the headline-grabbing centenary of the February Revolution.
When Clara Lemlich died, aged 96, she was organising her care workers into a union. International Women's Day shouldn't just be about the poor in order to respect women like her, but because of what she knew to the last: that to make society better for everyone, you have to start with the ones who have it worst. On 8 March, that's what we should be reflecting upon.