Angola's veteran leader Dos Santos says to step down in 2018
LUANDA | Herculano Coroado | Fri Mar 11, 2016 | REUTERS
Angolan President Jose Eduardo dos Santos, who has been in power since 1979 and is one of Africa's longest-ruling leaders, said on Friday he intended to step down in 2018 but gave no reason for his decision and did not name a preferred successor.
Angola, a member of OPEC and Africa's second largest oil exporter after Nigeria, has been hit hard by the slump in global crude prices. Oil export revenues account for more than 90 percent of foreign exchange revenues.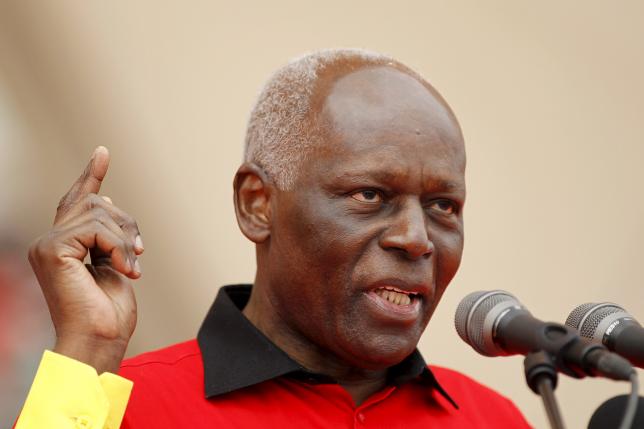 "I took the decision to leave active political activity in 2018," Dos Santos, 73, said in a speech to members of his ruling MPLA party's key decision-making body. He did not elaborate.
Angola holds its next parliamentary election in 2017 and the leader of the winning party will then become president. MPLA leader Dos Santos was re-appointed to a new five-year term as Angolan president in 2012 after his party won a landslide win.
Some Luanda residents expressed surprise that Dos Santos had decided not to step down before the next election.
"The elections are in 2017, not in 2018. He should quit before the elections in 2017," said Afonso Kangulo, 42, who is jobless and blamed the government for the weak economy.
But Frank Francisco, 48, a public service worker, said: "If he were to quit before the election, maybe people would say he ran away because he would have lost."
Weak oil prices have hammered Africa's third largest economy and the government is in discussions with the World Bank and International Monetary Fund about possible financial assistance.
Dos Santos' mild, inscrutable public demeanor belies his tight control of Angola, a former Portuguese colony where he has overseen an oil-backed economic boom and the reconstruction of infrastructure devastated by a 27-year-long civil war that ended in 2002.
Critics accuse him of mismanaging Angola's oil wealth and making an elite, mainly his family and political allies, vastly rich in a country ranked amongst the world's most corrupt.
Dos Santos, a Soviet-educated former petroleum engineer, is Africa's second longest ruling leader after Equatorial Guinea's President Teodoro Obiang Nguema Mbasogo.
DYNASTIC SUCCESSION?
Vice-President Manuel Vicente – former head of state oil firm Sonangol – is seen as a likely successor to Dos Santos.
"(Dos Santos) has been grooming Vicente for quite a while now … He has deputized for him on a number of important occasions, which sent a strong signal," said Gary van Staden, a Johannesburg-based political analyst with NKC African Economics.
But another analyst said the president was grooming his son, Jose Filomeno de Sousa dos Santos, to succeed him. The younger Dos Santos currently heads Angola's sovereign wealth fund.
"It may mean the succession is in progress and that it will be a dynastic one," said Nelson Bonavena, an economics lecturer at the Catholic University of Angola and political analyst.
Ricardo Soares de Oliveira, an Angola expert at Britain's Oxford University, struck a more cautious note.
"Dos Santos' departure from power has been the talk of the town in Luanda for 15 years. He has always hinted that he wanted to leave but this is the most specific commitment he has ever made," he said.
"The fact that he put a date to it is a powerful marker and would come back to haunt him if he were to renege on it."