Blood in the fields as big business eats up Ethiopia
Tom Burgis | March 14 2016 | Business Day
AS AN orchestra of mosquitoes and crickets greet the dusk, Bedlu Abera looks out over fields of rice stretching across the Ethiopian lowlands. A flicker of contentment crosses his face. "It's satisfying," he says. "We are making progress."
Bedlu is overseeing Saudi Star Agricultural Development's first substantial harvest, and there is an urgency to his work. The land must be cleared and planted swiftly before the rains return.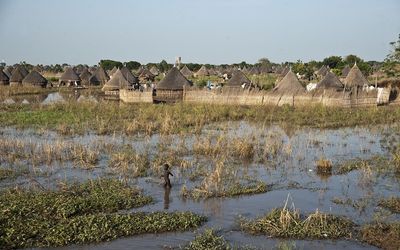 This remote spot is a frontier in a contest for land that stretches from Myanmar to Saskatchewan. Investors are betting billions on an asset that is both more abundant and more fiercely contested than any other. The struggle playing out in the Ethiopian lowlands is a glimpse of others to come in a crowded, warming world.
Bedlu took over as Saudi Star's farm operations manager in 2014. The company's proprietor, Saudi-Ethiopian tycoon Mohammed al-Amoudi, has spent more than $200m turning a swathe of bush into a farm the size of 20,000 soccer pitches. That puts the sheikh, as he is known, in the vanguard of a global land rush.
…
AS THE populations of better-off countries move to cities in greater numbers, the gap between the amount they grow and the amount they eat widens. Agricultural trade has long filled this gap.
But a price shock in 2007, when rates for staple crops doubled in months, showed that global markets for food can break down. When the financial crisis created demand for safer investments, governments, multinational companies and institutional funds started to pour billions into other countries' land.
From Southeast Asia to Latin America and sub-Saharan Africa, investors are seeking to profit not simply by trading the fruits of the earth, but by controlling the land itself. Few countries have attracted such attention as Ethiopia.
Saudi Star's harvest was long overdue. In 2009, the firm took a 50-year lease on 10,000 hectares in the poor region of Gambella. Later, it added another 4,000 hectares by buying an adjacent farm.
The deal was one of the most high-profile transactions of an investment drive in which Ethiopia's government leased 2.5-million hectares, an area slightly smaller than Belgium.
More than the same is again on offer now. The government's stated goal is to bring in modern farming technology to generate exports that would help a serious balance-of-trade problem. Doing this, some say, would also cement the ruling elite's control over Ethiopia's lowlands.
November's harvest was initially forecast to yield 10,000 tonnes of rice. But Saudi Star halved the outlook after poor rains. The company plans to spend another $100m by 2018 on more irrigation canals and machinery.
…
IF ITS engineers succeed, the farm's yield will double, allowing annual production of 140,000 tonnes. That would be more than enough to supply the entire Ethiopian market. Beyond that lie lucrative markets in Saudi Arabia, the Arab emirates and East Africa.
Bedlu was part of a team Amoudi installed in 2014. The 4,000-strong staff includes 1,300 locals: 300 on permanent contracts and 1,000 seasonal labourers.
Saudi Star's management has brought in commercial farming expertise and is trying to improve community relations. Bedlu is learning the language of the Anuak, the main ethnic group in the area.
But armed guards on the perimeter are a reminder of what happened in April 2012, when decades of lowlander grievances were unleashed on the sheikh's farm. A group of gunmen, widely held to have been Anuak militants, opened fire at the company's compound, killing at least five employees before fleeing.
Reprisals followed. According to Human Rights Watch, the military rounded up villagers, beating the men and raping the women.
The attack was a lesson for the new lords of the land. They can come with the promise of jobs and progress, but land is like the lion that prowls near Saudi Star's farm: hard to tame.
…
ETHIOPIA is a nation of smallholders: 85% of employment is in agriculture and 95% of all agricultural produce comes from small farms. Of that, 80% is consumed by the farmers; only 20% is sold. A mere 5% of agricultural output comes from big commercial farms. Yet they are central to the government's strategy.
Official figures show more than a decade of double-digit growth, with strong exports of coffee, livestock and cut flowers. Some question the numbers, but there is evidence of advancement too: new roads, telecoms infrastructure and dams.
The country is a self-styled "developmental state": a nation, like China, Singapore or Rwanda, in which an authoritarian government sets a strict economic path.
The ruling Ethiopian People's Revolutionary Democratic Front (EPRDF) took power when it toppled the communist regime in 1991. Dominated by highlanders, as those from central and northern Ethiopia are known, it established a record for economic competence and intolerance of dissent.
For years, the EPRDF was opposed to the idea of commercial farms. That changed about a decade ago as donors encouraged foreign investment in agriculture. Since then, Ethiopia has been at the forefront of a global phenomenon.
Lorenzo Cotula, a senior researcher at the UK's International Institute for Environment and Development, notes that population trends, climate change, urbanisation and other factors will keep piling pressure on valuable land.
"Land might be seen as an asset class by a fund manager," he says, "but for many rural people, it is a foundation for social identity and food security."
YET, OF the 2.5-million hectares leased in Ethiopia so far, only 35% has been developed. That is partly because of the difficulty of getting machinery and skilled manpower to remote corners of a landlocked country.
The government has cancelled seven leases after investors failed to deliver on their promises. Some domestic investors, who cumulatively have taken much more land than foreign ones, have simply stripped their plots for charcoal.
Abera Mulat, head of Ethiopia's land investment agency, insists that no one with a rightful claim has been moved forcibly to make way for investors.
"There have been cases where people have come and said: 'This is my land.' If we are mistaken, then we will leave that land," he says.
There have, however, been forced relocations under the government's separate "villagisation" programme. This, the government says, is designed to group scattered communities into larger settlements to make it easier to deliver services.
Some Anuak have spoken to human rights activists about beatings and rapes by soldiers who enforced their resettlement.
Saudi Star CE Jemal Ahmed is resentful that, when a company such as Saudi Star tries to invest, it comes under attack from foreign activists. Saudi Star has tangled for years with activists from the Oakland Institute and Human Rights Watch, who have compiled reports on Ethiopia's land investment programme and the heavy-handed ways in which, they allege, the government shifts locals out of the way.
Ahmed denies such claims. "No one was living in this area," he says. He objects to attempts to portray Amoudi as "a man who came to take advantage of Ethiopia's people, to take their ancestral land".
…
FOR Ahmed, the land venture is part of a plan to drive Ethiopia into the 21st century. "All the indigenous groups have had a rough time. They need more investment. And better governance. And civilisation."
In a cramped one-storey house in Nairobi, 14 Anuak men and women from Gambella gather. One after another, the refugees recall how they fled. Some arrived recently, driven by evictions linked to the villagisation programme.
Others, such as Omot Oluwoch, 37, came to the Kenyan capital after the pogroms of 2003, when mobs of highlanders attacked the Anuak. The Ethiopian military joined in, according to human rights groups. More than 400 died.
"The reason why we are being killed is because of the land," Omot says. "The government looks down on us; they don't want us to live there. It is like what happened under apartheid."
Anuak leaders who opposed Addis Ababa were simply swept aside. The refugees rattle off names of Anuak intellectuals consigned to Addis Ababa's jails. In some cases, the detentions appeared to be linked to criticism of the land deals.
One was a relative of Omot's who worked as a translator for World Bank inspectors probing allegations of forced evictions in Gambella. He was arrested in March last year and faces what Human Rights Watch calls "spurious" charges of terrorism.
Okello Akway Ochalla, an Anuak former governor of Gambella who fled into exile in 2003, was detained and handed over to Ethiopian agents in 2014 during a trip to South Sudan, part of a tour to organise Anuak resistance to Addis Ababa.
He was flown back to Ethiopia and has been in jail there since. He faces charges under the counterterrorism law. The maximum penalty is death.
Akoth Adhom, a woman in her 60s, claims she knows of villages that have been relocated forcibly.
Asked who controls the land now, she says: "Al-Amoudi."
…
THERE  is little evidence, even anecdotally, of evictions specifically to make way for investors. But the Anuak's claim to their land is not based on titles to specific plots, explains Ojunni Ojulu Ochalla, a former nurse. "It does not mean that there is someone on every piece of land. Even in the bush, you have demarcated land: for hunting, conserving the forest, farming.
"The narrative is that this place is empty, (but) if you take the whole world, you are living only on a small part. That doesn't mean someone can walk in and do what they want."
A fault line of history — or, perhaps, of modernity — has opened up in Gambella. The forces of global markets have come up against the instinct to preserve a homeland.
If a global land rush is at hand, Gambella's rift will not be the last.