One month later: What next for Besigye?
Sunday, March 20   2016 | The Monitor
Marking a month under house arrest, Opposition leader Kizza Besigye this week said he is mentally prepared to make the required sacrifice for the sake of Uganda's liberation even as the government warned he will be kept out of public life for a long time.
In exclusive interviews with Sunday Monitor between Wednesday and Thursday, Dr Besigye observed that while there is a price to pay: "It is something I have been through many times and something that I am prepared for psychologically and emotionally."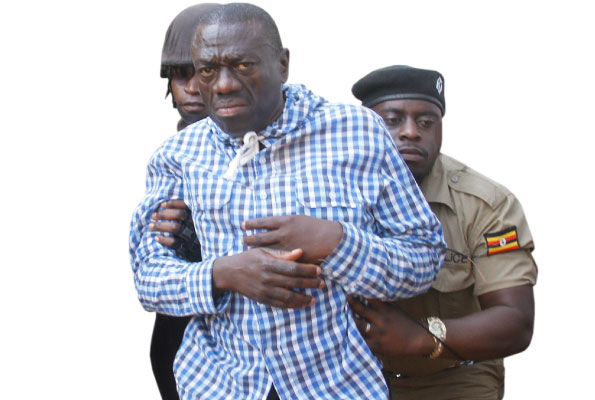 Since his freedom to come and go as he pleases was forcibly taken away by the State, it has been a testing 30 days which can be traced back to the evening of February 18 as election results began to trickle in.
On that evening, the Forum for Democratic Change's presidential candidate arrived outside a house in the Kampala suburb of Naguru where he suspected pre-ticking of ballots and manipulation of results was underway.
As Dr Besigye demanded entrance into the building, police swung into action; grabbed and bundled him into a waiting omnibus which sped off to his Kasangati home. That would be the last day he would be a free man.
On each of the nine occasions he has tried to leave home since then, Dr Besigye has been roughed-up, arrested and held in different places around town — often denied access to party officials and lawyers. Only his family was allowed very limited access to him each time.
Today, enforcing round-the-clock surveillance the police has thrown a cordon around his home in the Kasangati suburb of Wakiso District. Access is restricted.
Vehicles are strictly barred from entering the compound.
The neighbourhood is bristling with both uniformed and plain-clothed security people. Anyone lucky to be allowed in is first thoroughly checked and their particulars registered.
In the one month he has been locked away, Dr Besigye has been visited by members of the diplomatic corps; politicians and activists from the Women's Situation Room which monitored last month's elections. The Uganda Human Rights Commission (UHRC) has also visited and opened a file documenting his detention.
The US government has called for his immediate release, warning that continuing to detain Dr Besigye will affect Uganda's relations with America which is one of the biggest development partners of the country.
Similarly, the European Union Parliament on Wednesday asked the Uganda government to release Dr Besigye immediately while international human rights organisations have spoken out against his situation.
A campaign to secure his freedom is underway with the FDC rallying public support under the slogan, 'I can't breathe'. The party has also started weekly prayer days as one of the ways to fight what FDC president, Maj Gen Mugisha Muntu, has repeatedly described as "injustice".
A separate option through the High Court is also on.
Dr Besigye is seeking a court declaration that the siege at his residence is illegal; an order for the police to get off his property and the payment of damages for the inconvenience, mental anguish and injury to his dignity resulting from the actions of State organs which continue to violate a slew of his constitutional rights to liberty, protection from inhuman treatment, freedom of speech and movement, among others.
In the meantime, former presidential candidate, Maj Gen Benon Biraaro, who visited Dr Besigye during the first week when he was held virtually incommunicado, says the retired Colonel's situation is "miserable."
"It (the house arrest) is not good. I think Besigye has difficult choices. The defiance [campaign] is a double-edged [sword]. The government thinks that if it lets him out, there will be consequences which they would not like because he believes in the power of the people.
But if he remains in, it is miserable for him. It is an awkward situation for both the suppressor and the suppressed," Maj Gen Biraaro told Sunday Monitor in an interview.
To unlock the impasse, Maj Gen Biraaro floated the idea of dialogue with the government which he says Dr Besigye "had issues which he has raised from time to time with some people but the key word was 'yeah'- he is not against dialogue. But there must be a few things on the table."
The police is meanwhile making sure journalists do not get anywhere near Dr Besigye. Neighbours can only speak about the toll the security presence has had on their lives in hushed tones, hardly any resident is willing to speak on the record.
A boda boda rider quietly told Sunday Monitor that the many plain-clothed security individuals who roam the area have warned locals about interacting with the media, a position which quickly became evident when our reporters came face-to-face with the police in Kasangati this week.
"If you are members of the press, you are not wanted here. Just go away or we will force you away," a policeman yelled when Sunday Monitor reporters, on appointment with Dr Besigye, visited his home on Tuesday morning.
The policeman directed the journalists to James Kawalya, the District Police Commander Kasangati. Kawalya angrily informed the journalists that Dr Besigye is barred from giving interviews and directed that we contact the police spokesperson for permission.
As the journalists were calling the police spokesperson, Kawalya ordered them to retreat to "a distance" because "anything can happen" as he called in reinforcement with the infamous omnibus with blacked-out windows arriving.
Such is the fear surrounding Dr Besigye's confinement that Dr Maggie Kigozi, who led the women activists who paid him a courtesy visit, declined to say anything about the matter because she would be "blasted".
A veteran of countless arrests in the 15 years he has challenged President Museveni's rule, the FDC leader speaks matter-of-factly about his circumstances.
"Any confinement is quite obviously stressful and it causes emotional stress and frustration. But on my part, the impact is not very big because it does not come as a surprise, neither is it new. It is something I have been through many times and something that I am prepared for psychologically and emotionally," Dr Besigye says.
He also recognises the realities facing the party's show of solidarity with his plight to which FDC is drawing attention through a 'stay-at-home' campaign, urging supporters to keep indoors every Thursday until the police blockade is lifted.
"It is voluntary. People have to do it of their own volition. Liberation has to come with a little bit of pain but unfortunately, there are some people who think they will be liberated without any sacrifice," Dr Besigye says.
Dr Besigye reveals that he spends most of his time reading and exercising.
"When I am restricted, I just continue with my life. I continue doing whatever I can to reach whatever areas I can reach using the communication means available, I continue doing what I need to do to remain physically fit within the space that I have; read to expand my knowledge. So I am not overwhelmed by the restrictions that are put around me," Dr Besigye says.
From the look of things, the Bush War comrade and former personal physician of President Museveni may be in for a long spell in isolation. Internal Affairs minister Rose Akol told this newspaper that Dr Besigye will remain under house arrest until "nothing of the threats that we are currently aware of will happen".
"Security has information that he wants to have a one million [man] march to Kampala and you know what that means. Security has also picked information that there are people who are just waiting for the opportunity for Dr Besigye to walk out of his home. They are planning mayhem," Ms Akol says.
Whether there is any truth to the government's belief as claimed by the minister could not be independently verified. And so the uncertainty continues with the FDC presidential candidate adamant that he won the February 18 presidential poll.
"I cannot say the days are the same – they have been changing. In the first days, it was total isolation. I was not getting visitors, not even my lawyers were allowed to come and see me. I was doing my own activities without any engagements with people from the outside.
In the last 10 days, visitors have been allowed to come in except if there are more than 10. [But] they cannot allow them to come with their vehicles, vehicles are parked at the roadside and people walk a bit of a distance to my house.
My day starts with an early breakfast, I try to do exercises; I have a small gym in here and after that I take a shower and begin my communications – answering my mail and various communications and then paying attention to my visitors which goes on for most of the day.
We never for any moment considered that the end of the NRM dictatorship is going to be a simple and smooth one and that is why we were clear right from the word go that we would win by defiance and not by compliance. In other words, the struggle is a political defiance – we envisaged that we have to struggle to end the dictatorship. That struggle will definitely continue.
We have already pointed out that we are not willing to let the victory of the people just be arranged –we are going to defend our victory using all avenues that we can marshal and working with the people of Uganda that gave us that mandate.
We are completely convinced that if the people that voted us do not cooperate with Mr Museveni, there is no way he can run government. We will be working with our people to deny any attempt by any regime to usurp their power."
Besigye will be confined as long as defiance campaign is on – Akol
Why is the police confining Dr Besigye to his home yet court ruled that his home is not a gazzetted detention centre?
This is not the first time government is subjecting Dr Besigye to confinement at home. The reasons are mainly because there is a track record; there are precedents that Dr Besigye has set. We have situations that have happened whenever Dr Besigye [is let free], especially now when they are talking about defiance and now that he does not agree with the results or the outcome of the elections.
At this point in time, security has information that he wants to have a one million march to Kampala and you know what that means. Security has also picked information that there are people who are just waiting for the opportunity for Dr Besigye to walk out of his home; they are planning mayhem. They are planning to loot shops and have already identified the shops they want to loot.
The police is charged with keeping law and order. To let out Besigye out of his home at this point in time – with all this information that police has – would be unfair on the majority that are also entitled to peace and security of their lives and property.
So, this is the situation that police is facing — either to let out Besigye and we experiment on people's lives and property because we know the outcome would be destruction and looting or keep him at home and have everybody else continue with their work.
This is the dilemma that we are facing. The continued confinement of Dr Besigye or keeping him at home is to avert what we know will happen if we release him.
If government has evidence that he is up to mischief, why can't he be produced in court?
But it has not happened, the law allows the police to do what they are doing and I think that is the safest thing to do.
Which law is police basing its actions on?
I would not want to quote any here but there are various laws. There is the Police Act and the Public Order Management Act. I want us to be honest when we are dealing with Dr Besigye because there are those who are only waiting for that opportunity and they will cause havoc in this city.
So long as the defiance campaign is still on he will have to [live] with the fact that he will have to be contained there until the police and security are sure that certain things will not happen, that is the basis for keeping him at home.