Africa bears the brunt of El Nino's wrath
Whitney McFerron and Frank Jomo | March 22 2016 | Business Day
THE maize that is a food staple for much of Southern Africa is now so expensive it has become a luxury many cannot afford, after the worst drought in three decades damaged crops from Ethiopia to SA.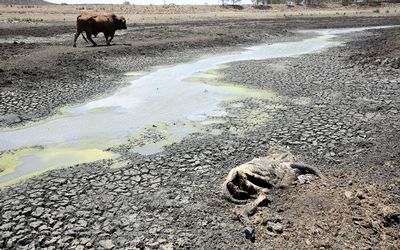 In Malawi, one of a dozen nations affected by the dry spell, Meleniya Mateyusays she has to forage for wild water-lily roots called nyika from streams and swamps to feed her two orphaned grandchildren. The small amount of grain she gets from an aid agency is barely enough for them to eat one meal a day.
"We are surviving on nyika," Ms Mateyu said in an interview at her village in the southern district of Chikwawa, about 50km south of the capital, Blantyre. "This year's hunger is the worst I've seen in 10 years."
El Nino
The drought — a symptom of the global El Nino weather pattern — is shrinking grain production across Southern and Eastern Africa and increasing the risk of hunger for some of the poorest populations in the world. Of the 34 countries that will require food aid this year, 27 are on the continent, data from the United Nation's (UN's) Food and Agriculture Organisation show. And the need is growing even as the rest of the planet enjoys a grain glut and shrinking food costs.
The situation may be the worst since sub-Saharan Africa's last major food crisis in 2002-03, with 28-million people already contending with hunger, according to January figures provided by the UN's humanitarian affairs agency. The World Food Programme says that number could balloon to 50-million later this year. Another 10-million people are at risk in Ethiopia because of drought, along with millions more in conflict-ridden countries, including South Sudan and Central African Republic.
While the UN says the region is having its worst drought in 35 years, it's been a century since fields were this dry in SA and five decades for Ethiopia. That's compounding the strain on a part of the world where more than 40% of the people live at or below the international poverty line of $1.90 a day, according to the World Bank.
Even with global food costs tracked by the UN dropping to a seven-year low, few in Southern Africa are benefiting. The logistics of getting supplies from sea ports to landlocked markets in Malawi and Zimbabwe increases the cost. Like many other countries in the region, SA's buying power is eroded by the weakening rand. And the economies of Angola and Zambia have been hit by struggling oil and mining industries.
"Importing food for many of these countries is going to be much more costly now than it was a year ago," said Debbie Hillier, a humanitarian policy officer at Oxfam International. "Countries have suffered very seriously from the decline in commodity prices."
Expensive food
Food costs could double in Zimbabwe, which would need to import as much as 1-million tonnes of grain, said Steve Wiggins, a research fellow at the UK's Overseas Development Institute. While ocean freight costs are low, the country has to import through SA and Mozambique. In a normal production year, local wholesale maize in Zimbabwe would cost about $120-$150 a tonne, but prices would probably be at least $100 higher this year with the added transportation costs, he said.
"The country in the region that is just looking down the barrel is Zimbabwe," Mr Wiggins said. "The bottom 10%-20% of Zimbabweans will be in terrible straits in terms of sorting out their food during 2016."
To make matters worse, regional stockpiles are already depleted. Grain production fell 21% last year across Southern and Eastern Africa, and prospects for the next harvest, which began in April and May, were "acutely unfavourable", the FAO said on March 9.
SA predicts the harvest will be half what it produced two years ago and that the country will have to import maize to feed itself.
Improved supply
Even with the drought, Southern Africa was producing more grain than two decades ago, doubling maize output since 1998, US Department of Agriculture data show.
Countries and international organisations have already started to prepare for a crisis by stepping up imports and calling on donors for aid. Ethiopia, Africa's second-most populous nation, has appealed for $1.4bn from international donors. The government has been buying up wheat in global markets since at least October, including a tender for 500,000 tonnes this week. The US Department of Agriculture forecasts the country's wheat imports will nearly triple this year.
Zimbabwe declared a national disaster in February and asked for $1.6bn in aid. The government says it has secured about half of the maize it needs so far after agreeing to import from Zambia and Ukraine.
All that aid still may not be enough to prevent shortages, especially for white maize.
Most maize harvested around the world is the yellow variety used primarily as livestock feed or to make ethanol. Outside of Southern Africa, only Mexico is a major producer of white maize, and it does not have a lot to export, according to Oxfam. In addition, many Southern African countries have laws prohibiting imports of genetically modified maize, which rules out much of the supply from the US, the world's top exporter.
The effects of El Nino are expected to weaken over the next few months, according to the US Climate Prediction Centre. But it will be too late to save crops across Southern Africa.
Tendai Mhishi, a maize farmer in Runhanga Village, Zimbabwe, said his crop this year was a total write-off. He and his six children have been skipping meals to ration food.
"There are days one of my kids refuses to go to school all because of hunger," Mr Mhishi said. "This year, things have been really tough."