Egypt's education ministry confirms removal of ElBaradei bio from 5th grade book
Hana Afifi | Tuesday 22 Mar 2016 | Ahram
The ministry says parents and teachers requested the removal of the biography and picture of the Nobel laureate under the previous education minister; writers blast ministry for falsifying Egyptian history
Egypt's education ministry confirmed Monday the removal of all references to one-time Egypt vice-president and Nobel Prize laureate Mohamed ElBaradei in a fifth grade book, saying the decision was made "at the request of parents and teachers."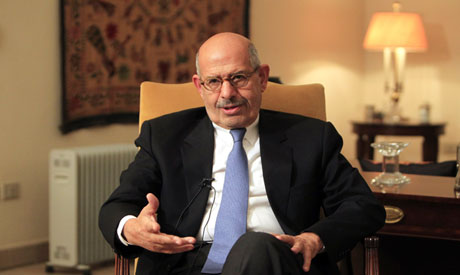 In a phone call to Studio 90 Minutes on Al-Mehwer TV channel on Monday night, ministry spokesperson Beshir Hassan said the removal of ElBaradei's bio took place during the tenure of former education minister Moheb El-Rafei.
In a previous edition of the Arabic reading comprehension textbook, an exercise used pictures of three Egyptian Nobel laureates: former president Anwar El-Sadat, scientist Ahmed Zuwail, and ex-president of the International Atomic Energy Agency ElBaradei. The activity required students to connect the pictures with dates in which they received their Nobel prizes.
The exercise in the current edition only includes Sadat and Zuwail.
"More than one parent and a number of teachers called the committee tasked with developing the curricula to request that the picture and any writing about ElBaradei be removed…not for political reasons or aims, but because [understanding ElBaradei] is beyond the cognitive abilities of a fifth grader," Hassan said.
Media condemnation
Several media commentators condemned the ministry's actions on Monday, charging they were politically motivated. Many social media users and a number of public figures also condemned the removal of any mention opf ElBaradei.
"Whoever removes the name of ElBaradei, the Egyptian winner of the Nobel Prize, is a fabricator and misleader who wants to brainwash the children," said TV host Ibrahim Issa on Al-Qahera Wal-Nas TV channel on Monday.
"They say it's because of his stance on 30 June [uprising against the Brotherhood], but that is ironic since ElBaradei was among the uprising's protestors against the Islamists and took part on the 3rd of July along then-defence minister El-Sisi in drawing the post-Morsi roadmap." "He then resigned after Rabaa's dispersal; he is free to do that and I expressed my disagreement with him a lot," said Issa.
"But does it strip him of his national value or his contributions as an Egyptian who won not only the Nobel Prize but was also award the highest state award – the Nile Medal – by former president Mubarak?" Lilianne Dawoud, the ONTV anchor shared Issa's sentiment.
"Removing a scientist's name from a copybook and papers does not detract from a scientist's status, but it does bring you shame and history [will] remember your ignorance," Dawoud tweeted. ElBaradei retweeted Liliane's comments on his personal Twitter account.
Meanwhile Egyptian novelist Alaa El-Aswany, a supporter of the ousting of Islamist president Morsi in 2013, concurred. "We disagreed with ElBaradei a lot but we can never disagree about his honesty, his integrity and his love for his country; he is a respectable figure in the world. Removing his name from the curriculum is just cheap, miserable hypocrisy,"
Education ministry explains
The ministry of education issued a statement Monday to set the record straight. "The current minister El-Helaly El-Sherbiny did not give any instructions to remove or add any information to those curricula after he was sworn in on 19 September 2015," the statement read.
"As soon as he learned about it, [the minister] referred the matter to be studied, to determine the reasons and those responsibile," it added. "No one can rewrite history," spokesperson Hassan added.
"We can disagree with Dr. Mohamed ElBaradei politically, but no one can deny that Dr. Mohamed El-Baradei received the Nobel Prize." Hassan also pointed out that the curriculum was changed in many other ways.
ElBaradei was awarded the Nobel Peace Prize in 2005. In recognition of this achievement, he was awarded the Order of the Nile, Egypt's highest state honour, by Mubarak in 2006. The former vice-president played a leading role in the late 2000s infomenting opposition to former president Mubarak and participated in the 2011 18-day uprising which ousted the long-time autocrat.
After much anticipation, ElBaradei declined to run for president in the 2012 elections. Following the violent crackdown on the pro-Morsi camps in Rabaa Al-Adawiya in August 2013, ElBaradei publicly resigned his post in protest at the government's decision.
He has since lived in self-imposed exile in the West.