The Curse of Ethiopia's Success: The Ongoing Drought—and What to Do About It
James Jeffrey |   | Foreign Affairs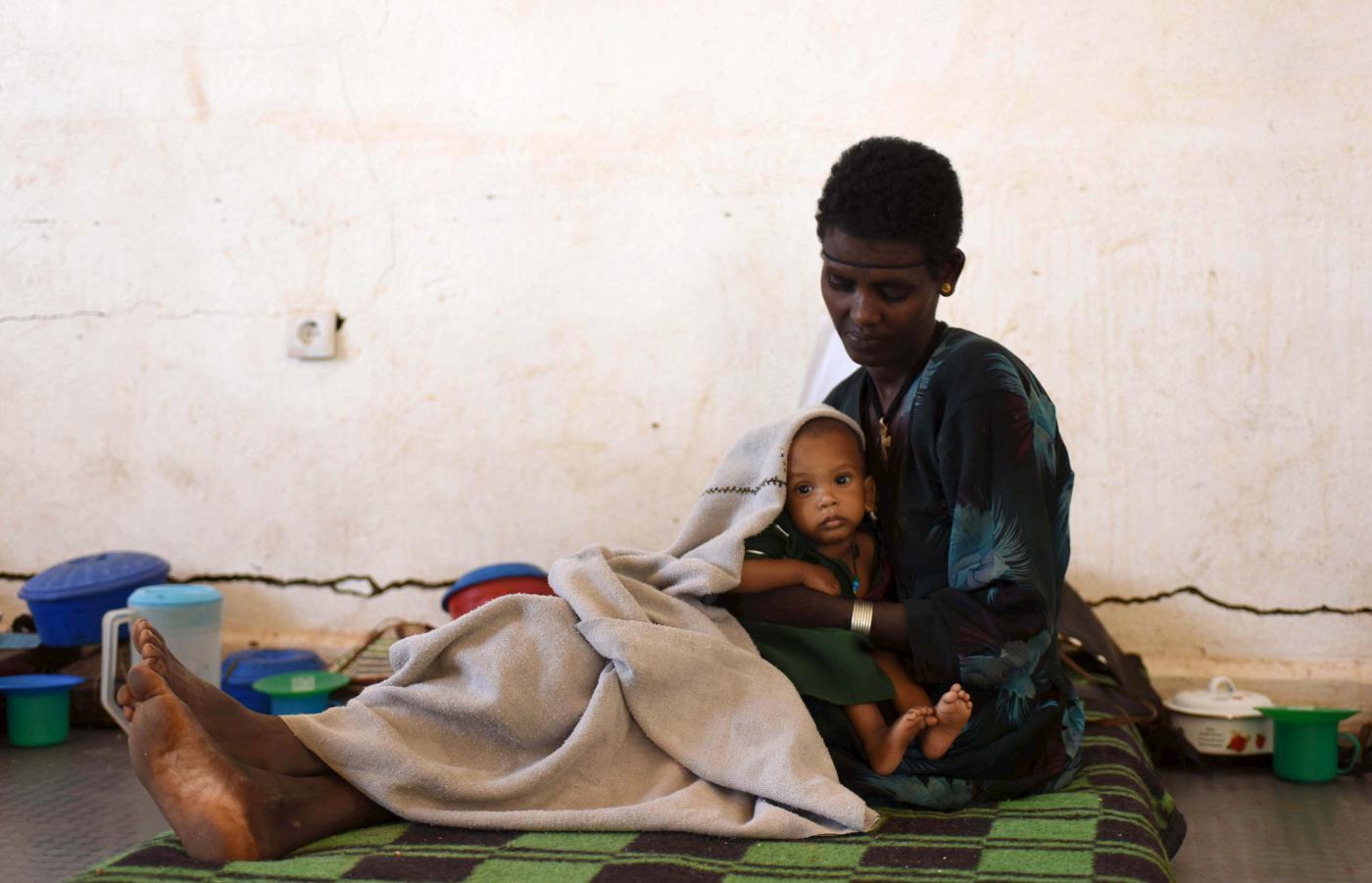 For the last year, Ethiopia has been scraping through the worst drought the country has seen in 50 years. But there are no scenes reminiscent of 1984, when a lack of rain contributed to the death of more than a million Ethiopians. For that, the Ethiopian government deserves some credit. But the country still faces a dangerous future, especially given the lack of attention from the rest of the world.
DRIED UP
Crop production in Ethiopia's northern Tigray and Afar regions has dropped between 50 and 90 percent. By most estimates, hundreds of thousands of livestock have already died. And with the cattle and crops lost, pressure is mounting on the 80 percent of Ethiopia's population that subsists on rain-dependant agriculture. "People are not starving but they're close to starving—we need to address this moment right now, before it gets worse," a coordinator with a non-governmental organization in Adigrat, Tigray's second largest town, told me. "The government is trying its best but it needs assistance."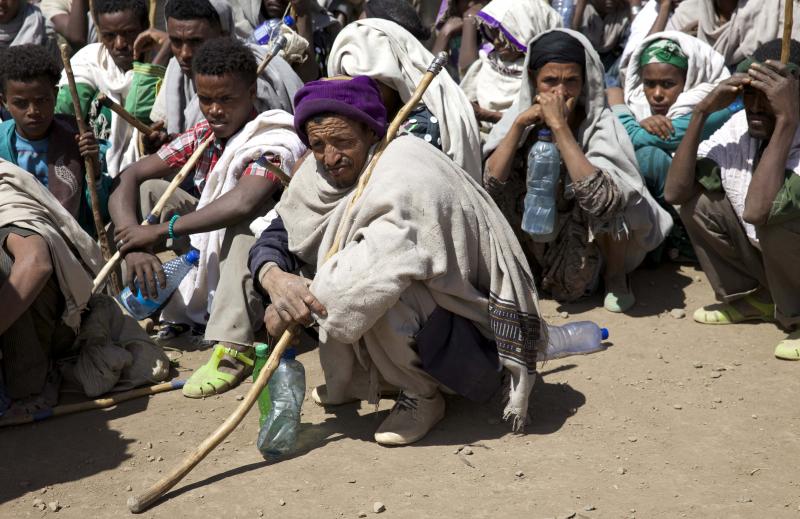 Tigray is a land of cliffs, gorges, and flat-topped mesas dotted under bright blue skies. Its rainy seasons have always been more erratic than those in the central Ethiopian highlands to the south, where a typical three-month-long rainy season wins Ethiopia the status as Africa's water tower. But the severity of this drought has stunned even farmers who have spent decades working in Tigray's arid conditions. And they aren't alone. Neighboring Somalia has about three million people hit by crop failures and food shortages, according to the United Nations; Zimbabwe is now asking for about $1 billion to deal with its drought; and even South Africa, the continent's second-largest economy, is struggling with the fallout of a drought.
In the early days of the drought after the failed spring rains in 2015, Ethiopia tried to tackle the situation itself. Its extensive food security network, developed in the decades since the 1984 famine, shuddered into action. It ramped up the Productive Safety Net Program (PSNP), a welfare-for-work initiative that employs seven million people in public infrastructure projects in return for food or cash, and its national food reserve and early warning systems. Addis Ababa even rushed forward the opening of its new railway line—the country's only one—just to bring food supplies from Djibouti on the Horn of Africa coast.
In short, Ethiopia's ability and means for providing emergency relief has changed beyond recognition since 1984. In 1984, Ethiopia was ill prepared to cope with famine, hobbled by the policies of its communist military dictatorship and a civil war in the north. Today's Ethiopia is by comparison politically and economically stable, capable of self-help. Over the last decade, it has grown at about ten percent annually, giving the government enough cash to mitigate the crisis. (Plenty of money, of course, is already committed to projects such as building the Grand Ethiopian Renaissance Dam—Africa's biggest—which will cost about $5 billion and generate enough hydro-electricity to potentially guarantee the country's energy security.)
But there are limits to what Ethiopia can prepare for. Proactive internal efforts have gotten harder to sustain as the drought has tightened its hold: estimated numbers of those affected doubled between June and October in 2015 to 8.2 million (and are now pushing beyond ten million). And so, in October 2015, Addis Ababa acknowledged that it needed help and asked for international partners to help it provide food assistance. It has since been criticized for failing to admit the severity of the situation sooner as it strove to maintain the story of Ethiopia's great economic renaissance.
Herein lies a major challenge for Ethiopia: The country is competing for international funds with other grave humanitarian disasters, such as the wars in Syria and Yemen and the international migrant emergency. And in that, Addis Ababa could be hurt by donor fatigue at yet another Ethiopian drought and by impressions that Ethiopia had been doing quite well. But aid agencies warn that the significant gains that the country made over the years in food security, education, and health are now in jeopardy. "Consequences could ripple through generations," said the United Nations International Children's Emergency Fund.
AID COMPETITION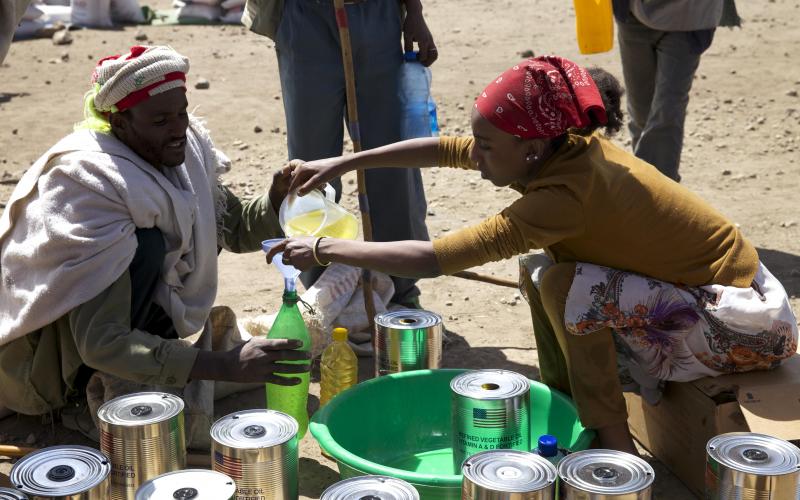 In Ethiopia's arid north Tigray region is the small town of Idaga Hamus. In the otherwise ramshackle dusty town, sits nestled a spick-and-span health clinic run by the Catholic Daughters of Saint Anne. Inside, in a simple whitewashed examination room, a nurse wrapped a special tape measure around the upper arm of nine-month-old Aixiet. Her measure was in the red zone—"severely" malnourished, according to the nurse. "I can't produce enough milk as there's not enough food for me to eat at home," said the 32-year-old mother. "Can I get something here for my baby?" The nurse explained the clinic had no supplies to help, then told me the mother might be able to get Ready-to-Use Therapeutic Food (RUTF), a fortified peanut butter-like nutritional supplement with a high vitamin and mineral content, at a nearby government-run clinic—although she could not be sure.
Those working for the NGOs that are now scrabbling for funds to help the likes of the Idaga Hamus clinic point out that, historically after a drought, things get progressively worse from January (about 3–4 months after the missed main summer rainy reason) onward. By then people have exhausted reserve food stocks or whatever little was harvestable.
"We had one cow but had to sell that for food. Other people's animals have lost so much body weight they can't be sold," said 80-year-old farmer Berhe Kahsay during afternoon coffee at his home in Awo, a small town reached through numerous military checkpoints due to its proximity to the Eritrean border. "This kind of drought is due to the climate, and it's becoming worse due to climate change. We hope God will bless us with positive change."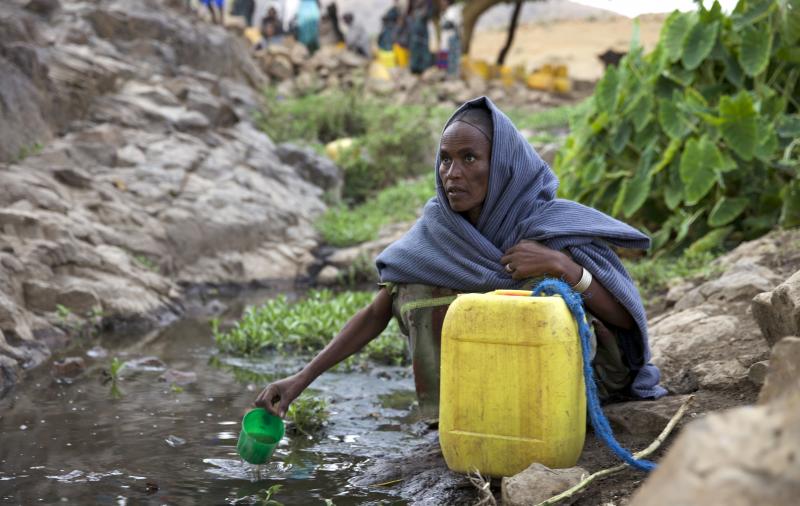 Not many share his optimism. From those living in Tigray and Afar comes a common and ominous refrain: "The animals die first." People are cutting back on food: meal that for many already consists of only coffee and bread, or injera—a grey spongy pancake-shaped bread—with a little salt. And across afflicted areas, health clinics are seeing increasing numbers of malnourished mothers who cannot breastfeed properly, which is leading to severe acute malnutrition among children.
The drought has struck when the Ethiopian government has its hands full with another domestic problem. Since November 2015, Addis Ababa has seen public unrest among the Oromo—Ethiopia's largest ethnic group, accounting for about one-third of the country's 95 million population—that is unprecedented in terms of longevity and geographical spread. Initial protests were in reaction to a plan to expand the city limits of Ethiopia's capital, Addis Ababa, into Oromia—the largest of the federal republic's nine regional states and two city states—and which encircles Addis Ababa. But even after the government shelved the plan, protests have continued, fuelled by long-running frustrations over issues such as land ownership, corruption, and faulty elections. The protests may well run out of steam, some observers suggest, and no one believes that Ethiopia's authoritarian ruling party is about to lose the grip it has held on power since 1991. But the combination of events mean one of the Horn of Africa's most stable countries—and most stalwart of allies to the West—is under more pressure than it has been for a long time.
Foreign financial assistance is starting to arrive, and the Ethiopian government has so far committed more than $350 million to help prevent deaths from the drought. But currently the estimated $1.4 billion needed to blunt the impact of the drought is less than half funded. Further concerns stem from the possibility that El Niño will quash Ethiopia's next rainy season, too. According to the United Nations, more than 15 million Ethiopians could suffer food shortages, acute malnutrition, or worse by mid-2016 unless donations increase. Ethiopia has done as much as it can. It is time for the international community to do its part.