Australian mining company denies role in murder of South African activist
Joshua Robertson | Friday 25 March 2016 | The Guardian
Campaigners claim death of Sikhosiphi Rhadebe is an escalation of violence against opponents of a mine owned by Perth's Mineral Commodities Limited
An Australian-owned mining company has denied any link to the murder of an activist leading a campaign against its plans to mine titanium in South Africa. Sikhosiphi "Bazooka" Rhadebe was gunned down at his home in Xolobeni on South Africa's Wild Coast on Tuesday, in what fellow activists claimed was an escalation of violence and intimidation against local opponents of a mine owned by Perth-based Mineral Commodities Limited (MRC).
MRC, which has repeatedly denied inciting violence involving its supporters, said it was "in no way implicated in any form whatsoever in this incident". Mzamo Dlamini is a fellow activist who believes he is among the "prime targets" on the anti-mining Amadiba crisis committee following Rhadebe's death.
Despite fearing for his life, Dlamini vowed to continue organising resistance to a project that campaigners said would force the relocation of an estimated 100 households and up to 1,000 people. "The assassination affects us all," he said. "There will be more Bazookas long after we have died." Six people associated with the mining venture were subject to court orders last May after a clash over land access, during which a TEM director fired a "warning shot" in the air.
Four people, including an alleged employee of another MRC mine at Tormin, are due to face court next month over alleged assault and intimidation, including with firearms, of mining opponents in Xolobeni in December. These allegations are yet to come before a court and there is no suggestion these or any other employees were involved in Rhadebe's murder.
Unathi Ximbi, the defence lawyer engaged by TEM to act in the first case, is also representing the men in the second. He told Guardian Australia the company had neither arranged nor paid for their defence. Ximbi said he could not recall whether any of them were company employees. Rhadebe was shot eight times in the head in front of his son, who told investigators the killers had posed as police.
Less than two hours before his death, Rhadebe called fellow committee member Nonhle Mbuthuma to check on her safety, telling her there was a "hit list" that included both of them and Dlamini. MRC in a statement said it was "not in a position to comment with any authority on the incident" but any claims it was in any way implicated were "simply unfounded".
"Despite our own internal enquiries, we are no further informed as to any of the specific facts surrounding this incident other than what has been reported," it said. "The company does not condone violence in any form and it is tragic that a man has lost his life regardless of the circumstances, which … are yet to be established.
"This company will not engage in any activity that incites violence. "The company will cooperate fully with any investigations into this incident and takes this opportunity to extend its condolences to the family and loved ones of Mr Sikhosiphi Rhadebe." MRC's executive chairman, Mark Caruso, did not respond to specific questions from Guardian Australia.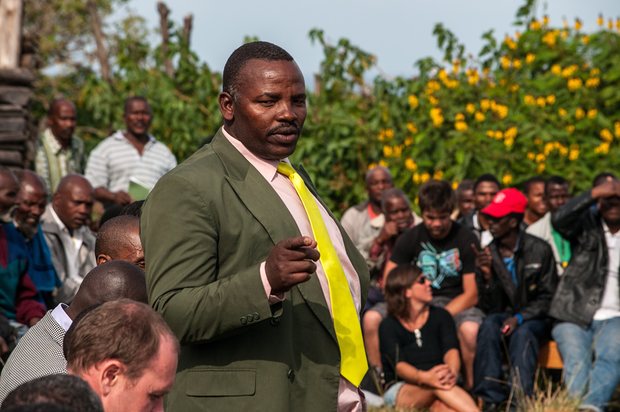 Dlamini said he had reservations about the polic investigation after committee members and mining opponents were targeted in repeat raids looking for weapons following provocation by pro-mining "thugs". "I don't see [police] doing anything about it at all," he said.
Dlamini called on Caruso to act by dismissing any employee of TEM or Xolco linked to violence and intimidation of the company's critics. "Bazooka has been brokering peace" Dlamini said. "He met his [Caruso's] brother Patrick Caruso to discuss the problems, who said they did not support the violence.
"They made us to understand they did not want violence, they want peace and then to develop the area. But … people here are being killed." Lawyer Henk Smith of the Legal Resources Centre, which has acted for landholders opposing MRC's Tormin mine, said the killing of Rhadebe, a "principled democrat", had likely ended the prospect of conciliation meetings between the miner and its opponents.
"I think the company has made a few statements condemning the violence but it comes after the event and the company has never taken any steps to encourage conciliation or mediation or consultation even a meeting," Smith said. "In fact the company shies away from meeting the community which as a result, there'll be little chance of simply starting a process of meetings now.
"The company is in effect refusing to accept that it's got to negotiate with the community and are relying on an interpretation of the law in South Africa that they must consult affected people about mitigation of environmental impact and their responsibility goes no further.
"For the rest, they've got [to] swallow what the company offers."