Famed African satirist raises alarm over Kenyan journalist sackings
NAIROBI | Drazen Jorgic | Thu Mar 24, 2016 | Reuters
One of Africa's best known satirists blames government pressure for journalist sackings at Kenya's biggest newspaper group which threaten to reverse decades of hard-won press freedoms. In a continent where journalists are often jailed, the Daily Nation's decision to end the contract of cartoonist Godfrey Mwampembwa after 23 years has made Kenya's journalists wary that their prized media freedom is at risk.
Mwampembwa's black and white sketches, published under the pen name Gado, have won a following around Africa for depicting politicians as greedy and corrupt hyenas, vultures and pigs. "Cartoons are a barometer of press freedom in any country," said Mwampembwa, a Tanzanian cartoonist who has lived in Kenya for years. "When that is under attack, you know you are in trouble," Mwampembwa, who is 46, told Reuters in his office in downtown Nairobi this week.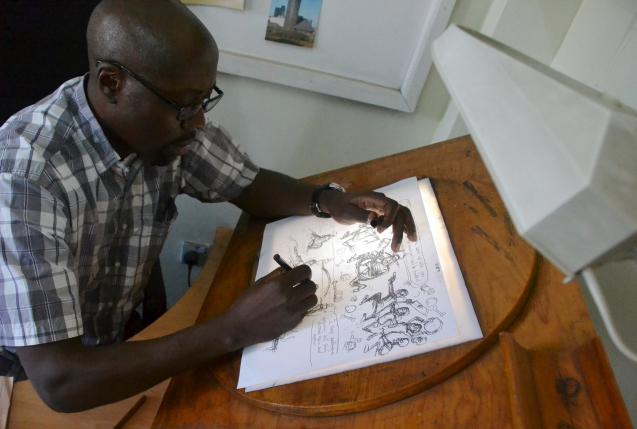 Any sign of pressure on the press before the 2017 elections will cause unease in Kenya, where politicians have been blamed for stoking ethnic tensions in the past. Deadly ethnic violence erupted after the 2007 polls, prompting a new constitution that protects media freedoms and outlaws hate speech.
Mwampembwa said his removal, and the sacking of several other journalists, showed the Daily Nation and its parent company Nation Media Group had "crumbled" under pressure from President Uhuru Kenyatta's government after his relentless needling of officials. "This is a situation where an organization is capitulating to political and corporate pressure," he said. "The gains that were made are being rolled back, especially now that we are going into elections."
Nation Media Editor-in-Chief Tom Mshindi denied this, saying Gado's contract had reached a "natural end" and the government had never asked for a journalist to be fired. "We will never bow or succumb to pressure from government or any other quarter," Mshindi said in a statement.
Presidential spokesman Manoah Esipisu called the allegations "absolute rubbish". He said: "Even when we feel criticism is severely unjustified, we don't think it is in our place to gag anyone."
"ARM-TWISTING"
Before he became president in 2013, Kenyatta sued the Nation Media Group over one of Mwampembwa's sketches. The group sacked senior editor Denis Galava in January after he wrote an editorial criticising Kenyatta for poor performance. Since then, it has also fired the Sunday Nation's investigations editor and the Sunday Nation news editor. Galava has launched a lawsuit challenging his sacking. Others say they plan to.
Mwampembwa said the government used its big advertising budget, spent via a centralized body that purchases space, to influence Kenyan papers battling falling circulation. "This one body is used to arm-twist newspapers," said the cartoonist, who is suing NMG for wrongful contract termination.
Mwampembwa has faced criticism beyond Kenya's borders. Last year he took a sabbatical from work after Tanzania's government banned one of the group's titles that had published a cartoon by Mwampembwa that lampooned then President Jakaya Kikwete.
The weekly East African apologized for the drawing depicting Kikwete being fed grapes by one of seven scantily-clad women, each representing what Mwampembwa saw as weaknesses in the Tanzania's government, such as corruption and cronyism.
Although the group agreed to his sabbatical, Mwampembwa said he was told his contract was at an end when he tried to return.
On his travels to countries such as Zimbabwe and Ethiopia, where journalists face regular censure, Mwampembwa said he found that aspiring reporters and satirists look up to Kenya's media. He has been feted for co-founding XYZ, a popular satirical TV puppet show.
"They admire that in Kenya you have this kind of leeway to lampoon presidents," he said. Losing that would resonate across Africa. "That's the worry."