Saudi Arabia Is Committing War Crimes in Yemen
 Rasha Mohamed, Rawan Shaif | March 25, 2016 | Foreign Policy
How can the United States, Britain, and France keep shipping Riyadh arms when its pilots are dropping bombs on innocent civilians?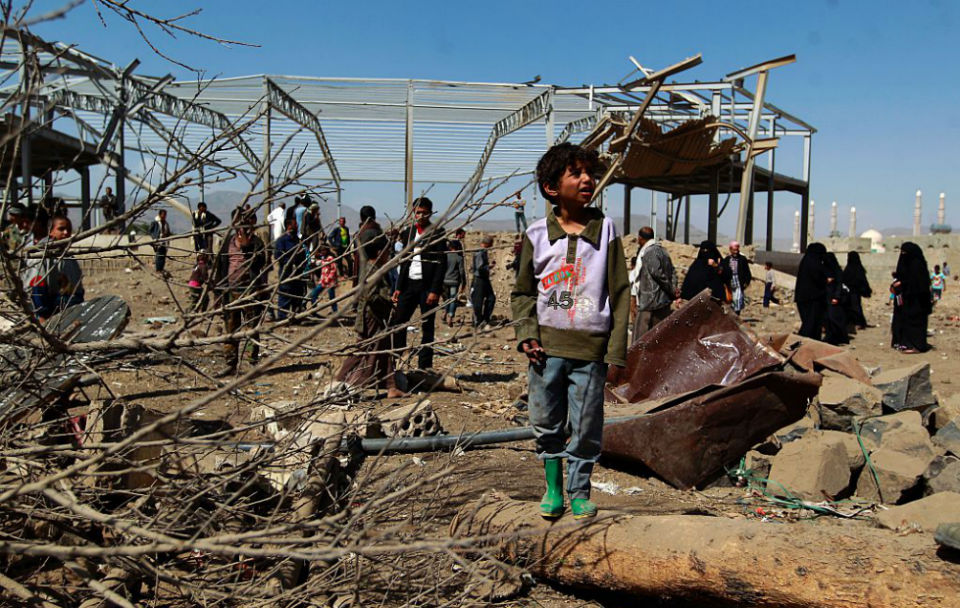 LONDON and SANAA — It was a hot, dry day in early July 2015. Salah Basrallah, a farmer in Yemen's northern region of Saada, stood among a cluster of nine houses that used to comprise his little village of Eram. He surveyed the pulverized scene in silence. He had lost 21 family members in four consecutive airstrikes on his village, including his six children and wife. Nearby lay the remnants of an MK-80 series bomb, similar to those found at many other coalition strike locations and which the United States is known to supply to Saudi Arabia.
The attacks killed 55 people in total, according to local authorities in Saada, including 35 children. Several people were killed in follow-up airstrikes, as they tried to rescue people in the aftermath of the first bombing. It took survivors five days to dig out all the bodies; many had been shredded to pieces.
Fast forward to this year. With the coalition bombing campaign hitting the one-year mark, airstrikes continue to devastate the lives of innocent Yemeni families. In the capital of Sanaa, all that remains of the home where Judge Yahya Rubaid and his family once lived is a metal skeleton, chunks of concrete dangling from what used to be his living room. An airstrike hit at 1:30 a.m. on Jan. 25, as the judge and his wife, children, and grandchildren slept. A second strike followed shortly after, the sound echoing through the city.
According to family members, Rubaid was a judge on a case against Yemeni President Abed Rabbo Mansour Hadi, for treason in absentia. It is unclear whether his house was attacked for this reason. What is clear, however, is that there was no legally valid basis for bombing his home, as he and his family were civilians and under international law should not have been deliberately targeted.
Mohammed Abdullah, Rubaid's nephew, recalled digging through mounds of rubble, finding no bodies beneath.
"We immediately ran to my uncle's home and frantically began looking for their bodies to see who had survived," he said. He called one of his daughters' phones and heard its muffled ringing close by. When Abdullah returned to dig once more for signs of life, he soon realized that buried beneath the gray stones were body parts — lumps of flesh, bone, and sinew. A few feet away, half of Rubaid's body was found on top of a gas station opposite his bedroom.
"We lost count of how many body parts we had found; no one was whole," he said.
These gruesome scenes are just two examples of the horrors that Yemen has seen since the Saudi-led military coalition launched its air campaign in March 2015. On one side of this war is the Houthi armed group, often referred to as the "Popular Committees," which is supported by armed groups loyal to former Yemeni President Ali Abdullah Saleh and parts of the army. On the other side is the military coalition led by Saudi Arabia and allied forces on the ground, usually referred to as muqawama, or the "resistance," fighting on behalf of Hadi and his government.
The Houthis and their allies — armed groups loyal to Saleh — are the declared targets of the coalition's 1-year-old air campaign. In reality, however, it is the civilians, such as Basrallah and Rubaid, and their children, who are predominantly the victims of this protracted war. Hundreds of civilians have been killed in airstrikes while asleep in their homes, when going about their daily activities, or in the very places where they had sought refuge from the conflict. The United States, Britain, and others, meanwhile, have continued to supply a steady stream of weaponry and logistical support to Saudi Arabia and its coalition.
One year on, it still remains unclear who is winning the war. Saudi Arabia and its coalition partners claim to have regained control of more than 80 percent of the country, but the Houthis remain in control of the key strongholds of Sanaa, Ibb, and Taiz. Moreover, armed groups such as al Qaeda in the Arabian Peninsula and the Islamic State are gaining ground and support in the south and southeast parts of the country, taking advantage of the security vacuum to consolidate their power. One thing is clear: Yemeni civilians are losing the most.
This wanton disregard for the lives of civilians continues unabated
This wanton disregard for the lives of civilians continues unabated. At approximately 11:30 a.m. on March 15, the market in Khamees, a town in northern Yemen, was destroyed in two apparent airstrikes by the Saudi-led coalition, claiming the lives of 106 civilians, including 24 children. One man, Hasan Masafi, who spoke to us over the phone, couldn't even grieve his 18-year-old son's death because he couldn't locate his whole body. "We were only able to find his right leg," he said.
The facts speak for themselves, and evidence of violations of international humanitarian law cannot be dismissed as mere hearsay, as the British government has attempted to do with U.N. reports. Amnesty International and other organizations have presented compelling evidence over the past year that indicates all parties to the Yemen conflict have committed war crimes. But some countries do not want to see the evidence that is staring them in the face. Flooding the region with arms is akin to adding fuel to the fire.
Attacks like the one on Khamees market have become the norm for civilians in Yemen. More than 3,000 civilians have been killed during the conflict, according to the United Nations. Thousands of others have been injured, more than 2.5 million have been displaced, and 83 percent of Yemenis are reliant on humanitarian assistance. There is barely a single corner of Yemen or a single soul that hasn't in some way been touched and scarred by this war.
The Saudi-led coalition's response to reports of civilians unlawfully killed — and homes, schools, and infrastructure destroyed — has been to constantly repeat the mantra that "only military targets are hit by airstrikes." The situation on the ground tells a very different story. With each unlawful coalition airstrike, it becomes more evident that Saudi Arabia and other coalition members either do not care about respecting international humanitarian law or are incapable of adhering to its fundamental rules.
And yet, Britain, the United States, and France continue to authorize lucrative arms deals with the Saudi-led coalition — apparently without batting an eyelash.
Since November 2013, the U.S. Defense Department has authorized more than $35.7 billion in major arms deals to Saudi Arabia.
Since November 2013, the U.S. Defense Department has authorized more than $35.7 billion in major arms deals to Saudi Arabia. This includes the announcement of a $1.29 billion U.S. arms sale to Saudi Arabia in November 2015 that will supply Riyadh with 18,440 bombs and 1,500 warheads. Meanwhile, during his time in office, British Prime Minister David Cameron has overseen the sale of more than $9 billion worth of weaponry to Saudi Arabia, including nearly $4 billion since airstrikes on Yemen began, according to the Campaign Against Arms Trade, a London-based NGO.
Regardless of when the weapons used by coalition forces in Yemen were acquired — whether before or since the start of the air campaign — the countries that supplied them have a responsibility to ensure that they are not facilitating violations of international law.
While the relentless coalition airstrikes account for most of the civilian deaths in the conflict, civilians also find themselves increasingly trapped in the crossfire between Houthi and anti-Houthi armed groups, with each side supported by different units of the now-divided armed forces.
A case in point is the southern city of Taiz, which has suffered restrictions on movement of food and medical supplies since at least November. Attacks continue to maim and kill civilians, including children. When Amnesty International visited the city in July 2015, we witnessed the irresponsible conduct of fighters firsthand and documented 30 ground attacks, which led to more than 100 casualties. One of those victims was 12-year-old Ayham Anees, who was killed in an apparent Houthi mortar attack in May.
Munther Mohamed, Anees's uncle, described rushing to the scene after hearing children's screams following the attack. "I also saw my nephew Ayham, whose head had separated from his body," he said. "I had told the children to play in the middle of the alley because it was the safest place, but it was not."
The crisis in Taiz has only gotten worse in recent days. While the Houthis have been partially pushed out of the city center, they still maintain control of the majority of the governorate. Where the Houthis have been forced to retreat, they have laid landmines — internationally banned weapons that have already claimed dozens of civilian lives.
Last week, the spokesman for the Saudi-led coalition announced that operations are nearing their end in Yemen. What that means in practice is not yet clear, as airstrikes continue to pound the country. But accountability doesn't take a back seat just because military operations may be winding down.
It's time to bring these crimes against civilians to an end. With peace talks expected to take place in Kuwait on April 18, all parties must prioritize several crucial conditions: protecting the long-term interests of ordinary Yemenis, ensuring an end to the horrors of the past year, and guaranteeing that those responsible will be held accountable. All those civilian lives lost as a result of violations won't be forgotten, even if this chapter of war closes.
It's too late for the children of Salah Basrallah. But there's no excuse not to do the right thing now. States should act immediately to ensure that none of Yemen's warring parties is supplied — either directly or indirectly — with weapons, munitions, military equipment, or technology that would be used in any furtherance of the conflict. And they must do everything in their power to ensure there is an independent international investigation into violations by all sides aimed at ensuring justice and reparation — for Salah Basrallah and the thousands of other victims of this deadly war.