ቃለምስክርነት ብመሓመድ ሁሴን ዓላሙዲ ኣብ ቤት ማእሰርቲ ወንጀል ምርመራ 13 ዓመታት ዝተኣስረን ዓይኑ ዝዓወረን
This testimony of a victim of the Eritrean regime enrages us. It is an assault on our humanity, it enrages even those who are deprived of the virtue of compassion. Still, the Eritrean regime frequently surpasses itself by breaking the record of injustices, and yet one more brutality is exposed, and more appalling injustice screams in our faces. The regime's brutal officers would commit any crime and dehumanize citizens to extort money, or to satiate their sadistic instincts. They are flourishing under a system that has legitimized cruelty, institutionalized brigandage, and nurtures apathy for the suffering of the people.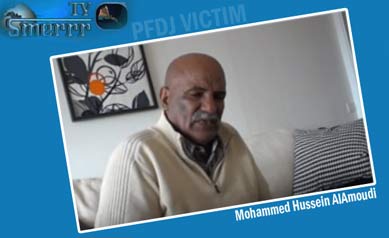 Today's victim is Mohammed Hussein Al'Amoudi, known as AlAtrash, who was born in 1955 in Ali-Ghidir, in western Eritrea. He was released from the PFDJ prison after 13 years without being presented to court, with no sentence. Mohammed is now in Sweden and, recently, he was interviewed by Smer, an Eritrean television webcast. The interviewer conducted the Tigrinya interview in a very professional (and compassionate) way (near the end is also an Arabic summary) and awate.com is pleased to present to you the translation of the interview.

At first, we decided to post a brief summary of the interview which was posted by our colleague Ahmed Raji. However, we changed our mind and Ahmed's 462-word summary ended up becoming part of the following 2500-word extended presentation of the testimony.
Asmara. It was September 25, [2001]: the G15 had been arrested a week earlier, and Mohammed was sitting at Bar America and chatting with his friends when he wondered why the G15 [Eritrea government/party officials] were jailed after having struggled for so long for Eritrea's independence. State security agents took him away and he was told he was wanted for questioning and would return home the next day.  The next day because 13 years later.
______________________________________________________________________________________________________________________________________
Mohammed's testimony:
______________________________________________________________________________________________________________________________________
After living in exile in the United States, Mohammed decided to return to Eritrea in the 1990s and traveled to Ethiopia to meet his cousin, AlAmoudi. He told his wealthy cousin that he decided to go to Eritrea to do business and his cousin sent him to Djibouti to meet  Tahir Saeed and Abdulrahman Bore who would give him a certain amount of money. He was then to travel to Eritrea and meet Alamin [Mohammed] Gerweina, his cousin's friend. Once in Asmara, Mohammed deposited his life savings and the loan from his relative. As required by the authorities, he deposited the entire investment money (285,000 US dollars) in the bank, in a dollar account. He was told he could withdraw the money in dollars, but when he went to withdraw it, they asked him why he needed the money, and finally made him withdraw money in local currency, at 15Nakfa to the dollar, (A fraction of the real market exchange). Mohammed had plans to rent or buy a place known as "Legesse Hotel", which was held by the government, but he was imprisoned before he could do any of that.
Mohammed was in the process of preparing his investment plans when, on the night of 25 September 2001 (one week after the government crackdown on G-15 reformers and the journalists of the private press), he was arrested by state security agents, who took him to the infamous Wenjel Mrmera [Crime Investigation] prison. Later, he would spend "a little time–at first, eight months; and the second time, around 9 months, in the Sixth Station," in Asmara.  He doesn't know why they took him there; and, they didn't tell him why they returned him to Wenjel Mrmera.
After they put him behind bars, Mohammed did not hear from his jailers for six months after which he was interrogated for only 30 minutes–and his jailers did not even mention the reason for his arrest. The next encounter with the interrogators was another 13 years later.  When they summoned him for the last time in 2014, Mohammed had already lost his eyesight in 2011, together with any hope in ever being released. The interrogators asked him (for the first time) if he knew 'his crime'. When he replied that he didn't, he was reminded of comments he had made that night just before his arrest–his chat with friends at the 'American Bar', wherein he had exclaimed that he didn't understand why the G-15 were arrested given their contributions to the struggle for independence.  [It should be noted that government officials routinely tell international journalists and diplomats that, in Eritrea, nobody gets arrested for expressing himself/herself.]
But they changed the subject and said, "Incidentally, the way you were spending your money: it doesn't seem you toiled for it. You must be affiliated with some entity, you are on a mission or something." He protested, "I am not affiliated with anyone, and, yes, I was generous with my money: are you telling me not to give away money?"
They replied, "No, we didn't tell you not to give away your money; but, if you must give, there are more deserving people." Finally, after thirteen years of imprisonment, they told him to write an apology letter, admitting that he has committed a mistake, and that he will be released.
Blackmail: Apologize in Writing
Now he was going to be released, he was told, but with the following conditions: (1) ask for forgiveness in writing, (2) never talk about your incarceration, (3) never ask about any of your money, (4) never leave Asmara without permission from your security contact person.
He was in prison until 2014, and they released me, he says, and "I lost my eye sight–I have lost my sight in prison, due to lack of medicine. Instead of taking me to a doctor, they kept me in dark rooms and that is why I lost my sight in 2011."
There is no medication and if they take a prisoner to a doctor, he says, the doctor doesn't have medicine and he writes a prescription, but the pharmacies do not have medicine. And, gradually, since he couldn't find any cure, he lost his sight. Even now if he wanted to be cured, they tell him it is too late and he cannot be cured, and he gave up hope.
Initially, when they called him after six-months in detention, they had asked him of any problems, and how he was doing. He told them he had no problem but he needs to know the reason for his imprisonment. They told him they will call on him again, and he was returned to the prison after he was interrogated by a certain Colonel Wedi Smret. Mohammed spent the next twelve and half years without being told why he was in prison. Meanwhile, he counted the years along with hundreds of other detainees in that notorious prison.
When they asked him to ask for forgiveness, he wondered what he could have done. He wondered, "maybe some people framed me? What do I have to do, I just thanked God for getting out of the prison. I decided to leave the country and I did. I left so much behind me."
More Tragedies for Mohammed
Yet, more heartbreak was awaiting Mohammed. His family had given up when he was in prison and they fled to Sudan and from there they traveled to Libya. At the time of his release, he learned that the year before (on 3 October 2013) his entire family (wife, two sons and a daughter) drowned while crossing the Mediterranean. [The Lampedussa incident the lives of over 360 Eritreans.] So, here was Mohammed left without his family, without his eyesight and without his life-savings, on top of losing 13 years of his life in the dungeons of the brutal regime. [At this point, the interviewer humanely fades out the camera; as Mohammed starts breaking up and crying.  And fades in when Mohammed had composed himself.]
There are many whose family and relatives die while they are in jail. "What can I do, I lost my sight, I lost my family, how can I support this regime!"
During his 13-year-stay behind bars, Mohammed remembers many prisoners: "At first there was an old man named Sunaberra [Debena]; Hassen Kekia; and the father of Ali Abdu [Abdu Ahmed Younis], the ex-minister of information; and there was a man named Mahmoud; and Dawit Isaac, a Swedish-Eritrean, a journalist; and another journalist called Saleh AlJezaeri; and Colonel Wedi Seyoum [brother of Estifanos Seyoum, G-15]; and Colonel John, (who had an amputated hand); General Bitweded [Abraha, arrested since 1992], who was an administrator in Asseb; and Nusreddin [Abulherat], a Sudanese man whom they claimed attempted to assassinate Isaias Afwerki; and… Dejen [Ande Hishel], the pilot who escaped from jail, and is now in Sweden…"
These are those he saw because prisoners are kept in different cells and they do not see each other but they hear of other people who were there–in the clinic or from people who serve them food, who tell them news about the people in other cells. He also remembers, "the six singers who were imprisoned, including Hussein Mohammed Ali, whom they brought one night and covered their faces with sarong not to be seen. That was in 2005 or 2006, maybe the end of 2006."
Among those he met, there are many who never went to court, and there were many who were arrested for attempting to escape through the borders, "there were engineers; once they brought around twenty such persons." No one was presented to a court: there were many who have been there for ten years, seven years…Mohammed says he found people who were there before he was imprisoned, and when he asked them what their crimes were, they didn't know: "There were Pentecostals; there were Muslims imprisoned by the Mufti; students who studied in Saudi Arabia. There were Yemenis, there was no one who has been sentenced and no one knew when they would be released."
Until 2007, I used to see Dawit Isaac because we were in one cell, he says, "One time they released him but returned him after a week; and we asked him why he was back. He said that the Swedish ambassador called him and he went to see him–they confirmed he had gone [to visit the Swedish ambassador] and they brought him back and put him in a separate cell. We didn't see much of him since 2007."  Dawit, he explained in response to the interviewer, "likes to read a lot; he smokes; he doesn't talk a lot, very quiet: he just reads and smokes. And he is into sports." Asked about others, Mohammed went on to explain "You only get to see people who are in the same cell with you, or those in a room across from where you are–you see them when they are taken out to bask under the sun."
When he was released, Mohammed remembers those who were in the same cell with him, "there was a Bengali man who worked in the tuna factory in Massawa; there was General Bitweded, and there were many I don't know their names because they move to different cells."
He said that he used to see Bitweded when he went outside for some sun, but he stayed in a separate fence, and he saw him through the iron door: they kept him alone and all he would say was, "Pass my greetings to Isaias."  He also left Colonel Wedi Seyoum there–one of his hands was damaged, and he went blind in one of his eyes. There is no way of knowing who is still there and who was released.
Asked to speak of prisoners whose families don't know their whereabouts, Mohammed mentioned an older man named Jimee, from Agordat. He said he was attending to his goats and cattle when they came and took him away, accusing him of feeding the opposition elements, and he said even his family do not know of his whereabouts. There was also another one from Agordat named Mohammed: he was a member of the PFDJ parliament who said they took him away at night and that his family do not know where he was. At times, the security men come and take prisoners, at night, and the other prisoners think they must have been released.
He also remembered two Eritrean Kunama men who were arrested from Barentu because they were accused of having relatives in the opposition, but he couldn't remember their names. He also saw a Pentecostal man named Aron, and "the father of Ali Abdu was released when I was in prison; Sunabera was released, and later died. There was also Ahaw, an Afari, and Ali Issa, who have been there for a long time and I left them there."
Talking about Dawit Isaac, he says that Dawit has given up. He says that the Swedish government has done all it can to have him released and he questions: what else can they do? He mentions that the two governments have problems because of his case, and he says, "I have nothing in my hands, there is nothing I can do." It seems he has submitted to his fate, he says.
Mohammed has an advice for his compatriots who support the regime:
"Firstly, the views of the regime supporters are wrong: I was there; I came from there; I have been jailed for 13 years with no crime, and I am a man over sixty-years old. Of course people make mistakes and when they do, they have to know their crimes and can even be sentenced for life, but to throw people in jail without a court ruling is something I cannot explain. People make mistakes, but there is no court. And our people, particularly in Europe and the like, they say they are on the side of the regime. Do they know what the regime is doing to the people? If the regime was treating the people justly, who hates his country to the extent of leaving it? If not for the lack of justice and rule of law, we didn't leave our country because we hate it, or because we were hungry."
The Escape From Eritrea
Mohammed was told to report to Abraham, in the security office by the Ambassador Hotel. He was supposed to tell him if he wanted to move anywhere, and he was ordered not to move without a letter from Abraham which he should present to the security office of any place he traveled to. Mohammed rented a car and went to Talatasher [Sudanese border] three weeks after he was released. From there, he escaped to Sudan with the help of some people. Once in Kassala, the people wanted to take him to the UN, but he refused. Instead he bought a Sudanese passport and after "seven months, I traveled to Germany for medical treatment, and then went to Sweden," where, he said, "I was received nicely, given a shelter and medication; mainly, they gave me hope when they knew of my ordeal."
He has a message for the supporters of the regime: "I want to say to the deniers that what they deny in Eritrea is a reality, I was there and I have experienced it. Don't talk about stuff you don't know. Don't support an unjust system. Don't support injustice. A system doesn't last forever; the people and the country stay forever. But to create enmity with your compatriots because of things you don't know about is not good."
When Mohammed arrived in Germany and met his sister, "she told me that she went to visit me in prison but they refused her permission." His mother also faced the same refusal when she went to visit her son.
We don't know how to react, or what more to say….